CrossCheck

Acid Phosphatase Cooking Efficiency Test
Hygiena™ CrossCheck measures acid phosphatase activity, a natural enzyme present in raw meat. CrossCheck is used with finished products to verify thermal processing and can also be used on food contact surfaces to measure raw meat residues and cross-contamination hazards.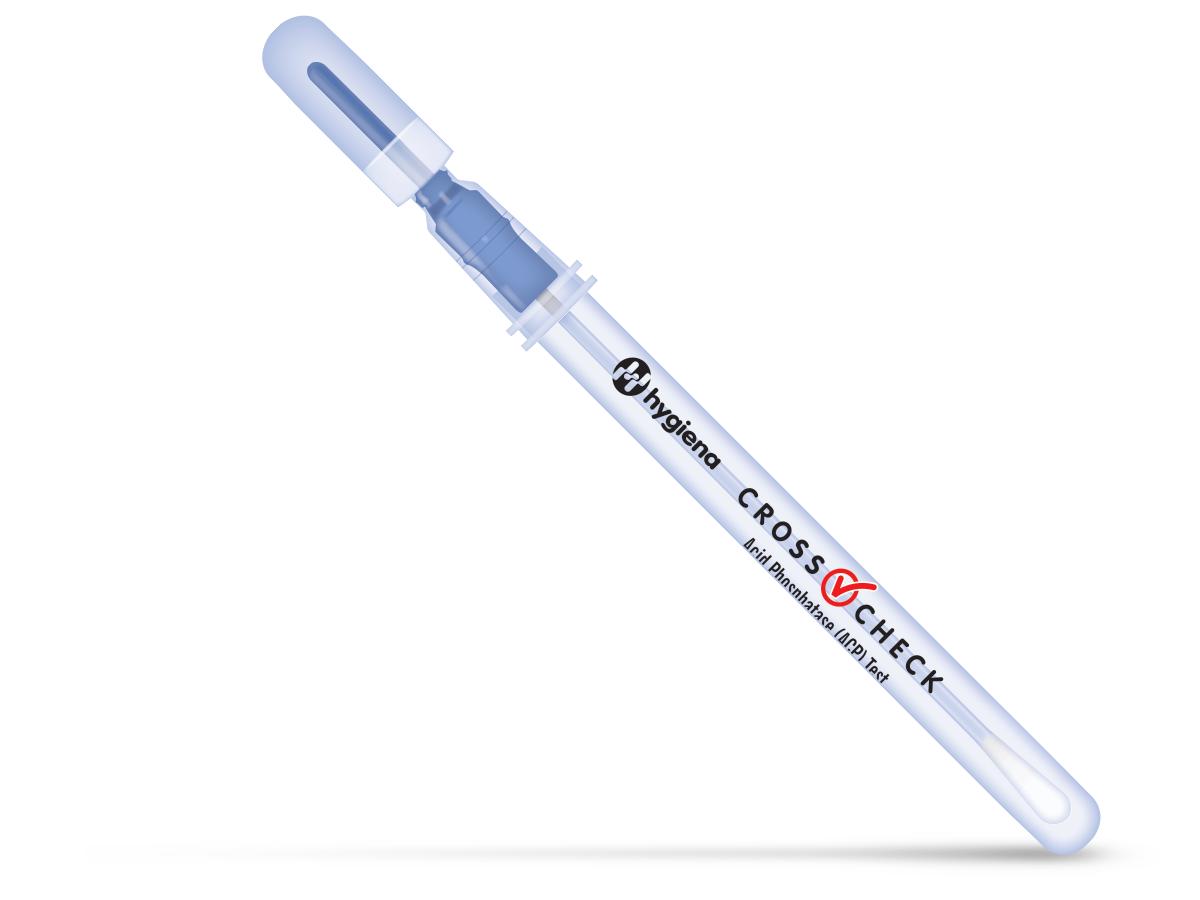 Key Benefits
Hygiena's CrossCheck Acid Phosphatase Test combines a pre-moistened swab, liquid-stable reagent, and patented Snap-Valve™ to deliver superior performance. The unique patented Snap-Valve™ design reduces user variation while the pre-moistened swab breaks through biofilms and maximizes sample recovery. Liquid stable reagent eliminates the need to reconstitute a pellet giving more accurate results with less variation.
 Detects 0.1% or Less Raw Meat or Fish
 Compatible with EnSURE™ Touch
 Works on Food and Surfaces
Results in 5 Minutes
A simple and easy-to-use acid phosphatase activity test. Just swab, snap and measure. A quick test can be completed in 2 minutes. For greater sensitivity, incubate for 5 minutes at 37 ± 1 °C. CrossCheck can detect down to 0.1% or less of raw meat or fish.
Integrates with EnSURE™ Touch & SureTrend Cloud
CrossCheck works with EnSURE™ Touch and SureTrend™ Cloud to provide a 360° view of your environmental monitoring program. Track and trend results to make more informed decisions to reduce risk and improve the bottom line.
Works on Food and Surfaces
CrossCheck ACP works on both thermal processed meat and surfaces. Use it to find raw meat residue on surfaces or swab thermal-process meat to verify thermal processing and cooking efficiency.
Contact Sales
Have a specific question or need information on pricing? Send us a message and a sales representative will contact you.
| Title | Categories | Tags | Language | SDS Region | Link | doc_categories_hfilter | doc_tags_hfilter | dlp-language_hfilter | sds-region_hfilter |
| --- | --- | --- | --- | --- | --- | --- | --- | --- | --- |
| Testing High-Fat Content Matrices with ZymoSnap ALP | Technical Bulletin | Alkaline Phosphatase, ALP, Enzyme Tests, Food Safety, Microbial Screening, product quality, ZymoSnap, ZymoSnap ALP | English | | | technical-bulletin | alkaline-phosphatase alp enzyme-tests food-safety microbial-screening product-quality zymosnap zymosnap-alp | english | |
| SDS-ZymoSnap-Positive-Control-US-en | SDS | Alkaline Phosphatase, ALP, Enzyme Tests, Food Safety, Rapid microbial screening, ZymoSnap, ZymoSnap ALP | English | United States | | sds | alkaline-phosphatase alp enzyme-tests food-safety rapid-microbial-screening zymosnap zymosnap-alp | english | united-states |
| SDS-ZymoSnap-Positive-Control-GB-en | SDS | Alkaline Phosphatase, ALP, Enzyme Tests, Food Safety, Rapid microbial screening, ZymoSnap, ZymoSnap ALP | English | United Kingdom | | sds | alkaline-phosphatase alp enzyme-tests food-safety rapid-microbial-screening zymosnap zymosnap-alp | english | united-kingdom |
| SDS-ZymoSnap-Positive-Control-ES-es | SDS | Alkaline Phosphatase, ALP, Enzyme Tests, Food Safety, Rapid microbial screening, ZymoSnap, ZymoSnap ALP | Spanish | Spain | | sds | alkaline-phosphatase alp enzyme-tests food-safety rapid-microbial-screening zymosnap zymosnap-alp | spanish | spain |
| SDS-ZymoSnap-ZS-ALP-100-ES-es | SDS | Alkaline Phosphatase, ALP, Enzyme Tests, Food Safety, Rapid microbial screening, ZymoSnap, ZymoSnap ALP | Spanish | Spain | | sds | alkaline-phosphatase alp enzyme-tests food-safety rapid-microbial-screening zymosnap zymosnap-alp | spanish | spain |
| SDS-Spotcheck-Plus-GL100 | SDS | Enzyme Tests, Enzymes, Food Safety, SpotCheck Plus | English | United States | | sds | enzyme-tests enzymes food-safety spotcheck-plus | english | united-states |
| Validation of ZymoSnap for Alkaline Phosphatase (ALP) Detection in Dairy Products | Technical Bulletin | Alkaline Phosphatase, ALP, Dairy, Detection, Enzyme Tests, Positive Control Kit, Technical Bulletin, Validation, ZymoSnap ALP | English | United States | | technical-bulletin | alkaline-phosphatase alp dairy detection enzyme-tests positive-control-kit technical-bulletin validation zymosnap-alp | english | united-states |
| AOAC Certificate 022201 ZymoSnap ALP | Certification | AOAC, Enzyme Tests, ZymoSnap ALP | English | | | certification | aoac enzyme-tests zymosnap-alp | english | |
| 5-in-1 Water Test Product Sheet | Product Sheet | 5 in 1, 5 in 1 Water Test, Enzyme Tests, Water Test | English | | | product-sheet | 5-in-1 5-in-1-water-test enzyme-tests water-test | english | |
| SDS 5-in-1 Water Test KIT3063 & KIT3064 | SDS | 5 in 1, 5 in 1 Water Test, Enzyme Tests, Water Test | English | | | sds | 5-in-1 5-in-1-water-test enzyme-tests water-test | english | |
| SpotCheck Plus Product Sheet | Product Sheet | Enzyme Tests, SpotCheck Plus | English | | | product-sheet | enzyme-tests spotcheck-plus | english | |
| OleoTest Instructions | Instructions | Enzyme Tests, Enzymes, Oil Test, Oleo Test | English | | | instructions | enzyme-tests enzymes oil-test oleo-test | english | |
| SpotCheck Plus Instructions | Instructions | Enzyme Tests, Enzymes, SpotCheck Plus | English | | | instructions | enzyme-tests enzymes spotcheck-plus | english | |
| ZymoSnap ALP Positive Control Kit Instructions | Instructions | Enzyme Tests, Enzymes, Positive Control Kit, ZymoSnap ALP | English | | | instructions | enzyme-tests enzymes positive-control-kit zymosnap-alp | english | |
| ZymoSnap ALP Instructions | Instructions | Enzyme Tests, Enzymes, ZymoSnap ALP | English | | | instructions | enzyme-tests enzymes zymosnap-alp | english | |
| CrossCheck Instructions | Instructions | Cross Check, Enzyme Tests, Enzymes, ZymoSnap ALP | English | | | instructions | cross-check enzyme-tests enzymes zymosnap-alp | english | |
| 5-in-1 Water Test Instructions | Instructions | 5 in 1, 5 in 1 Water Test, Enzyme Tests, Water Test | English | | | instructions | 5-in-1 5-in-1-water-test enzyme-tests water-test | english | |
| ZymoSnap Bioluminescence Alkaline Phosphatase Test for Verification of Milk Pasteurization | Scientific Poster | Alkaline Phosphatase, Enzyme Tests, ZymoSnap | English | | | scientific-poster | alkaline-phosphatase enzyme-tests zymosnap | english | |
| CrossCheck Product Sheet | Product Sheet | Cross Check, Enzyme Tests | English | | | product-sheet | cross-check enzyme-tests | english | |
| ZymoSnap Product Sheet | Product Sheet | Enzyme Tests | English | | | product-sheet | enzyme-tests | english | |
| SpotCheck Plus Product Sheet (es) | Product Sheet | Enzyme Tests, SpotCheck Plus | Spanish | | | product-sheet | enzyme-tests spotcheck-plus | spanish | |
| OleoTest Product Sheet | Product Sheet | Enzyme Tests | English | | | product-sheet | enzyme-tests | english | |
| | | | |
| --- | --- | --- | --- |
| Catalog No. | Description | Quantity | Contact Sales |
| CX-3000 | CrossCheck Acid Phosphatase Test | 100 | Learn More |
Unique patented Snap-Valve™ design reduces user variation
Pre-moistened swab breaks through biofilms and maximizes sample recovery
Liquid stable reagent eliminates the need to reconstitute a pellet giving more accurate results with less variation
Write-on label for easy sample identification
Environmentally conscious design uses 50% less plastic than other tests
For use with EnSURE™ monitoring system
Detects down to 0.1% or less of raw meat or fish
Optional incubation for enhanced sensitivity