CalCheck – Health Care

LED Calibration Verification
CalCheck is a convenient and reusable LED device used to quickly and reliably verify the calibration of a Hygiena™ luminometer. Simply insert CalCheck into a Hygiena™ luminometer and run a test in seconds. While Hygiena™ luminometer runs a calibration self-check at startup, CalCheck provides validation and supports a robust quality control program. Watch the how-to-use video below.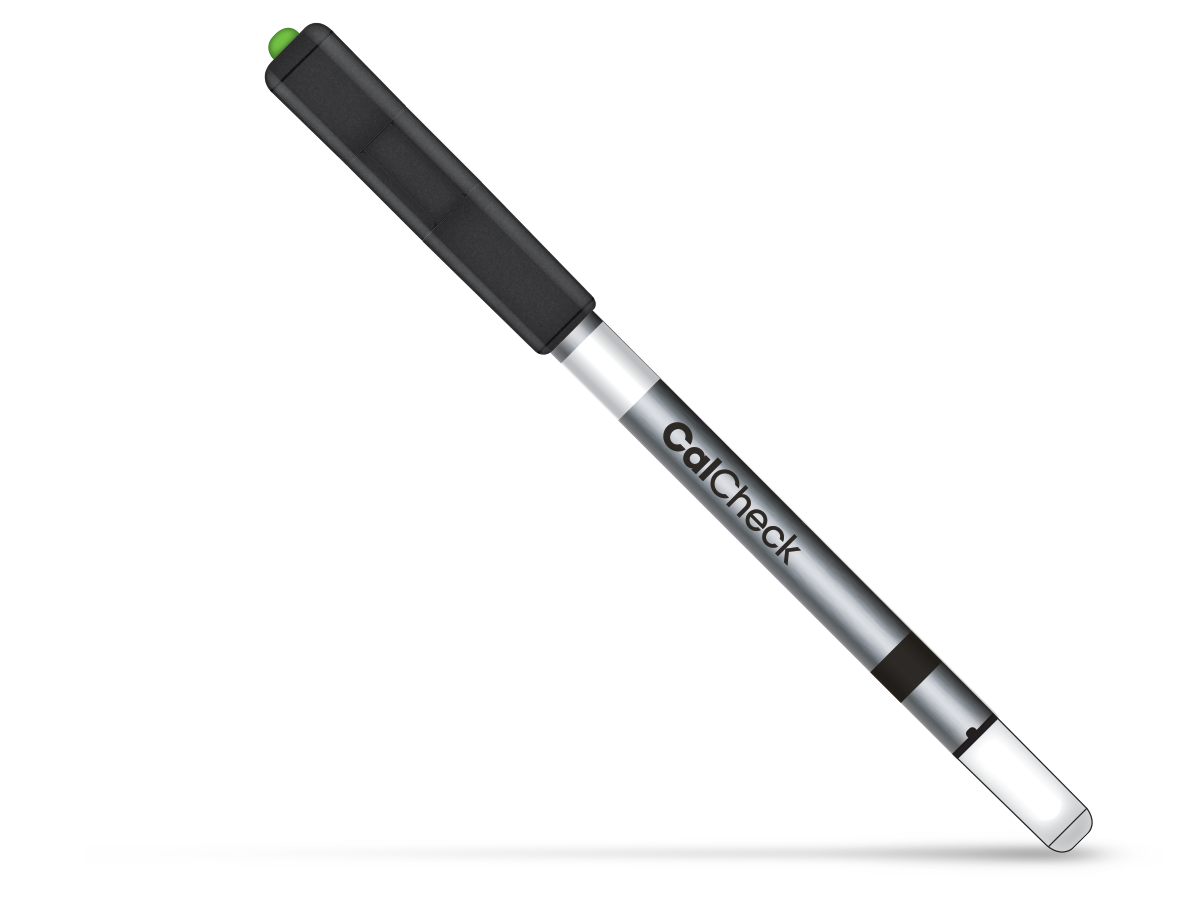 Confirm Calibration in Second
Record Calibration History for Audits
Powered by Standard Batteries
Compatible with all Hygiena Luminometers
Track Calibration History to Support Audits
In-house calibration checks confirm the Hygiena™ luminometer is working properly and demonstrate due diligence that a monitoring system is in control. CalCheck verifies your instrument's calibration in-house as part of a quality control program and eliminates the need for manufacturer calibration checks, saving you hundreds of dollars each year.
Confirm Calibration in Seconds
CalCheck is a reusable positive and negative calibration verification device. In two simple steps, you can verify both negative and positive values to verify your Hygiena™ luminometer is in calibration. View the CalCheck how-to view video below.
Powered by a Standard Battery
The CalCheck LED will turn red when the battery needs to be replaced. Simply replace the standard coin-size CR1025 lithium battery and you are good to go. No hassle… no fuss.
Works with All Hygiena™ Luminometers
Whether you have a SystemSURE™ Plus, EnSURE™ or EnSURE™ Touch, CalCheck is the perfect companion and an essential device to support your food safety SOP and conquer your food safety audits.
Contact Sales
Have a specific question or need information on pricing? Send us a message and a sales representative will contact you.
| Title | Categories | Tags | Language | SDS Region | Link | doc_categories_hfilter | doc_tags_hfilter | dlp-language_hfilter | sds-region_hfilter |
| --- | --- | --- | --- | --- | --- | --- | --- | --- | --- |
| EnSURE Touch Instrument Safety Information | Instructions | ATP Monitoring, EnSURE Touch, Environmental Monitoring, Instructions, Luminometer | English | | | instructions | atp-monitoring ensure-touch environmental-monitoring instructions luminometer | english | |
| HACCP Cleaning and Sanitation Verification White Paper | White Paper | ATP Monitoring, EnSURE Touch, Environmental Monitoring, Health Care | English | | | white-paper | atp-monitoring ensure-touch environmental-monitoring health-care | english | |
| EnSURE Touch Specifications | Technical Bulletin | ATP Monitoring, EnSURE Touch | English | | | technical-bulletin | atp-monitoring ensure-touch | english | |
| Hygiena BioChek Product Overview | Brochure | BioCheck, Hygiena, One Health, Product Overview | English | | | brochure | biocheck hygiena one-health product-overview | english | |
| One Health Poultry Products Portfolio Flyer | Brochure | One Health, Poultry, Product Overview | English | | | brochure | one-health poultry product-overview | english | |
| SDS Q-Swab Letheen Broth (TR) | SDS | Letheen Broth, Q Swab, Sample Collection | Turkish | Turkey | | sds | letheen-broth q-swab sample-collection | turkish | turkey |
| SDS Q-Swab Letheen Broth (TH) | SDS | Letheen Broth, Q Swab, Sample Collection | Thai | Thailand | | sds | letheen-broth q-swab sample-collection | thai | thailand |
| SDS Q-Swab Letheen Broth (SK) | SDS | Letheen Broth, Q Swab, Sample Collection | Korean | South Korean | | sds | letheen-broth q-swab sample-collection | korean | south-korean |
| SDS Q-Swab Letheen Broth (SI) | SDS | Letheen Broth, Q Swab, Sample Collection | Slovene | Slovenia | | sds | letheen-broth q-swab sample-collection | slovene | slovenia |
| SDS Q-Swab Letheen Broth (SE) | SDS | Letheen Broth, Q Swab, Sample Collection | Swedish | Sweden | | sds | letheen-broth q-swab sample-collection | swedish | sweden |
| SDS Q-Swab Letheen Broth (RU) | SDS | Letheen Broth, Q Swab, Sample Collection | Russian | Russia | | sds | letheen-broth q-swab sample-collection | russian | russia |
| SDS Q-Swab Letheen Broth (RO) | SDS | Letheen Broth, Q Swab, Sample Collection | Romanian | Romania | | sds | letheen-broth q-swab sample-collection | romanian | romania |
| SDS Q-Swab Letheen Broth (PT) | SDS | Letheen Broth, Q Swab, Sample Collection | Portuguese | Portugal | | sds | letheen-broth q-swab sample-collection | portuguese | portugal |
| SDS Q-Swab Letheen Broth (PL) | SDS | Letheen Broth, Q Swab, Sample Collection | Polish | Poland | | sds | letheen-broth q-swab sample-collection | polish | poland |
| SDS Q-Swab Letheen Broth (NO) | SDS | Letheen Broth, Q Swab, Sample Collection | Norse | Norway | | sds | letheen-broth q-swab sample-collection | norse | norway |
| SDS Q-Swab Letheen Broth (NL) | SDS | Letheen Broth, Q Swab, Sample Collection | Dutch | Netherlands | | sds | letheen-broth q-swab sample-collection | dutch | netherlands |
| SDS Q-Swab Letheen Broth (MX) | SDS | Letheen Broth, Q Swab, Sample Collection | Spanish | Mexico | | sds | letheen-broth q-swab sample-collection | spanish | mexico |
| SDS Q-Swab Letheen Broth (MA-ar) | SDS | Letheen Broth, Q Swab, Sample Collection | Arabic | Morocco | | sds | letheen-broth q-swab sample-collection | arabic | morocco |
| SDS Q-Swab Letheen Broth (KR) | SDS | Letheen Broth, Q Swab, Sample Collection | Korean | South Korean | | sds | letheen-broth q-swab sample-collection | korean | south-korean |
| SDS Q-Swab Letheen Broth (JP) | SDS | Letheen Broth, Q Swab, Sample Collection | Japanese | Japan | | sds | letheen-broth q-swab sample-collection | japanese | japan |
| SDS Q-Swab Letheen Broth (IT) | SDS | Letheen Broth, Q Swab, Sample Collection | Italian | Italy | | sds | letheen-broth q-swab sample-collection | italian | italy |
| SDS Q-Swab Letheen Broth (IE) | SDS | Letheen Broth, Q Swab, Sample Collection | English | Ireland | | sds | letheen-broth q-swab sample-collection | english | ireland |
| SDS Q-Swab Letheen Broth (HU) | SDS | Letheen Broth, Q Swab, Sample Collection | Hungarian | Hungary | | sds | letheen-broth q-swab sample-collection | hungarian | hungary |
| SDS Q-Swab Letheen Broth (HR) | SDS | Letheen Broth, Q Swab, Sample Collection | Croatian | Croatia | | sds | letheen-broth q-swab sample-collection | croatian | croatia |
| SDS Q-Swab Letheen Broth (GR-el) | SDS | Letheen Broth, Q Swab, Sample Collection | Greek | Greek | | sds | letheen-broth q-swab sample-collection | greek | greek |
| SDS Q-Swab Letheen Broth (GB) | SDS | Letheen Broth, Q Swab, Sample Collection | English | United Kingdom | | sds | letheen-broth q-swab sample-collection | english | united-kingdom |
| SDS Q-Swab Letheen Broth (FR) | SDS | Letheen Broth, Q Swab, Sample Collection | French | France | | sds | letheen-broth q-swab sample-collection | french | france |
| SDS Q-Swab Letheen Broth (FI) | SDS | Letheen Broth, Q Swab, Sample Collection | Finnish | Finland | | sds | letheen-broth q-swab sample-collection | finnish | finland |
| SDS Q-Swab Letheen Broth (ES) | SDS | Letheen Broth, Q Swab, Sample Collection | Spanish | Spain | | sds | letheen-broth q-swab sample-collection | spanish | spain |
| SDS Q-Swab Letheen Broth (DK-da) | SDS | Letheen Broth, Q Swab, Sample Collection | Danish | Denmark | | sds | letheen-broth q-swab sample-collection | danish | denmark |
| SDS Q-Swab Letheen Broth (DE) | SDS | Letheen Broth, Q Swab, Sample Collection | German | Germany | | sds | letheen-broth q-swab sample-collection | german | germany |
| SDS Q-Swab Letheen-Broth (CZ-cs) | SDS | Letheen Broth, Q Swab, Sample Collection | Czech | Czech Republic | | sds | letheen-broth q-swab sample-collection | czech | czech-republic |
| SDS Q-Swab Letheen Broth (CN-zh) | SDS | Letheen Broth, Q Swab, Sample Collection | Simplified Chinese | China | | sds | letheen-broth q-swab sample-collection | simplified-chinese | china |
| SDS Q-Swab Letheen Broth (CA-fr) | SDS | Letheen Broth, Q Swab, Sample Collection | French | Canada | | sds | letheen-broth q-swab sample-collection | french | canada |
| SDS Q-Swab Letheen Broth (CA-en) | SDS | Letheen Broth, Q Swab, Sample Collection | English | Canada | | sds | letheen-broth q-swab sample-collection | english | canada |
| SDS Q-Swab Letheen Broth (BR-pt) | SDS | Letheen Broth, Q Swab, Sample Collection | Portuguese | Brazil | | sds | letheen-broth q-swab sample-collection | portuguese | brazil |
| SDS Q-Swab Letheen Broth (BG) | SDS | Letheen Broth, Q Swab, Sample Collection | Bulgarian | Bulgaria | | sds | letheen-broth q-swab sample-collection | bulgarian | bulgaria |
| SDS Q-Swab Letheen Broth (US) | SDS | Letheen Broth, Q Swab, Sample Collection | English | United States | | sds | letheen-broth q-swab sample-collection | english | united-states |
| SDS Q-Swab Buffered Peptone Water (TR) | SDS | Buffered Peptone Water, Q Swab, Sample Collection | Turkish | Turkey | | sds | buffered-peptone-water q-swab sample-collection | turkish | turkey |
| SDS Q-Swab Buffered Peptone Water (TH) | SDS | Buffered Peptone Water, Q Swab, Sample Collection | Thai | Thailand | | sds | buffered-peptone-water q-swab sample-collection | thai | thailand |
| SDS Q-Swab Buffered Peptone Water (SK) | SDS | Buffered Peptone Water, Q Swab, Sample Collection | Slovak | Slovakia | | sds | buffered-peptone-water q-swab sample-collection | slovak | slovakia |
| SDS Q-Swab Buffered Peptone Water (SI) | SDS | Buffered Peptone Water, Q Swab, Sample Collection | Slovene | Slovenia | | sds | buffered-peptone-water q-swab sample-collection | slovene | slovenia |
| SDS Q-Swab Buffered Peptone Water (SE-sv) | SDS | Buffered Peptone Water, Q Swab, Sample Collection | Swedish | Sweden | | sds | buffered-peptone-water q-swab sample-collection | swedish | sweden |
| SDS Q-Swab Buffered Peptone Water (RU) | SDS | Buffered Peptone Water, Q Swab, Sample Collection | Russian | Russia | | sds | buffered-peptone-water q-swab sample-collection | russian | russia |
| SDS Q-Swab Buffered Peptone Water (RO) | SDS | Buffered Peptone Water, Q Swab, Sample Collection | Romanian | Romania | | sds | buffered-peptone-water q-swab sample-collection | romanian | romania |
| SDS Q-Swab Buffered Peptone Water (PT) | SDS | Buffered Peptone Water, Q Swab, Sample Collection | Portuguese | Portugal | | sds | buffered-peptone-water q-swab sample-collection | portuguese | portugal |
| SDS Q-Swab Buffered Peptone Water (PL) | SDS | Buffered Peptone Water, Q Swab, Sample Collection | Polish | Poland | | sds | buffered-peptone-water q-swab sample-collection | polish | poland |
| SDS Q-Swab Buffered Peptone Water (NO) | SDS | Buffered Peptone Water, Q Swab, Sample Collection | Norse | Norway | | sds | buffered-peptone-water q-swab sample-collection | norse | norway |
| SDS Q-Swab Buffered Peptone Water (NL) | SDS | Buffered Peptone Water, Q Swab, Sample Collection | Dutch | Netherlands | | sds | buffered-peptone-water q-swab sample-collection | dutch | netherlands |
| SDS Q-Swab Buffered Peptone Water (MX-es) | SDS | Buffered Peptone Water, Q Swab, Sample Collection | Spanish | Mexico | | sds | buffered-peptone-water q-swab sample-collection | spanish | mexico |
| SDS Q-Swab Buffered Peptone Water (MA-ar) | SDS | Buffered Peptone Water, Q Swab, Sample Collection | Arabic | Morocco | | sds | buffered-peptone-water q-swab sample-collection | arabic | morocco |
| SDS Q-Swab Buffered Peptone Water (KR) | SDS | Buffered Peptone Water, Q Swab, Sample Collection | Korean | South Korean | | sds | buffered-peptone-water q-swab sample-collection | korean | south-korean |
| SDS Q-Swab Buffered Peptone Water (JP) | SDS | Buffered Peptone Water, Q Swab, Sample Collection | Japanese | Japan | | sds | buffered-peptone-water q-swab sample-collection | japanese | japan |
| SDS Q-Swab Buffered Peptone Water (IT) | SDS | Buffered Peptone Water, Q Swab, Sample Collection | Italian | Italy | | sds | buffered-peptone-water q-swab sample-collection | italian | italy |
| SDS Q-Swab Buffered Peptone Water (IE-en) | SDS | Buffered Peptone Water, Q Swab, Sample Collection | English | Ireland | | sds | buffered-peptone-water q-swab sample-collection | english | ireland |
| SDS Q-Swab Buffered Peptone Water (HU) | SDS | Buffered Peptone Water, Q Swab, Sample Collection | Hungarian | Hungary | | sds | buffered-peptone-water q-swab sample-collection | hungarian | hungary |
| SDS Q-Swab Buffered Peptone Water (HR) | SDS | Buffered Peptone Water, Q Swab, Sample Collection | Croatian | Croatia | | sds | buffered-peptone-water q-swab sample-collection | croatian | croatia |
| SDS Q-Swab Buffered Peptone Water (GR-el) | SDS | Buffered Peptone Water, Q Swab, Sample Collection | Greek | Greek | | sds | buffered-peptone-water q-swab sample-collection | greek | greek |
| SDS Q-Swab Buffered Peptone Water (GB) | SDS | Buffered Peptone Water, Q Swab, Sample Collection | English | United Kingdom | | sds | buffered-peptone-water q-swab sample-collection | english | united-kingdom |
| SDS Q-Swab Buffered Peptone Water (FR) | SDS | Buffered Peptone Water, Q Swab, Sample Collection | French | France | | sds | buffered-peptone-water q-swab sample-collection | french | france |
| SDS Q-Swab Buffered Peptone Water (FI) | SDS | Buffered Peptone Water, Q Swab, Sample Collection | Finnish | Finland | | sds | buffered-peptone-water q-swab sample-collection | finnish | finland |
| SDS Q-Swab Buffered Peptone Water (ES) | SDS | Buffered Peptone Water, Q Swab, Sample Collection | Spanish | Spain | | sds | buffered-peptone-water q-swab sample-collection | spanish | spain |
| SDS Q-Swab Buffered Peptone Water (DK) | SDS | Buffered Peptone Water, Q Swab, Sample Collection | Danish | Denmark | | sds | buffered-peptone-water q-swab sample-collection | danish | denmark |
| SDS Q-Swab Buffered Peptone Water (DE) | SDS | Buffered Peptone Water, Q Swab, Sample Collection | German | Germany | | sds | buffered-peptone-water q-swab sample-collection | german | germany |
| SDS Q-Swab Buffered Peptone Water (CZ) | SDS | Buffered Peptone Water, Q Swab, Sample Collection | Czech | Czech Republic | | sds | buffered-peptone-water q-swab sample-collection | czech | czech-republic |
| SDS Q-Swab Buffered Peptone Water (CN-zh) | SDS | Buffered Peptone Water, Q Swab, Sample Collection | Simplified Chinese | China | | sds | buffered-peptone-water q-swab sample-collection | simplified-chinese | china |
| SDS Q-Swab Buffered Peptone Water (CA-fr) | SDS | Buffered Peptone Water, Q Swab, Sample Collection | French | Canada | | sds | buffered-peptone-water q-swab sample-collection | french | canada |
| SDS Q-Swab Buffered Peptone Water (CA-en) | SDS | Buffered Peptone Water, Q Swab, Sample Collection | English | Canada | | sds | buffered-peptone-water q-swab sample-collection | english | canada |
| SDS Q-Swab Buffered Peptone Water (BR) | SDS | Buffered Peptone Water, Q Swab, Sample Collection | Portuguese | Brazil | | sds | buffered-peptone-water q-swab sample-collection | portuguese | brazil |
| SDS Q-Swab Buffered Peptone Water (BG) | SDS | Buffered Peptone Water, Q Swab, Sample Collection | Bulgarian | Bulgaria | | sds | buffered-peptone-water q-swab sample-collection | bulgarian | bulgaria |
| SDS Q-Swab Buffered Peptone Water (US) | SDS | Buffered Peptone Water, Q Swab, Sample Collection | English | United States | | sds | buffered-peptone-water q-swab sample-collection | english | united-states |
| ATP What Does Clean Mean? | Technical Bulletin | ATP Monitoring, EnSURE Touch | English | | | technical-bulletin | atp-monitoring ensure-touch | english | |
| Innovation to Hygiene Monitoring Guide | Brochure | ATP Cleaning Verification, ATP Monitoring, EnSURE Touch | English | | | brochure | atp-cleaning-verification atp-monitoring ensure-touch | english | |
| SureTrend 4 Software (Win) | Software | ATP Cleaning Verification, ATP Monitoring, Software, Suretrend, Suretrend 4 | English | | | software | atp-cleaning-verification atp-monitoring software suretrend suretrend-4 | english | |
| Q Swab Instructions (Es) | Instructions | Q Swab, Sample Collection | Spanish | | | instructions | q-swab sample-collection | spanish | |
| Q Swab Instructions | Instructions | Q Swab, Sample Collection | English | | | instructions | q-swab sample-collection | english | |
| QD Loop Instructions | Instructions | QD Loop, Sample Collection | English | | | instructions | qd-loop sample-collection | english | |
| Transport Swab Instructions | Instructions | Sample Collection, Transport Swab | English | | | instructions | sample-collection transport-swab | english | |
| MediCheck Instructions | Instructions | MediCheck, Protein Residue | English | | | instructions | medicheck protein-residue | english | |
| AquaSnap Free and Total Instructions | Instructions | AquaSnap Free, Aquasnap Total, ATP Cleaning Verification, ATP Monitoring | English | | | instructions | aquasnap-free aquasnap-total atp-cleaning-verification atp-monitoring | english | |
| SuperSnap Instructions | Instructions | ATP Cleaning Verification, ATP Monitoring, SuperSnap | English | | | instructions | atp-cleaning-verification atp-monitoring supersnap | english | |
| UltraSnap Instructions | Instructions | ATP Cleaning Verification, ATP Monitoring, Health Care, Ultrasnap | English | | | instructions | atp-cleaning-verification atp-monitoring health-care ultrasnap | english | |
| ATP RLU Limits Worksheet | Worksheet | ATP Monitoring | English | | | worksheet | atp-monitoring | english | |
| EnSURE Monitoring System IQOQ | Form | ATP Monitoring | English | | | form | atp-monitoring | english | |
| Polyurethane vs Cellulose Sponge Report | Technical Bulletin | Pathogen Detection, Sample Collection | English | | | technical-bulletin | pathogen-detection sample-collection | english | |
| EnSURE Touch Simulates Charm novaLUM RLU Scale | Technical Bulletin | ATP Monitoring, EnSURE Touch, Ultrasnap | English | | | technical-bulletin | atp-monitoring ensure-touch ultrasnap | english | |
| EnSURE Touch ATP Monitoring Performance | Technical Bulletin | ATP Monitoring, EnSURE Touch | English | | | technical-bulletin | atp-monitoring ensure-touch | english | |
| EnSURE Touch vs Kikkoman Technical Bulletin | Technical Bulletin | ATP Monitoring, EnSURE Touch | English | | | technical-bulletin | atp-monitoring ensure-touch | english | |
| Three Components of ATP Testing | Technical Bulletin | ATP Monitoring | English | | | technical-bulletin | atp-monitoring | english | |
| Sensitivity Comparison Three Luminometers Spanish | Technical Bulletin | ATP Monitoring | Spanish | | | technical-bulletin | atp-monitoring | spanish | |
| Sensitivity Comparison Three Luminometers | Technical Bulletin | ATP Monitoring | English | | | technical-bulletin | atp-monitoring | english | |
| Sanitizer Effects on ATP Surface Testing | Technical Bulletin | ATP Monitoring | English | | | technical-bulletin | atp-monitoring | english | |
| Sample Stability and Delayed Luminometer Testing | Technical Bulletin | ATP Monitoring | English | | | technical-bulletin | atp-monitoring | english | |
| Hygiena vs Charm Technology and Sensitivity | Technical Bulletin | ATP Monitoring | English | | | technical-bulletin | atp-monitoring | english | |
| Hygiena ATP Device Stability Test Results | Technical Bulletin | ATP Monitoring | English | | | technical-bulletin | atp-monitoring | english | |
| ATP Testing Procedure Quick Start | Ready Reference Guides | ATP Monitoring, EnSURE, SystemSURE Plus | English | | | ready-reference-guides | atp-monitoring ensure systemsure-plus | english | |
| EnSURE Touch Manual | Instructions | ATP Cleaning Verification, ATP Monitoring, EnSURE Touch | English | | | instructions | atp-cleaning-verification atp-monitoring ensure-touch | english | |
| CalCheck Instructions | Instructions | ATP Monitoring, Calcheck, Medical, Sample Collection, SpotCheck Plus | English | | | instructions | atp-monitoring calcheck medical sample-collection spotcheck-plus | english | |
| EndoSwab Instructions | Instructions | ATP Cleaning Verification, ATP Monitoring, EndoSwab, Health Care, Medical, Sample Collection | English | | | instructions | atp-cleaning-verification atp-monitoring endoswab health-care medical sample-collection | english | |
| Optimizing Hygiena in Ambulances | White Paper | ATP Monitoring | English | | | white-paper | atp-monitoring | english | |
| SureTrend Cloud Ensures Data Security | White Paper | ATP Monitoring, EnSURE Touch, SureTrend Cloud | English | | | white-paper | atp-monitoring ensure-touch suretrend-cloud | english | |
| Using UV Sanitation in Health Care Facilities | White Paper | ATP Monitoring, Indicator Organisms | English | | | white-paper | atp-monitoring indicator-organisms | english | |
| Exercise Monitors and Hospital Infection | White Paper | ATP Monitoring | English | | | white-paper | atp-monitoring | english | |
| ISSA Value of Clean | White Paper | ATP Monitoring | English | | | white-paper | atp-monitoring | english | |
| ISSA Clean Standards | White Paper | ATP Monitoring | English | | | white-paper | atp-monitoring | english | |
| Antarctic Antibiotic-resistant Bacteria | Case Study | Pathogen Detection, RiboPrinter | English | | | case-study | pathogen-detection riboprinter | english | |
| Using ATP Monitoring on Ultrasound Equipment | Case Study | ATP Monitoring | English | | | case-study | atp-monitoring | english | |
| Cleaning Verification System Health Care Product Sheet | Product Sheet | ATP Monitoring | English | | | product-sheet | atp-monitoring | english | |
| EndoSwab Health Care Product Sheet | Product Sheet | ATP Monitoring, Health Care, Sample Collection | English | | | product-sheet | atp-monitoring health-care sample-collection | english | |
| MediCheck Product Sheet | Product Sheet | Surface Residue | English | | | product-sheet | surface-residue | english | |
| AquaSnap Total and Free Health Care Product Sheet | Product Sheet | ATP Monitoring | English | | | product-sheet | atp-monitoring | english | |
| SystemSURE Plus Brochure – Health Care | Brochure | ATP Monitoring, SystemSURE Plus | English | | | brochure | atp-monitoring systemsure-plus | english | |
| EnSURE Touch Brochure – Health Care | Brochure | ATP Monitoring, EnSURE Touch | English | | | brochure | atp-monitoring ensure-touch | english | |
| | | | |
| --- | --- | --- | --- |
| Catalog No. | Description | Quantity | Contact Sales |
| CAL | CalCheck LED Calibration Verification Device | 1 | Learn More |
Includes one reusable calibration device featuring both positive and negative control modes
Powered by one CR1025 battery
Shelf life: 5 years