EndoSwab – Health Care

EndoSwab sample collection device is used in conjunction with UltraSnapTM Surface ATP Test. It features a foam tip attached to a long wand, which is used to collect test samples from the main endoscope channel. After sampling, the foam tip is cut off the wand and aseptically added to the ATP test device and processed on a HygienaTM luminometer. The resulting RLU indicates whether the internal channel was cleaned effectively.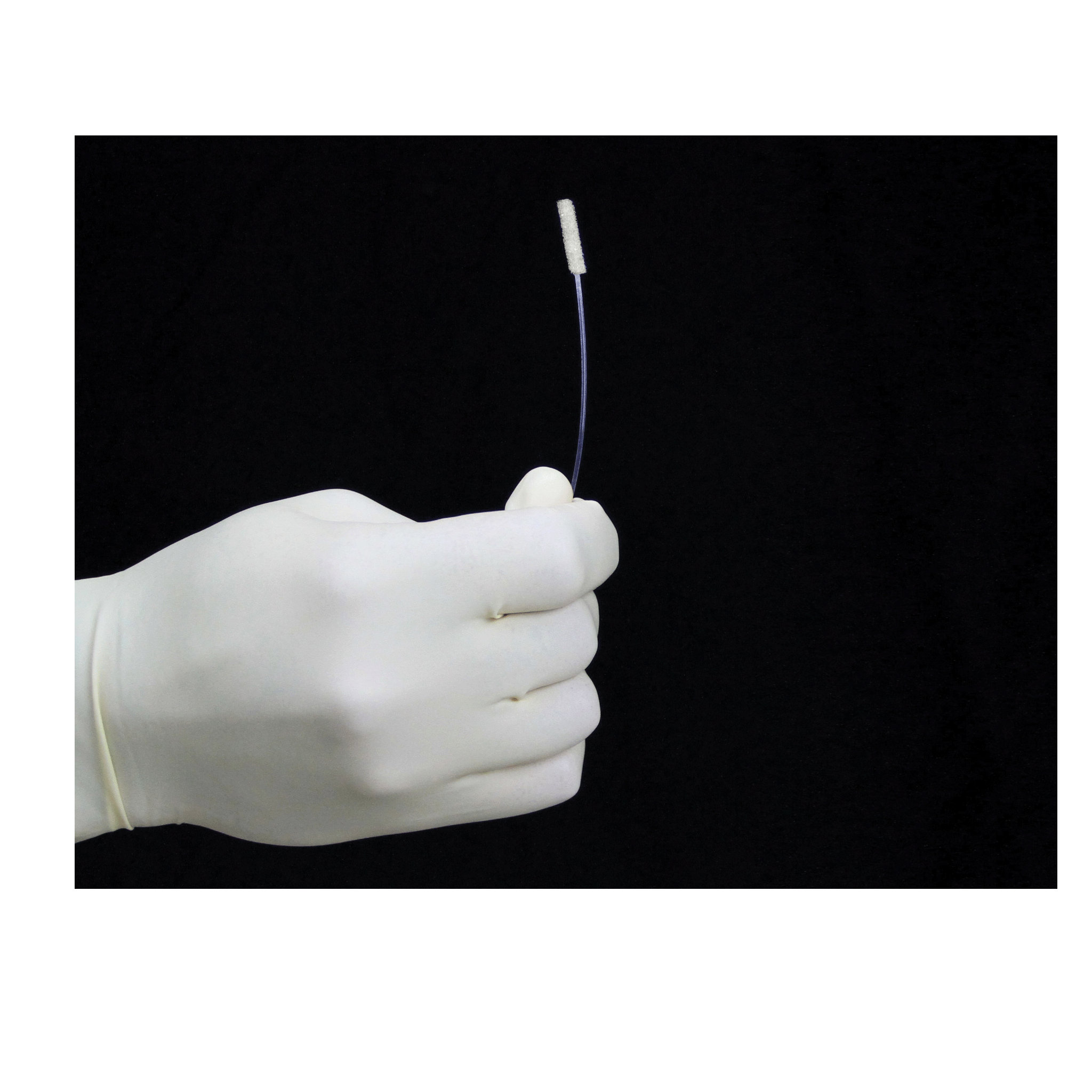 Individually Bagged for Single Use
Clinically Clean Packaging
Wand Length 2.4 M (7'10")
A Complete Endoscope Cleaning Verification System
In addition to using the Hygiena™ EndoSwab to verify cleaning of internal channels, we offer several other products to complete your endoscope cleaning verification process. UltraSnapTM Surface ATP Test can be used to verify the cleaning of the external surface, and AquaSnapTM Free and AquaSnapTM Total can be used to verify cleaning using sterile flush water from CIP processes. For more information, contact Hygiena™ or visit the Ruhof website for a complete line of surgical instrument cleaning products.
Hygiena is a proud partner of Ruhof Corporation.
Hygiena™ proudly distributes Ruhof endoscope swab sampling devices to its healthcare customers. For additional endoscope reprocessing products such as additional swab sizes, brushes, enzymatic detergents, and more, please contact Ruhof directly via www.ruhof.com or by calling 1 (800) 537-6483.
Contact Sales
Have a specific question or need information on pricing? Send us a message and a sales representative will contact you.
| Title | Categories | Tags | Language | SDS Region | Link | doc_categories_hfilter | doc_tags_hfilter | dlp-language_hfilter | sds-region_hfilter |
| --- | --- | --- | --- | --- | --- | --- | --- | --- | --- |
| EnSURE Touch Instrument Safety Information | Instructions | ATP Monitoring, EnSURE Touch, Environmental Monitoring, Instructions, Luminometer | English | | | instructions | atp-monitoring ensure-touch environmental-monitoring instructions luminometer | english | |
| HACCP Cleaning and Sanitation Verification White Paper | White Paper | ATP Monitoring, EnSURE Touch, Environmental Monitoring, Health Care | English | | | white-paper | atp-monitoring ensure-touch environmental-monitoring health-care | english | |
| EnSURE Touch Specifications | Technical Bulletin | ATP Monitoring, EnSURE Touch | English | | | technical-bulletin | atp-monitoring ensure-touch | english | |
| Hygiena BioChek Product Overview | Brochure | BioCheck, Hygiena, One Health, Product Overview | English | | | brochure | biocheck hygiena one-health product-overview | english | |
| One Health Poultry Products Portfolio Flyer | Brochure | One Health, Poultry, Product Overview | English | | | brochure | one-health poultry product-overview | english | |
| SDS Q-Swab Letheen Broth (TR) | SDS | Letheen Broth, Q Swab, Sample Collection | Turkish | Turkey | | sds | letheen-broth q-swab sample-collection | turkish | turkey |
| SDS Q-Swab Letheen Broth (TH) | SDS | Letheen Broth, Q Swab, Sample Collection | Thai | Thailand | | sds | letheen-broth q-swab sample-collection | thai | thailand |
| SDS Q-Swab Letheen Broth (SK) | SDS | Letheen Broth, Q Swab, Sample Collection | Korean | South Korean | | sds | letheen-broth q-swab sample-collection | korean | south-korean |
| SDS Q-Swab Letheen Broth (SI) | SDS | Letheen Broth, Q Swab, Sample Collection | Slovene | Slovenia | | sds | letheen-broth q-swab sample-collection | slovene | slovenia |
| SDS Q-Swab Letheen Broth (SE) | SDS | Letheen Broth, Q Swab, Sample Collection | Swedish | Sweden | | sds | letheen-broth q-swab sample-collection | swedish | sweden |
| SDS Q-Swab Letheen Broth (RU) | SDS | Letheen Broth, Q Swab, Sample Collection | Russian | Russia | | sds | letheen-broth q-swab sample-collection | russian | russia |
| SDS Q-Swab Letheen Broth (RO) | SDS | Letheen Broth, Q Swab, Sample Collection | Romanian | Romania | | sds | letheen-broth q-swab sample-collection | romanian | romania |
| SDS Q-Swab Letheen Broth (PT) | SDS | Letheen Broth, Q Swab, Sample Collection | Portuguese | Portugal | | sds | letheen-broth q-swab sample-collection | portuguese | portugal |
| SDS Q-Swab Letheen Broth (PL) | SDS | Letheen Broth, Q Swab, Sample Collection | Polish | Poland | | sds | letheen-broth q-swab sample-collection | polish | poland |
| SDS Q-Swab Letheen Broth (NO) | SDS | Letheen Broth, Q Swab, Sample Collection | Norse | Norway | | sds | letheen-broth q-swab sample-collection | norse | norway |
| SDS Q-Swab Letheen Broth (NL) | SDS | Letheen Broth, Q Swab, Sample Collection | Dutch | Netherlands | | sds | letheen-broth q-swab sample-collection | dutch | netherlands |
| SDS Q-Swab Letheen Broth (MX) | SDS | Letheen Broth, Q Swab, Sample Collection | Spanish | Mexico | | sds | letheen-broth q-swab sample-collection | spanish | mexico |
| SDS Q-Swab Letheen Broth (MA-ar) | SDS | Letheen Broth, Q Swab, Sample Collection | Arabic | Morocco | | sds | letheen-broth q-swab sample-collection | arabic | morocco |
| SDS Q-Swab Letheen Broth (KR) | SDS | Letheen Broth, Q Swab, Sample Collection | Korean | South Korean | | sds | letheen-broth q-swab sample-collection | korean | south-korean |
| SDS Q-Swab Letheen Broth (JP) | SDS | Letheen Broth, Q Swab, Sample Collection | Japanese | Japan | | sds | letheen-broth q-swab sample-collection | japanese | japan |
| SDS Q-Swab Letheen Broth (IT) | SDS | Letheen Broth, Q Swab, Sample Collection | Italian | Italy | | sds | letheen-broth q-swab sample-collection | italian | italy |
| SDS Q-Swab Letheen Broth (IE) | SDS | Letheen Broth, Q Swab, Sample Collection | English | Ireland | | sds | letheen-broth q-swab sample-collection | english | ireland |
| SDS Q-Swab Letheen Broth (HU) | SDS | Letheen Broth, Q Swab, Sample Collection | Hungarian | Hungary | | sds | letheen-broth q-swab sample-collection | hungarian | hungary |
| SDS Q-Swab Letheen Broth (HR) | SDS | Letheen Broth, Q Swab, Sample Collection | Croatian | Croatia | | sds | letheen-broth q-swab sample-collection | croatian | croatia |
| SDS Q-Swab Letheen Broth (GR-el) | SDS | Letheen Broth, Q Swab, Sample Collection | Greek | Greek | | sds | letheen-broth q-swab sample-collection | greek | greek |
| SDS Q-Swab Letheen Broth (GB) | SDS | Letheen Broth, Q Swab, Sample Collection | English | United Kingdom | | sds | letheen-broth q-swab sample-collection | english | united-kingdom |
| SDS Q-Swab Letheen Broth (FR) | SDS | Letheen Broth, Q Swab, Sample Collection | French | France | | sds | letheen-broth q-swab sample-collection | french | france |
| SDS Q-Swab Letheen Broth (FI) | SDS | Letheen Broth, Q Swab, Sample Collection | Finnish | Finland | | sds | letheen-broth q-swab sample-collection | finnish | finland |
| SDS Q-Swab Letheen Broth (ES) | SDS | Letheen Broth, Q Swab, Sample Collection | Spanish | Spain | | sds | letheen-broth q-swab sample-collection | spanish | spain |
| SDS Q-Swab Letheen Broth (DK-da) | SDS | Letheen Broth, Q Swab, Sample Collection | Danish | Denmark | | sds | letheen-broth q-swab sample-collection | danish | denmark |
| SDS Q-Swab Letheen Broth (DE) | SDS | Letheen Broth, Q Swab, Sample Collection | German | Germany | | sds | letheen-broth q-swab sample-collection | german | germany |
| SDS Q-Swab Letheen-Broth (CZ-cs) | SDS | Letheen Broth, Q Swab, Sample Collection | Czech | Czech Republic | | sds | letheen-broth q-swab sample-collection | czech | czech-republic |
| SDS Q-Swab Letheen Broth (CN-zh) | SDS | Letheen Broth, Q Swab, Sample Collection | Simplified Chinese | China | | sds | letheen-broth q-swab sample-collection | simplified-chinese | china |
| SDS Q-Swab Letheen Broth (CA-fr) | SDS | Letheen Broth, Q Swab, Sample Collection | French | Canada | | sds | letheen-broth q-swab sample-collection | french | canada |
| SDS Q-Swab Letheen Broth (CA-en) | SDS | Letheen Broth, Q Swab, Sample Collection | English | Canada | | sds | letheen-broth q-swab sample-collection | english | canada |
| SDS Q-Swab Letheen Broth (BR-pt) | SDS | Letheen Broth, Q Swab, Sample Collection | Portuguese | Brazil | | sds | letheen-broth q-swab sample-collection | portuguese | brazil |
| SDS Q-Swab Letheen Broth (BG) | SDS | Letheen Broth, Q Swab, Sample Collection | Bulgarian | Bulgaria | | sds | letheen-broth q-swab sample-collection | bulgarian | bulgaria |
| SDS Q-Swab Letheen Broth (US) | SDS | Letheen Broth, Q Swab, Sample Collection | English | United States | | sds | letheen-broth q-swab sample-collection | english | united-states |
| SDS Q-Swab Buffered Peptone Water (TR) | SDS | Buffered Peptone Water, Q Swab, Sample Collection | Turkish | Turkey | | sds | buffered-peptone-water q-swab sample-collection | turkish | turkey |
| SDS Q-Swab Buffered Peptone Water (TH) | SDS | Buffered Peptone Water, Q Swab, Sample Collection | Thai | Thailand | | sds | buffered-peptone-water q-swab sample-collection | thai | thailand |
| SDS Q-Swab Buffered Peptone Water (SK) | SDS | Buffered Peptone Water, Q Swab, Sample Collection | Slovak | Slovakia | | sds | buffered-peptone-water q-swab sample-collection | slovak | slovakia |
| SDS Q-Swab Buffered Peptone Water (SI) | SDS | Buffered Peptone Water, Q Swab, Sample Collection | Slovene | Slovenia | | sds | buffered-peptone-water q-swab sample-collection | slovene | slovenia |
| SDS Q-Swab Buffered Peptone Water (SE-sv) | SDS | Buffered Peptone Water, Q Swab, Sample Collection | Swedish | Sweden | | sds | buffered-peptone-water q-swab sample-collection | swedish | sweden |
| SDS Q-Swab Buffered Peptone Water (RU) | SDS | Buffered Peptone Water, Q Swab, Sample Collection | Russian | Russia | | sds | buffered-peptone-water q-swab sample-collection | russian | russia |
| SDS Q-Swab Buffered Peptone Water (RO) | SDS | Buffered Peptone Water, Q Swab, Sample Collection | Romanian | Romania | | sds | buffered-peptone-water q-swab sample-collection | romanian | romania |
| SDS Q-Swab Buffered Peptone Water (PT) | SDS | Buffered Peptone Water, Q Swab, Sample Collection | Portuguese | Portugal | | sds | buffered-peptone-water q-swab sample-collection | portuguese | portugal |
| SDS Q-Swab Buffered Peptone Water (PL) | SDS | Buffered Peptone Water, Q Swab, Sample Collection | Polish | Poland | | sds | buffered-peptone-water q-swab sample-collection | polish | poland |
| SDS Q-Swab Buffered Peptone Water (NO) | SDS | Buffered Peptone Water, Q Swab, Sample Collection | Norse | Norway | | sds | buffered-peptone-water q-swab sample-collection | norse | norway |
| SDS Q-Swab Buffered Peptone Water (NL) | SDS | Buffered Peptone Water, Q Swab, Sample Collection | Dutch | Netherlands | | sds | buffered-peptone-water q-swab sample-collection | dutch | netherlands |
| SDS Q-Swab Buffered Peptone Water (MX-es) | SDS | Buffered Peptone Water, Q Swab, Sample Collection | Spanish | Mexico | | sds | buffered-peptone-water q-swab sample-collection | spanish | mexico |
| SDS Q-Swab Buffered Peptone Water (MA-ar) | SDS | Buffered Peptone Water, Q Swab, Sample Collection | Arabic | Morocco | | sds | buffered-peptone-water q-swab sample-collection | arabic | morocco |
| SDS Q-Swab Buffered Peptone Water (KR) | SDS | Buffered Peptone Water, Q Swab, Sample Collection | Korean | South Korean | | sds | buffered-peptone-water q-swab sample-collection | korean | south-korean |
| SDS Q-Swab Buffered Peptone Water (JP) | SDS | Buffered Peptone Water, Q Swab, Sample Collection | Japanese | Japan | | sds | buffered-peptone-water q-swab sample-collection | japanese | japan |
| SDS Q-Swab Buffered Peptone Water (IT) | SDS | Buffered Peptone Water, Q Swab, Sample Collection | Italian | Italy | | sds | buffered-peptone-water q-swab sample-collection | italian | italy |
| SDS Q-Swab Buffered Peptone Water (IE-en) | SDS | Buffered Peptone Water, Q Swab, Sample Collection | English | Ireland | | sds | buffered-peptone-water q-swab sample-collection | english | ireland |
| SDS Q-Swab Buffered Peptone Water (HU) | SDS | Buffered Peptone Water, Q Swab, Sample Collection | Hungarian | Hungary | | sds | buffered-peptone-water q-swab sample-collection | hungarian | hungary |
| SDS Q-Swab Buffered Peptone Water (HR) | SDS | Buffered Peptone Water, Q Swab, Sample Collection | Croatian | Croatia | | sds | buffered-peptone-water q-swab sample-collection | croatian | croatia |
| SDS Q-Swab Buffered Peptone Water (GR-el) | SDS | Buffered Peptone Water, Q Swab, Sample Collection | Greek | Greek | | sds | buffered-peptone-water q-swab sample-collection | greek | greek |
| SDS Q-Swab Buffered Peptone Water (GB) | SDS | Buffered Peptone Water, Q Swab, Sample Collection | English | United Kingdom | | sds | buffered-peptone-water q-swab sample-collection | english | united-kingdom |
| SDS Q-Swab Buffered Peptone Water (FR) | SDS | Buffered Peptone Water, Q Swab, Sample Collection | French | France | | sds | buffered-peptone-water q-swab sample-collection | french | france |
| SDS Q-Swab Buffered Peptone Water (FI) | SDS | Buffered Peptone Water, Q Swab, Sample Collection | Finnish | Finland | | sds | buffered-peptone-water q-swab sample-collection | finnish | finland |
| SDS Q-Swab Buffered Peptone Water (ES) | SDS | Buffered Peptone Water, Q Swab, Sample Collection | Spanish | Spain | | sds | buffered-peptone-water q-swab sample-collection | spanish | spain |
| SDS Q-Swab Buffered Peptone Water (DK) | SDS | Buffered Peptone Water, Q Swab, Sample Collection | Danish | Denmark | | sds | buffered-peptone-water q-swab sample-collection | danish | denmark |
| SDS Q-Swab Buffered Peptone Water (DE) | SDS | Buffered Peptone Water, Q Swab, Sample Collection | German | Germany | | sds | buffered-peptone-water q-swab sample-collection | german | germany |
| SDS Q-Swab Buffered Peptone Water (CZ) | SDS | Buffered Peptone Water, Q Swab, Sample Collection | Czech | Czech Republic | | sds | buffered-peptone-water q-swab sample-collection | czech | czech-republic |
| SDS Q-Swab Buffered Peptone Water (CN-zh) | SDS | Buffered Peptone Water, Q Swab, Sample Collection | Simplified Chinese | China | | sds | buffered-peptone-water q-swab sample-collection | simplified-chinese | china |
| SDS Q-Swab Buffered Peptone Water (CA-fr) | SDS | Buffered Peptone Water, Q Swab, Sample Collection | French | Canada | | sds | buffered-peptone-water q-swab sample-collection | french | canada |
| SDS Q-Swab Buffered Peptone Water (CA-en) | SDS | Buffered Peptone Water, Q Swab, Sample Collection | English | Canada | | sds | buffered-peptone-water q-swab sample-collection | english | canada |
| SDS Q-Swab Buffered Peptone Water (BR) | SDS | Buffered Peptone Water, Q Swab, Sample Collection | Portuguese | Brazil | | sds | buffered-peptone-water q-swab sample-collection | portuguese | brazil |
| SDS Q-Swab Buffered Peptone Water (BG) | SDS | Buffered Peptone Water, Q Swab, Sample Collection | Bulgarian | Bulgaria | | sds | buffered-peptone-water q-swab sample-collection | bulgarian | bulgaria |
| SDS Q-Swab Buffered Peptone Water (US) | SDS | Buffered Peptone Water, Q Swab, Sample Collection | English | United States | | sds | buffered-peptone-water q-swab sample-collection | english | united-states |
| ATP What Does Clean Mean? | Technical Bulletin | ATP Monitoring, EnSURE Touch | English | | | technical-bulletin | atp-monitoring ensure-touch | english | |
| Innovation to Hygiene Monitoring Guide | Brochure | ATP Cleaning Verification, ATP Monitoring, EnSURE Touch | English | | | brochure | atp-cleaning-verification atp-monitoring ensure-touch | english | |
| SureTrend 4 Software (Win) | Software | ATP Cleaning Verification, ATP Monitoring, Software, Suretrend, Suretrend 4 | English | | | software | atp-cleaning-verification atp-monitoring software suretrend suretrend-4 | english | |
| Q Swab Instructions (Es) | Instructions | Q Swab, Sample Collection | Spanish | | | instructions | q-swab sample-collection | spanish | |
| Q Swab Instructions | Instructions | Q Swab, Sample Collection | English | | | instructions | q-swab sample-collection | english | |
| QD Loop Instructions | Instructions | QD Loop, Sample Collection | English | | | instructions | qd-loop sample-collection | english | |
| Transport Swab Instructions | Instructions | Sample Collection, Transport Swab | English | | | instructions | sample-collection transport-swab | english | |
| MediCheck Instructions | Instructions | MediCheck, Protein Residue | English | | | instructions | medicheck protein-residue | english | |
| AquaSnap Free and Total Instructions | Instructions | AquaSnap Free, Aquasnap Total, ATP Cleaning Verification, ATP Monitoring | English | | | instructions | aquasnap-free aquasnap-total atp-cleaning-verification atp-monitoring | english | |
| SuperSnap Instructions | Instructions | ATP Cleaning Verification, ATP Monitoring, SuperSnap | English | | | instructions | atp-cleaning-verification atp-monitoring supersnap | english | |
| UltraSnap Instructions | Instructions | ATP Cleaning Verification, ATP Monitoring, Health Care, Ultrasnap | English | | | instructions | atp-cleaning-verification atp-monitoring health-care ultrasnap | english | |
| ATP RLU Limits Worksheet | Worksheet | ATP Monitoring | English | | | worksheet | atp-monitoring | english | |
| EnSURE Monitoring System IQOQ | Form | ATP Monitoring | English | | | form | atp-monitoring | english | |
| Polyurethane vs Cellulose Sponge Report | Technical Bulletin | Pathogen Detection, Sample Collection | English | | | technical-bulletin | pathogen-detection sample-collection | english | |
| EnSURE Touch Simulates Charm novaLUM RLU Scale | Technical Bulletin | ATP Monitoring, EnSURE Touch, Ultrasnap | English | | | technical-bulletin | atp-monitoring ensure-touch ultrasnap | english | |
| EnSURE Touch ATP Monitoring Performance | Technical Bulletin | ATP Monitoring, EnSURE Touch | English | | | technical-bulletin | atp-monitoring ensure-touch | english | |
| EnSURE Touch vs Kikkoman Technical Bulletin | Technical Bulletin | ATP Monitoring, EnSURE Touch | English | | | technical-bulletin | atp-monitoring ensure-touch | english | |
| Three Components of ATP Testing | Technical Bulletin | ATP Monitoring | English | | | technical-bulletin | atp-monitoring | english | |
| Sensitivity Comparison Three Luminometers Spanish | Technical Bulletin | ATP Monitoring | Spanish | | | technical-bulletin | atp-monitoring | spanish | |
| Sensitivity Comparison Three Luminometers | Technical Bulletin | ATP Monitoring | English | | | technical-bulletin | atp-monitoring | english | |
| Sanitizer Effects on ATP Surface Testing | Technical Bulletin | ATP Monitoring | English | | | technical-bulletin | atp-monitoring | english | |
| Sample Stability and Delayed Luminometer Testing | Technical Bulletin | ATP Monitoring | English | | | technical-bulletin | atp-monitoring | english | |
| Hygiena vs Charm Technology and Sensitivity | Technical Bulletin | ATP Monitoring | English | | | technical-bulletin | atp-monitoring | english | |
| Hygiena ATP Device Stability Test Results | Technical Bulletin | ATP Monitoring | English | | | technical-bulletin | atp-monitoring | english | |
| ATP Testing Procedure Quick Start | Ready Reference Guides | ATP Monitoring, EnSURE, SystemSURE Plus | English | | | ready-reference-guides | atp-monitoring ensure systemsure-plus | english | |
| EnSURE Touch Manual | Instructions | ATP Cleaning Verification, ATP Monitoring, EnSURE Touch | English | | | instructions | atp-cleaning-verification atp-monitoring ensure-touch | english | |
| CalCheck Instructions | Instructions | ATP Monitoring, Calcheck, Medical, Sample Collection, SpotCheck Plus | English | | | instructions | atp-monitoring calcheck medical sample-collection spotcheck-plus | english | |
| EndoSwab Instructions | Instructions | ATP Cleaning Verification, ATP Monitoring, EndoSwab, Health Care, Medical, Sample Collection | English | | | instructions | atp-cleaning-verification atp-monitoring endoswab health-care medical sample-collection | english | |
| Optimizing Hygiena in Ambulances | White Paper | ATP Monitoring | English | | | white-paper | atp-monitoring | english | |
| SureTrend Cloud Ensures Data Security | White Paper | ATP Monitoring, EnSURE Touch, SureTrend Cloud | English | | | white-paper | atp-monitoring ensure-touch suretrend-cloud | english | |
| Using UV Sanitation in Health Care Facilities | White Paper | ATP Monitoring, Indicator Organisms | English | | | white-paper | atp-monitoring indicator-organisms | english | |
| Exercise Monitors and Hospital Infection | White Paper | ATP Monitoring | English | | | white-paper | atp-monitoring | english | |
| ISSA Value of Clean | White Paper | ATP Monitoring | English | | | white-paper | atp-monitoring | english | |
| ISSA Clean Standards | White Paper | ATP Monitoring | English | | | white-paper | atp-monitoring | english | |
| Antarctic Antibiotic-resistant Bacteria | Case Study | Pathogen Detection, RiboPrinter | English | | | case-study | pathogen-detection riboprinter | english | |
| Using ATP Monitoring on Ultrasound Equipment | Case Study | ATP Monitoring | English | | | case-study | atp-monitoring | english | |
| Cleaning Verification System Health Care Product Sheet | Product Sheet | ATP Monitoring | English | | | product-sheet | atp-monitoring | english | |
| EndoSwab Health Care Product Sheet | Product Sheet | ATP Monitoring, Health Care, Sample Collection | English | | | product-sheet | atp-monitoring health-care sample-collection | english | |
| MediCheck Product Sheet | Product Sheet | Surface Residue | English | | | product-sheet | surface-residue | english | |
| AquaSnap Total and Free Health Care Product Sheet | Product Sheet | ATP Monitoring | English | | | product-sheet | atp-monitoring | english | |
| SystemSURE Plus Brochure – Health Care | Brochure | ATP Monitoring, SystemSURE Plus | English | | | brochure | atp-monitoring systemsure-plus | english | |
| EnSURE Touch Brochure – Health Care | Brochure | ATP Monitoring, EnSURE Touch | English | | | brochure | atp-monitoring ensure-touch | english | |
| | | | |
| --- | --- | --- | --- |
| Catalog No. | Description | Quantity | Contact Sales |
| ENDOSWAB-1mm | EndoSwab 1mm (Endoscope swabs) | | Learn More |
| ENDOSWAB-2mm | EndoSwab 2mm (Endoscope swabs) | | Learn More |
| ENDOSWAB-3mm | EndoSwab 3mm (Endoscope swabs) | | Learn More |
3 mm absorbent sponge tip for maximum sample recovery
2.4 m wand length ensure recovery of a representative sample for most endoscope lengths
Clinically clean packaging
Individually bagged for single use
Compatible with UltraSnapTM and SuperSnapTM test devices, depending on desired sensitivity