Food & Beverage Home → Molecular ID → RiboPrinter® System →RiboPrinter® System Case Studies → Avoid Product Recall...
---
When Results of Four Popular Tests Show Salmonella Contamination, BAX® System And RiboPrinter® System Proved Them Wrong And Product Recall Is Avoided
Product recall shouldn't depend on anything but the most definitive microbial information available. No biochemical test is as accurate as genetic information for definitively determining if Salmonella contamination has occurred. One food producer learned this lesson one hair-raising weekend.
The makers of high-value, refrigerated and ready-to-use foods learned at 2 p.m. on a Friday that they could have a problem so serious it would be necessary to recall one of their products from four European countries.
Company microbiologists determined that the meat-and-vegetable salads the company sold to hundreds of vendors were probably contaminated with Salmonella. Over a three-day period, samples from the product had been tested using ELISA (enzyme-linked immunosorbent assays), latex agglutination, biochemical screening (with a 97% certainty) and a serology assay for examining antigens. All these tests told the company they had a Salmonella contamination. Product recall, company executives believed, was their only option.
Confirming with BAX® System
But before withdrawing product from both distributors and retailers—a process that would be costly to the company's image and finances—managers chose to have an out-side, independent laboratory confirm the contamination.
At mid-afternoon Friday, motor bike couriers rushed samples across town to a large laboratory that uses both the BAX® System for detecting Salmonella and the RiboPrinter® Microbial Identification & Characterization System. By the early hours of Saturday morning, the BAX® System assay had produced startling results: There were no Salmonella present in the tested samples.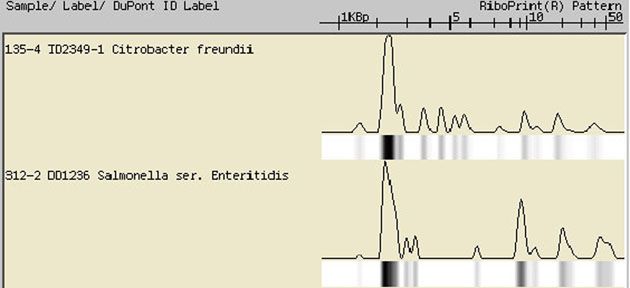 Figure 1. RiboPrint® patterns for a common Salmonella species and Citrobacter freundii show how genetically similar the two organisms are.
The RiboPrinter® system can clearly discriminate between the similarities in the 1 to 3 kilobase pair region and the pronounced differences in the 4 to 10 Kbp regions. Biochemical tests could not distinguish between the pathogenic Salmonella and the innocuous Citrobacter. The genetics-based RiboPrinter® system could and, in so doing, saved the manufacturer from a costly error.
RiboPrinter® System Differentiates
Isolates were then run on the RiboPrinter® System to determine what the bacteria were. Within eight hours, RiboPrint patterns (Figure 1) of the isolate had been generated and matched to the system database pattern of Citrobacter freundii, a close cousin of Salmonella that has a history of mimicking its relative when tested using biochemical assays.
The salad company's processing lab had experienced problems of false results before, but none had ever gotten this far. The near-calamity of a product recall had been narrowly averted and the company realized a savings of nearly $350,000 in lost product alone. This figure didn't take into account untold savings in market share, customer/ retailer confidence, national television and newspaper advertising and the overall impact on the industry that would have resulted from a product recall.
Solutions
A test that was merely supposed to confirm the results of many other assays had rescued the company from what might have been a disaster. It proved to the food company's microbiologists just how far from accurate their conventional testing could be.
The incident confirmed for the independent laboratory that their reliance on genetics-based, automated and speedy technology was well placed.