EnSURE® Touch Charging Dock

EnSURE Touch Charging Dock
EnSURE® Touch Charging Dock simplifies charging your EnSURE Touch without the hassle of wires and cables. It utilizes the USB-C charging cable and adapter supplied with the EnSURE Touch, and it works with and without the luminometer's protective cover.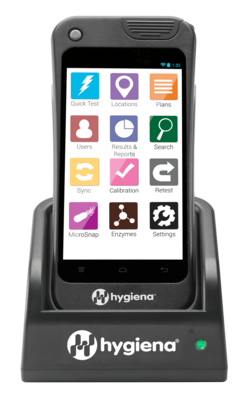 Works With/Without Protective Case
Charge your EnSURE Touch with or without its protective case.
Orange light indicates the instrument is still charging. Green indicates it is fully charged.
The dock's small footprint takes up minimal space on your counter.
No Hassle of Plugging In Charger
The charging dock is always plugged in, so all you need to do is place the EnSURE Touch on the charging dock.
Contact Sales
Have a specific question or need information on pricing? Send us a message and a sales representative will contact you.
| Title | Categories | Tags | Language | SDS Region | Link | doc_categories_hfilter | doc_tags_hfilter | dlp-language_hfilter | sds-region_hfilter |
| --- | --- | --- | --- | --- | --- | --- | --- | --- | --- |
| Preventive Solutions for Brewery Contamination and Product Spoilage | Product Sheet | ATP Monitoring, Beer, Brewery Solutions, EnSURE Touch, Environmental Monitoring, Food Safety | English | | | product-sheet | atp-monitoring beer brewery-solutions ensure-touch environmental-monitoring food-safety | english | |
| SystemSure Plus Helpful Tips | Instructions | ATP Monitoring, Food Safety, helpful tips, Insert, SystemSURE Plus | English | | | instructions | atp-monitoring food-safety helpful-tips insert systemsure-plus | english | |
| EnSURE Touch Instrument Safety Information | Instructions | ATP Monitoring, EnSURE Touch, Environmental Monitoring, Instructions, Luminometer | English | | | instructions | atp-monitoring ensure-touch environmental-monitoring instructions luminometer | english | |
| SDS-CK25-Positive-Control-Kit | SDS | ATP Hygiene Monitoring System, ATP Monitoring, ATP Testing, CK, CK25, Environmental Monitoring, Food Safety, Positive Control Kit | English | United States | | sds | atp-hygiene-monitoring-system atp-monitoring atp-testing ck ck25 environmental-monitoring food-safety positive-control-kit | english | united-states |
| EnSURE Touch Manual | Instructions | ATP, ATP Monitoring, EnSURE Touch, Environmental Monitoring, Food Safety | Thai | | | instructions | atp atp-monitoring ensure-touch environmental-monitoring food-safety | thai | |
| SuperSnap Instructions | Instructions | ATP, ATP Cleaning Verification, ATP Monitoring, Environmental Monitoring, Food Safety, SuperSnap | Thai | | | instructions | atp atp-cleaning-verification atp-monitoring environmental-monitoring food-safety supersnap | thai | |
| UltraSnap Instructions | Instructions | ATP, ATP Cleaning Verification, ATP Monitoring, Environmental Monitoring, Food Safety, Ultrasnap | Thai | | | instructions | atp atp-cleaning-verification atp-monitoring environmental-monitoring food-safety ultrasnap | thai | |
| EnSURE Touch Charging Dock Instructions | Instructions | ATP Monitoring, ATP Testing, charger, charging dock, dock, EnSURE Touch, Environmental Monitoring, Food Safety | English | | | instructions | atp-monitoring atp-testing charger charging-dock dock ensure-touch environmental-monitoring food-safety | english | |
| Allergen App Guide | Brochure, Instructions | Allergen, Allergen Detection, Allergens, ATP Monitoring, EnSURE Touch, Food Safety | Portuguese | | | brochure instructions | allergen allergen-detection allergens atp-monitoring ensure-touch food-safety | portuguese | |
| Comparison of ATP Monitoring Systems: Hygiena vs BioControl (Merck MVP ICON) | Technical Bulletin | ATP, ATP Cleaning Verification, ATP Monitoring, EnSURE Touch, Environmental Monitoring, Food Safety, Ultrasnap | Portuguese | | | technical-bulletin | atp atp-cleaning-verification atp-monitoring ensure-touch environmental-monitoring food-safety ultrasnap | portuguese | |
| UltraSnap Product Sheet | Product Sheet | ATP, ATP Cleaning Verification, ATP Monitoring, EnSURE Touch, Environmental Monitoring, Food Safety, Ultrasnap | Portuguese | | | product-sheet | atp atp-cleaning-verification atp-monitoring ensure-touch environmental-monitoring food-safety ultrasnap | portuguese | |
| SuperSnap Product Sheet | Product Sheet | Allergen Monitoring, ATP, ATP Monitoring, Environmental Monitoring, Food Safety, SuperSnap | Portuguese | | | product-sheet | allergen-monitoring atp atp-monitoring environmental-monitoring food-safety supersnap | portuguese | |
| Comparison of ATP Monitoring Systems: Hygiena vs Neogen | Technical Bulletin | ATP, ATP Monitoring, ATP Testing, EnSURE Touch, Environmental Monitoring, Ultrasnap | Portuguese | | | technical-bulletin | atp atp-monitoring atp-testing ensure-touch environmental-monitoring ultrasnap | portuguese | |
| AquaSnap Total and Free Product Sheet | Product Sheet | AquaSnap Free, Aquasnap Total, ATP, ATP Monitoring, Environmental Monitoring | Portuguese | | | product-sheet | aquasnap-free aquasnap-total atp atp-monitoring environmental-monitoring | portuguese | |
| ATP Monitoring Systems: Hygiena vs Charm Technology | Technical Bulletin | ATP Monitoring, ATP Testing, EnSURE Touch, Environmental Monitoring, Food Safety | Portuguese | | | technical-bulletin | atp-monitoring atp-testing ensure-touch environmental-monitoring food-safety | portuguese | |
| EnSURE Touch Brochure | Brochure | ATP, ATP Monitoring, EnSURE Touch, Environmental Monitoring | Portuguese | | | brochure | atp atp-monitoring ensure-touch environmental-monitoring | portuguese | |
| ATP Side-by-Side Comparison Kit Instructions | Instructions | ATP Cleaning Verification, ATP Monitoring, Food Safety, Side by Side Kit | Portuguese | | | instructions | atp-cleaning-verification atp-monitoring food-safety side-by-side-kit | portuguese | |
| CalCheck Product Sheet | Product Sheet | ATP, ATP Monitoring, Calcheck, calibration, Food and Beverage, Food Safety | English | | | product-sheet | atp atp-monitoring calcheck calibration food-and-beverage food-safety | english | |
| Editorial-Environmental Monitoring-ATP vs Visual Inspection | Editorial | ATP, ATP Monitoring, ATP Testing, Editorial, Food Safety | English | | | editorial | atp atp-monitoring atp-testing editorial food-safety | english | |
| RLU Comparison of Three Hygiena Luminometers | Technical Bulletin | ATP Monitoring, ATP Testing, EnSURE, EnSURE Touch, Environmental Monitoring, RLU Comparison, SystemSURE Plus, Technical Bulletin | English | | | technical-bulletin | atp-monitoring atp-testing ensure ensure-touch environmental-monitoring rlu-comparison systemsure-plus technical-bulletin | english | |
| EnSURE Touch System Installation & Operational Qualification | Form | ATP Monitoring, ATP Testing, EnSURE Touch, Installation, Operational Qualification | English | | | form | atp-monitoring atp-testing ensure-touch installation operational-qualification | english | |
| Basics of Food Safety Certification and Audit Preparation | White Paper | Allergen Testing, ATP, ATP Monitoring, Audit Preparation, EnSURE Touch, Food Safety, Food Safety Certification, Indicator Organism, MicroSnap, Pathogen, SureTrend Cloud | English | | | white-paper | allergen-testing atp atp-monitoring audit-preparation ensure-touch food-safety food-safety-certification indicator-organism microsnap pathogen suretrend-cloud | english | |
| SDS-AquaSnap Free AQ-100FX (ES-es) | SDS | AquaSnap Free, ATP Monitoring, Environmental Monitoring | Spanish | Spain | | sds | aquasnap-free atp-monitoring environmental-monitoring | spanish | spain |
| EnSURE Touch Specifications | Technical Bulletin | ATP Monitoring, EnSURE Touch | English | | | technical-bulletin | atp-monitoring ensure-touch | english | |
| Brewers Monitoring Tool White Paper | White Paper | ATP Monitoring, EnSURE Touch | English | | | white-paper | atp-monitoring ensure-touch | english | |
| ATP Hygiene Monitoring Acid Sanitizers | Technical Bulletin | ATP Monitoring, EnSURE Touch | English | | | technical-bulletin | atp-monitoring ensure-touch | english | |
| Allergen App Guide | Brochure | Allergen Detection, ATP Monitoring, EnSURE Touch | English | | | brochure | allergen-detection atp-monitoring ensure-touch | english | |
| ATP What Does Clean Mean? | Technical Bulletin | ATP Monitoring, EnSURE Touch | English | | | technical-bulletin | atp-monitoring ensure-touch | english | |
| Lower and Upper RLU Limits for ATP Monitoring Programs | Technical Bulletin | ATP Cleaning Verification, ATP Monitoring, EnSURE, EnSURE Touch, SystemSURE Plus | English | | | technical-bulletin | atp-cleaning-verification atp-monitoring ensure ensure-touch systemsure-plus | english | |
| ATP Biomass Kit Instructions | Instructions | ATP BioMass Kit, ATP Cleaning Verification, ATP Monitoring | English | | | instructions | atp-biomass-kit atp-cleaning-verification atp-monitoring | english | |
| Innovation to Hygiene Monitoring Guide | Brochure | ATP Cleaning Verification, ATP Monitoring, EnSURE Touch | English | | | brochure | atp-cleaning-verification atp-monitoring ensure-touch | english | |
| SureTrend 4 Software (Win) | Software | ATP Cleaning Verification, ATP Monitoring, Software, Suretrend, Suretrend 4 | English | | | software | atp-cleaning-verification atp-monitoring software suretrend suretrend-4 | english | |
| AquaSnap Free and Total Instructions | Instructions | AquaSnap Free, Aquasnap Total, ATP Cleaning Verification, ATP Monitoring | English | | | instructions | aquasnap-free aquasnap-total atp-cleaning-verification atp-monitoring | english | |
| SuperSnap Instructions | Instructions | ATP Cleaning Verification, ATP Monitoring, SuperSnap | English | | | instructions | atp-cleaning-verification atp-monitoring supersnap | english | |
| UltraSnap Instructions | Instructions | ATP Cleaning Verification, ATP Monitoring, Health Care, Ultrasnap | English | | | instructions | atp-cleaning-verification atp-monitoring health-care ultrasnap | english | |
| SystemSUREPlus and EnSURE Manual V5.0 | Instructions | ATP Monitoring, EnSURE, SystemSURE Plus | English | | | instructions | atp-monitoring ensure systemsure-plus | english | |
| SDS SuperSnap | SDS | ATP Monitoring | English | United States | | sds | atp-monitoring | english | united-states |
| SDS UltraSnap | SDS | ATP Monitoring | English | United States | | sds | atp-monitoring | english | united-states |
| SDS EnSURE Touch Li Ion Battery | SDS | ATP Monitoring, EnSURE Touch | English | United States | | sds | atp-monitoring ensure-touch | english | united-states |
| SDS Calibration Control Kit | SDS | ATP Monitoring | English | United States | | sds | atp-monitoring | english | united-states |
| SDS AquaSnap Free | SDS | ATP Monitoring | English | United States | | sds | atp-monitoring | english | united-states |
| ATP Side-by-Side Evaluation Worksheet | Worksheet | ATP Monitoring | English | | | worksheet | atp-monitoring | english | |
| EnSURE Monitoring System IQOQ | Form | ATP Monitoring | English | | | form | atp-monitoring | english | |
| EnSURE Touch Simulates Charm novaLUM RLU Scale | Technical Bulletin | ATP Monitoring, EnSURE Touch, Ultrasnap | English | | | technical-bulletin | atp-monitoring ensure-touch ultrasnap | english | |
| EnSURE Touch ATP Monitoring Performance | Technical Bulletin | ATP Monitoring, EnSURE Touch | English | | | technical-bulletin | atp-monitoring ensure-touch | english | |
| EnSURE Touch vs Kikkoman Technical Bulletin | Technical Bulletin | ATP Monitoring, EnSURE Touch | English | | | technical-bulletin | atp-monitoring ensure-touch | english | |
| Heat Stability of PRO-Clean | Technical Bulletin | ATP Monitoring | English | | | technical-bulletin | atp-monitoring | english | |
| Three Components of ATP Testing | Technical Bulletin | ATP Monitoring | English | | | technical-bulletin | atp-monitoring | english | |
| Sensitivity Comparison Three Luminometers Spanish | Technical Bulletin | ATP Monitoring | Spanish | | | technical-bulletin | atp-monitoring | spanish | |
| Sensitivity Comparison Three Luminometers | Technical Bulletin | ATP Monitoring | English | | | technical-bulletin | atp-monitoring | english | |
| Sanitizer Effects on ATP Surface Testing | Technical Bulletin | ATP Monitoring | English | | | technical-bulletin | atp-monitoring | english | |
| Sample Stability and Delayed Luminometer Testing | Technical Bulletin | ATP Monitoring | English | | | technical-bulletin | atp-monitoring | english | |
| Hygiena vs Charm Technology and Sensitivity | Technical Bulletin | ATP Monitoring | English | | | technical-bulletin | atp-monitoring | english | |
| Hygiena ATP Device Stability Test Results | Technical Bulletin | ATP Monitoring | English | | | technical-bulletin | atp-monitoring | english | |
| ATP Testing Procedure Quick Start | Ready Reference Guides | ATP Monitoring, EnSURE, SystemSURE Plus | English | | | ready-reference-guides | atp-monitoring ensure systemsure-plus | english | |
| EnSURE Touch Manual | Instructions | ATP Cleaning Verification, ATP Monitoring, EnSURE Touch | English | | | instructions | atp-cleaning-verification atp-monitoring ensure-touch | english | |
| CalCheck Instructions | Instructions | ATP Monitoring, Calcheck, Medical, Sample Collection, SpotCheck Plus | English | | | instructions | atp-monitoring calcheck medical sample-collection spotcheck-plus | english | |
| ATP Side-by-Side Comparison Kit Instructions | Instructions | ATP Cleaning Verification, ATP Monitoring, Side by Side Kit | English | | | instructions | atp-cleaning-verification atp-monitoring side-by-side-kit | english | |
| Peanutty Works to Defeat Malnutrition | White Paper | ATP Monitoring | English | | | white-paper | atp-monitoring | english | |
| SureTrend Cloud Ensures Data Security | White Paper | ATP Monitoring, EnSURE Touch, SureTrend Cloud | English | | | white-paper | atp-monitoring ensure-touch suretrend-cloud | english | |
| Establishing Environmental Monitoring in Facility | White Paper | Allergen Testing, ATP Monitoring, Indicator Organisms | English | | | white-paper | allergen-testing atp-monitoring indicator-organisms | english | |
| Cleaning Disinfection for Food Companies | White Paper | ATP Monitoring | English | | | white-paper | atp-monitoring | english | |
| ISSA Value of Clean | White Paper | ATP Monitoring | English | | | white-paper | atp-monitoring | english | |
| ISSA Clean Standards | White Paper | ATP Monitoring | English | | | white-paper | atp-monitoring | english | |
| Improve Lab Efficiency with Rapid Methods | White Paper | ATP Monitoring, Indicator Organisms | English | | | white-paper | atp-monitoring indicator-organisms | english | |
| Helping Food Manufacturers Stay Safe | White Paper | ATP Monitoring | English | | | white-paper | atp-monitoring | english | |
| GFSI Drives Environmental Monitoring Standards | White Paper | Allergen Testing, ATP Monitoring, Indicator Organisms | English | | | white-paper | allergen-testing atp-monitoring indicator-organisms | english | |
| ATP Hygiene Monitoring for Brewers | White Paper | ATP Monitoring | English | | | white-paper | atp-monitoring | english | |
| ATP Testing – A Proven Method to Measure Cleanliness | White Paper | ATP Monitoring | English | | | white-paper | atp-monitoring | english | |
| Using UltraSnap with EnSURE for ATP Monitoring on Stainless Steel Surfaces | Scientific Poster | ATP Monitoring | English | | | scientific-poster | atp-monitoring | english | |
| AOAC Certificate 101803 UltraSnap | Certification | AOAC, ATP Monitoring | English | | | certification | aoac atp-monitoring | english | |
| BioMass Kit Hygiena Product Sheet | Product Sheet | ATP Monitoring | English | | | product-sheet | atp-monitoring | english | |
| BioMass Kit 3M Product Sheet | Product Sheet | ATP Monitoring | English | | | product-sheet | atp-monitoring | english | |
| ATP Side-by-Side Kit Product Sheet | Product Sheet | ATP Monitoring | English | | | product-sheet | atp-monitoring | english | |
| Positive Control Kit Product Sheet | Product Sheet | ATP Monitoring | English | | | product-sheet | atp-monitoring | english | |
| SuperSnap Product Sheet English | Product Sheet | ATP Monitoring | English | | | product-sheet | atp-monitoring | english | |
| SuperSnap Product Sheet French | Product Sheet | ATP Monitoring | French | | | product-sheet | atp-monitoring | french | |
| AquaSnap Total and Free Product Sheet | Product Sheet | AquaSnap Free, Aquasnap Total, ATP, ATP Monitoring | English | | | product-sheet | aquasnap-free aquasnap-total atp atp-monitoring | english | |
| Hygiena vs BioControl Comparison | Product Comparison | ATP Monitoring | English | | | product-comparison | atp-monitoring | english | |
| UltraSnap Product Sheet French | Product Sheet | ATP Monitoring | French | | | product-sheet | atp-monitoring | french | |
| UltraSnap Product Sheet English | Product Sheet | ATP Monitoring | English | | | product-sheet | atp-monitoring | english | |
| Hygiena vs Neogen Technical Comparison | Product Comparison | ATP Monitoring | English | | | product-comparison | atp-monitoring | english | |
| Hygiena vs Kikkoman Technical Comparison | Product Comparison | ATP Monitoring | English | | | product-comparison | atp-monitoring | english | |
| Hygiena vs Charm Technical Comparison | Product Comparison | ATP Monitoring | English | | | product-comparison | atp-monitoring | english | |
| Hygiena vs 3M Technical Comparison | Product Comparison | ATP Monitoring | English | | | product-comparison | atp-monitoring | english | |
| SystemSURE Plus Brochure – Food & Beverage | Brochure | ATP Monitoring, SystemSURE Plus | English | | | brochure | atp-monitoring systemsure-plus | english | |
| GlutenTox Pro Product Sheet | Product Sheet | ATP Monitoring | English | | | product-sheet | atp-monitoring | english | |
| EnSURE Touch Product Sheet Spanish | Product Sheet | ATP Monitoring | English, Spanish | | | product-sheet | atp-monitoring | english spanish | |
| EnSURE Touch Product Sheet French | Product Sheet | ATP Monitoring | English, French | | | product-sheet | atp-monitoring | english french | |
| EnSURE Touch Product Sheet English | Product Sheet | ATP Monitoring | English | | | product-sheet | atp-monitoring | english | |
| EnSURE Brochure – F&B | Brochure | ATP Monitoring, EnSURE | English | | | brochure | atp-monitoring ensure | english | |
| EnSURE Touch Brochure – F&B | Brochure | ATP Monitoring, EnSURE Touch | English | | | brochure | atp-monitoring ensure-touch | english | |
| | | | |
| --- | --- | --- | --- |
| Catalog No. | Description | Quantity | Contact Sales |
| EDOCK | EnSURE™ Touch Charging Dock | 1 | Learn More |
Operating temperature range: 0 °C to 45 °C
Relative humidity range: 20% to 85% non-condensing