BAX® System SalQuant™
First Real-Time PCR Application of Quantification
Hygiena™ is pioneering One Health diagnostics with the ability to quantify Salmonella on the farm, throughout processing at critical control points, and at the final product for faster release or diversions using BAX® System Q7 and our BAX® System Real-Time Salmonella Assay.
BAX® System SalQuant™ can be utilized throughout the beef, pork, and poultry industries to simplify the science of quantification with improved ease of use methods while reducing cost, labor, and error compared to traditional MPN methods.
BAX® System SalQuant™ Tested Matrices
Over 85,000 samples ran to date on various matrices to generate the protocols.
Available Protocols for Matrices:
Poultry
Comminuted Chicken or Turkey - AOAC-RI PTM℠
Whole Bird (Carcass) Rinsates
Parts Rinsates
Boot, Dust, Feet, Cloacal Swabs
Poultry Pads (Cardboard or Straw)
Feed
Ceca
Crop
Lungs
Beef
Ground & Finely Textured Beef
Beef Trim
MicroTally™ Manual Sampling Device for Beef Trim
Lymph Node
Pork
Ground Pork
Pork Trim
MicroTally
Head Trim Rinses
Carcass Swab
Lymph Node
Quantification Data Applications
LIVE PRODUCTION
Vaccine efficacy
Pre-Harvest antibiotic/probiotic efficiency
Flock house sanitation/cleaning monitoring
Determination of slaughter order
Source tracking of high load animals for corrective actions at farm level
Monitoring animal status overtime
Screening for presence/absence of Salmonella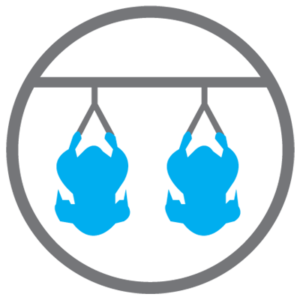 PROCESSING
New and existing chemical and physical intervention evaluations
Biomapping of process locations to monitor intervention efficacy
Process control documentation support
Precise knowledge of Salmonella location and level of contamination
Tracking from incoming lots to final product
FINAL PRODUCT
Make release decisions faster for ground products contaminated with 1-10 CFU/g or mL (SalLimits™ or SalQuant™)
Faster results to make diversion decisions
Determine the true meaning of Salmonella prevalence by applying quantitative values to the results
Provide support data for prevalence testing to reduce consumer risk when positive lots are released
Contact Sales
Have a question about the quantification data or need more information? Send us a message and a sales representative will contact you.
Brochures
English
Case Studies
English
Certificates
English
Manuals
English
Onesheets
English
Technical Bulletins
English
White Papers
English
---
| Title | Categories | Tags | Language | SDS Region | Link | doc_categories_hfilter | doc_tags_hfilter | dlp-language_hfilter | sds-region_hfilter |
| --- | --- | --- | --- | --- | --- | --- | --- | --- | --- |
| Compatibility of the BAX and Sponge with Neutralizer for Listeria | Technical Bulletin | BAX, Listeria, Pathogen Detection | English | | | technical-bulletin | bax listeria pathogen-detection | english | |
| Detection of Salmonella from Boot Swabs Using the BAX System | Technical Bulletin | BAX, Pathogen Detection, Salmonella | English | | | technical-bulletin | bax pathogen-detection salmonella | english | |
| Certifications and Validations for BAX System Assays | Certification, Validations | BAX Q7, Campylobacter, Pathogen Detection, Salmonella | English | | | certification validations | bax-q7 campylobacter pathogen-detection salmonella | english | |
| AOAC Insite L. Mono Glo | Certification | AOAC, Indicator Organisms, Insite L. mono Glow, Pathogen Detection | English | | | certification | aoac indicator-organisms insite-l-mono-glow pathogen-detection | english | |
| BAX Q7 Guide to Installing New and Swap | Instructions | BAX Q7, Pathogen Detection | English | | | instructions | bax-q7 pathogen-detection | english | |
| BAX Q7 Packing Shipping Instructions | Instructions | BAX Q7, Pathogen Detection | English | | | instructions | bax-q7 pathogen-detection | english | |
| Bax Prep Xpress Users Manual | Instructions | BAX, BAX Prep Xpress, Pathogen Detection | English | | | instructions | bax bax-prep-xpress pathogen-detection | english | |
| InSite Listeria (Product Sheet) | Product Sheet | Indicator Organisms, Insite Listeria, Pathogen Detection | English | | | product-sheet | indicator-organisms insite-listeria pathogen-detection | english | |
| InSite L. mono Glo Product Sheet | Brochure, Product Sheet | Indicator Organisms, Insite L. mono Glow, Pathogen Detection | English | | | brochure product-sheet | indicator-organisms insite-l-mono-glow pathogen-detection | english | |
| BAX X5 PCR Assay Salmonella | Product Sheet | BAX, BAX X5, Pathogen Detection, Salmonella | English | | | product-sheet | bax bax-x5 pathogen-detection salmonella | english | |
| BAX X5 PCR Assay Lmonocytogenes | Product Sheet | BAX, BAX X5, L. mono, L. monocytogenes, Pathogen Detection | English | | | product-sheet | bax bax-x5 l-mono l-monocytogenes pathogen-detection | english | |
| BAX X5 PCR Assay Ecoli | Product Sheet | BAX, BAX X5, E. coli, E. coli O157:H7, Pathogen Detection | English | | | product-sheet | bax bax-x5 e-coli e-coli-o157h7 pathogen-detection | english | |
| BAX StatMedia Soluble Packets | Product Sheet | BAX, Pathogen Detection | English | | | product-sheet | bax pathogen-detection | english | |
| BAX MP Media | Product Sheet | BAX, Pathogen Detection | English | | | product-sheet | bax pathogen-detection | english | |
| BAX Testing Salmonella Untreated Herbs Spices | Technical Bulletin | BAX, BAX X5, Pathogen Detection, Salmonella | English | | | technical-bulletin | bax bax-x5 pathogen-detection salmonella | english | |
| BAX Detecting Salmonella Using Actero Media | Technical Bulletin | BAX, BAX X5, Pathogen Detection, Salmonella | English | | | technical-bulletin | bax bax-x5 pathogen-detection salmonella | english | |
| Trident Seafoods Relies on InSite™ Listeria for Environmental Testing | Case Study | Indicator Organisms, Insite Listeria, Pathogen Detection | English | | | case-study | indicator-organisms insite-listeria pathogen-detection | english | |
| InSite Listeria AOAC Certificate | Certification | AOAC, Indicator Organisms, InSite, Insite Listeria, Pathogen Detection | English | | | certification | aoac indicator-organisms insite insite-listeria pathogen-detection | english | |
| InSite Listeria Instructions | Instructions | Indicator Organisms, InSite, Insite Listeria, Pathogen Detection | English | | | instructions | indicator-organisms insite insite-listeria pathogen-detection | english | |
| BAX System X5 PCR Assay Genus Listeria | Brochure, Product Sheet | BAX, BAX X5, Listeria, Pathogen Detection | English | | | brochure product-sheet | bax bax-x5 listeria pathogen-detection | english | |
| BAX Q7 Installation Instructions v3.7.023 | Instructions | BAX, BAX Q7, Pathogen Detection | English | | | instructions | bax bax-q7 pathogen-detection | english | |
| Presumptive Positives – From InSite™ to BAX | Editorial | BAX, Indicator Organism, Indicator Organisms, Insite Listeria, Pathogen Detection | English | | | editorial | bax indicator-organism indicator-organisms insite-listeria pathogen-detection | english | |
| SDS BAX Sample Tablet, Real-Time Salmonella | SDS | BAX, Pathogen Detection, Salmonella | English | United States | | sds | bax pathogen-detection salmonella | english | united-states |
| BAX System MP Media Brochure | Brochure | BAX, Media, Pathogen Detection | English | | | brochure | bax media pathogen-detection | english | |
| BAX System Free DNA Cleanup Kit Instructions | Instructions | BAX, Pathogen Detection | English | | | instructions | bax pathogen-detection | english | |
| AOAC Certificate Insite Salmonella Media | Certification | AOAC, InSite, Insite Salmonella, Pathogen Detection | English | | | certification | aoac insite insite-salmonella pathogen-detection | english | |
| BAX System Q7 Assay E. coli Real-Time Exact Instructions | Instructions | BAX, E. coli, exact, Pathogen Detection | English | | | instructions | bax e-coli exact pathogen-detection | english | |
| Quantification vs Prevalence in Pathogen Detection | Editorial | BAX, Pathogen Detection | English | | | editorial | bax pathogen-detection | english | |
| Pathogen Detection of Novel Listeria Species | Technical Bulletin | BAX, Listeria, Pathogen Detection, Soil, Water | English | | | technical-bulletin | bax listeria pathogen-detection soil water | english | |
| SDS Media 24 LEB Complete | SDS | Media, Pathogen Detection | English | United States | | sds | media pathogen-detection | english | united-states |
| SDS BAX System Protease | SDS | BAX, Pathogen Detection | English | United States | | sds | bax pathogen-detection | english | united-states |
| SDS BAX System PCR Tablets | SDS | BAX, Pathogen Detection | English | United States | | sds | bax pathogen-detection | english | united-states |
| SDS BAX System MP Media | SDS | BAX, Pathogen Detection | English | United States | | sds | bax pathogen-detection | english | united-states |
| SDS BAX System Media Listeria | SDS | BAX, Pathogen Detection | English | United States | | sds | bax pathogen-detection | english | united-states |
| SDS BAX System Lysis Buffer | SDS | BAX, Pathogen Detection | English | United States | | sds | bax pathogen-detection | english | united-states |
| BAX System Return Authorization Decontamination Form FM-042 EMEA | Form | BAX, Pathogen Detection | English | | | form | bax pathogen-detection | english | |
| BAX System PCR Validated Matrices | Validations | BAX, Pathogen Detection | English | | | validations | bax pathogen-detection | english | |
| BAX System Return Authorization Decontamination Form FM-041 Americas | Form | BAX, Pathogen Detection | English | | | form | bax pathogen-detection | english | |
| BAX Detection of Salmonella and L. mono in AMF | Technical Bulletin | BAX, Listeria, Pathogen Detection, Salmonella | English | | | technical-bulletin | bax listeria pathogen-detection salmonella | english | |
| BAX Detection of Salmonella and Genus Listeria in Lactose Powder | Technical Bulletin | BAX, Listeria, Pathogen Detection, Salmonella | English | | | technical-bulletin | bax listeria pathogen-detection salmonella | english | |
| BAX Detection of Salmonella and L. mono in Cheese | Technical Bulletin | BAX, Listeria, Pathogen Detection, Salmonella | English | | | technical-bulletin | bax listeria pathogen-detection salmonella | english | |
| BAX Detection of Genus Listeria and Salmonella in Whey Protein | Technical Bulletin | BAX, Listeria, Pathogen Detection, Salmonella | English | | | technical-bulletin | bax listeria pathogen-detection salmonella | english | |
| BAX Detection of L. mono in IQF Vegetables | Technical Bulletin | BAX, Listeria, Pathogen Detection | English | | | technical-bulletin | bax listeria pathogen-detection | english | |
| BAX Detection of STEC in Flour | Technical Bulletin | BAX, Pathogen Detection, STEC | English | | | technical-bulletin | bax pathogen-detection stec | english | |
| BAX X5 L. mono Glo Direct Confirmation | Technical Bulletin | BAX, Listeria, Pathogen Detection | English | | | technical-bulletin | bax listeria pathogen-detection | english | |
| Polyurethane vs Cellulose Sponge Report | Technical Bulletin | Pathogen Detection, Sample Collection | English | | | technical-bulletin | pathogen-detection sample-collection | english | |
| InSite Listeria Species Surface Swabbing | Technical Bulletin | InSite, Listeria, Pathogen Detection | English | | | technical-bulletin | insite listeria pathogen-detection | english | |
| BAX Sample Verification Non-Validated Sample Types | Technical Bulletin | BAX, Pathogen Detection | English | | | technical-bulletin | bax pathogen-detection | english | |
| BAX System X5 Verification | Technical Bulletin | BAX, Pathogen Detection | English | | | technical-bulletin | bax pathogen-detection | english | |
| BAX System PCR Internal Positive Control | Technical Bulletin | BAX, Pathogen Detection | English | | | technical-bulletin | bax pathogen-detection | english | |
| BAX System Effects of Pre-warming Media | Technical Bulletin | BAX, Pathogen Detection | English | | | technical-bulletin | bax pathogen-detection | english | |
| BAX SalQuant for Turkey Leg Parts | Technical Bulletin | BAX, Pathogen Detection, Salmonella | English | | | technical-bulletin | bax pathogen-detection salmonella | english | |
| BAX SalQuant for Environmental Swabs | Technical Bulletin | BAX, Pathogen Detection, Salmonella | English | | | technical-bulletin | bax pathogen-detection salmonella | english | |
| BAX SalQuant Ceca Samples | Technical Bulletin | BAX, Pathogen Detection, Salmonella | English | | | technical-bulletin | bax pathogen-detection salmonella | english | |
| BAX SalQuant Boot Swab Samples | Technical Bulletin | BAX, Pathogen Detection, Salmonella | English | | | technical-bulletin | bax pathogen-detection salmonella | english | |
| BAX Detection for E. coli in Sprouts | Technical Bulletin | BAX, E. coli, Pathogen Detection | English | | | technical-bulletin | bax e-coli pathogen-detection | english | |
| BAX Detection of E. coli O157:H7 in Whey Powder | Technical Bulletin | BAX, E. coli, Pathogen Detection | English | | | technical-bulletin | bax e-coli pathogen-detection | english | |
| BAX Detection of Listeria within Environment | Technical Bulletin | BAX, Listeria, Pathogen Detection | English | | | technical-bulletin | bax listeria pathogen-detection | english | |
| BAX Detection of Salmonella in Garlic Powder | Technical Bulletin | BAX, Pathogen Detection, Salmonella | English | | | technical-bulletin | bax pathogen-detection salmonella | english | |
| BAX Detection of Salmonella in Whole Peaches | Technical Bulletin | BAX, Pathogen Detection, Salmonella | English | | | technical-bulletin | bax pathogen-detection salmonella | english | |
| BAX System Q7 Verification | Technical Bulletin | BAX, Pathogen Detection | English | | | technical-bulletin | bax pathogen-detection | english | |
| InSite L. mono Glow Instructions | Instructions | Indicator Organisms, InSite, Insite L. mono Glow, L. mono, Pathogen, Pathogen Detection | English | | | instructions | indicator-organisms insite insite-l-mono-glow l-mono pathogen pathogen-detection | english | |
| InSite Listeria Instructions | Instructions | Indicator Organisms, InSite, Insite Listeria, Listeria, Pathogen, Pathogen Detection | English | | | instructions | indicator-organisms insite insite-listeria listeria pathogen pathogen-detection | english | |
| InSite Salmonella Instructions | Instructions | Indicator Organisms, InSite, Insite Salmonella, Pathogen Detection, Salmonella | English | | | instructions | indicator-organisms insite insite-salmonella pathogen-detection salmonella | english | |
| BAX System X5 PCR Assay Salmonella Instructions | Instructions | BAX, Pathogen, Pathogen Detection, Salmonella | English | | | instructions | bax pathogen pathogen-detection salmonella | english | |
| BAX System Q7 PCR Listeria Genus Instructions | Instructions | BAX, Insite Listeria, Listeria, Pathogen, Pathogen Detection | English | | | instructions | bax insite-listeria listeria pathogen pathogen-detection | english | |
| BAX System Q7 PCR Assay STEC Instructions | Instructions | BAX, Pathogen, Pathogen Detection, STEC | English | | | instructions | bax pathogen pathogen-detection stec | english | |
| BAX System Q7 PCR Assay Salmonella 1 and 2 Instructions | Instructions | BAX, Pathogen, Pathogen Detection, Salmonella | English | | | instructions | bax pathogen pathogen-detection salmonella | english | |
| BAX System Q7 PCR Assay Listeria Genus 24E Instructions | Instructions | BAX, Insite Listeria, Listeria, Pathogen, Pathogen Detection | English | | | instructions | bax insite-listeria listeria pathogen pathogen-detection | english | |
| BAX System Q7 Real-time PCR Assay Salmonella Instructions | Instructions | BAX, Pathogen, Pathogen Detection, Salmonella | English | | | instructions | bax pathogen pathogen-detection salmonella | english | |
| BAX System X5 PCR Assay L. monocytogenes Instructions | Instructions | BAX, L. mono, L. monocytogenes, Pathogen, Pathogen Detection | English | | | instructions | bax l-mono l-monocytogenes pathogen pathogen-detection | english | |
| BAX System X5 PCR Assay Listeria Genus Instructions | Instructions | BAX, Insite Listeria, Listeria, Pathogen, Pathogen Detection | English | | | instructions | bax insite-listeria listeria pathogen pathogen-detection | english | |
| BAX System X5 PCR Assay E. coli Instructions | Instructions | BAX, E. coli, Pathogen, Pathogen Detection | English | | | instructions | bax e-coli pathogen pathogen-detection | english | |
| BAX System Q7 Real-time PCR Listeria Genus Instructions | Instructions | BAX, Insite Listeria, Listeria, Pathogen, Pathogen Detection | English | | | instructions | bax insite-listeria listeria pathogen pathogen-detection | english | |
| BAX System Q7 Real-time PCR Assay L. monocytogenes Instructions | Instructions | BAX, L. mono, L. monocytogenes, Pathogen, Pathogen Detection | English | | | instructions | bax l-mono l-monocytogenes pathogen pathogen-detection | english | |
| BAX System Q7 Real-time PCR Assay E. coli Instructions | Instructions | BAX, E. coli, Pathogen, Pathogen Detection | English | | | instructions | bax e-coli pathogen pathogen-detection | english | |
| BAX System Q7 PCR Assay E. coli O157:H7 MP Instructions | Instructions | BAX, E. coli, Pathogen, Pathogen Detection | English | | | instructions | bax e-coli pathogen pathogen-detection | english | |
| BAX System Q7 PCR Assay L. monocytogenes 24E Instructions | Instructions | BAX, L. mono, L. monocytogenes, Pathogen, Pathogen Detection | English | | | instructions | bax l-mono l-monocytogenes pathogen pathogen-detection | english | |
| BAX System Q7 PCR Assay L. monocytogenes Instructions | Instructions | BAX, L. mono, L. monocytogenes, Pathogen, Pathogen Detection | English | | | instructions | bax l-mono l-monocytogenes pathogen pathogen-detection | english | |
| Ribotyping using WGS vs RiboPrinter | White Paper | Pathogen Detection, RiboPrinter | English | | | white-paper | pathogen-detection riboprinter | english | |
| Bringing the Power of PCR to Food Safety | White Paper | BAX, Pathogen Detection | English | | | white-paper | bax pathogen-detection | english | |
| BAX System SalQuant New Era | White Paper | BAX, Pathogen Detection, Salmonella | English | | | white-paper | bax pathogen-detection salmonella | english | |
| BAX System DNA Cleanup Kit | White Paper | BAX, Pathogen Detection | English | | | white-paper | bax pathogen-detection | english | |
| BAX IAFP Regulatory Updates Accepted Use of Rapid Microbial Methods | White Paper | BAX, Pathogen Detection | English | | | white-paper | bax pathogen-detection | english | |
| BAX Detects Pathogens in Pumpkin Products | White Paper | BAX, Pathogen Detection, Pumpkin | English | | | white-paper | bax pathogen-detection pumpkin | english | |
| BAX Detects Listeria in Guacamole | White Paper | BAX, Guacamole, Listeria, Pathogen Detection | English | | | white-paper | bax guacamole listeria pathogen-detection | english | |
| BAX Detects Harmful Bacteria in Whey Protein | White Paper | BAX, Pathogen Detection, Whey Protein | English | | | white-paper | bax pathogen-detection whey-protein | english | |
| Food Safety in the Beef Industry | White Paper | BAX, Pathogen Detection | English | | | white-paper | bax pathogen-detection | english | |
| Non-cultural Confirmation of Presumptive Positive E. coli O157:H7 Test Results using the BAX? System STEC Screening Assay | Scientific Poster | BAX, E. coli, Pathogen Detection, STEC | English | | | scientific-poster | bax e-coli pathogen-detection stec | english | |
| Real-time Detection of E. coli O157:H7 and Salmonella in Raw Milk Using BAX System | Scientific Poster | BAX, E. coli, Pathogen Detection, Salmonella | English | | | scientific-poster | bax e-coli pathogen-detection salmonella | english | |
| Simultaneous Detection of Listeria Species and Listeria monocytogenes with InSite L. mono Glo | Scientific Poster | InSite, L. monocytogenes, Listeria, Pathogen Detection | English | | | scientific-poster | insite l-monocytogenes listeria pathogen-detection | english | |
| BAX System Real-time PCR Detection of L. mono in IQF Vegetables | Scientific Poster | BAX, L. monocytogenes, Pathogen Detection | English | | | scientific-poster | bax l-monocytogenes pathogen-detection | english | |
| Recovery of E. coli O157:H7 by the BAX System in Beef Trim using Surface Sampling | Scientific Poster | BAX, E. coli, Pathogen Detection | English | | | scientific-poster | bax e-coli pathogen-detection | english | |
| BAX System PCR Detection of Salmonella in Mango | Scientific Poster | BAX, Pathogen Detection, Salmonella | English | | | scientific-poster | bax pathogen-detection salmonella | english | |
| BAX System Free DNA Removal | Scientific Poster | BAX, Pathogen Detection | English | | | scientific-poster | bax pathogen-detection | english | |
| Evaluation of BAX System Real-time PCR Genus Listeria and BAX System Real-time PCR L. mono | Scientific Poster | BAX, L. monocytogenes, Listeria, Pathogen Detection | English | | | scientific-poster | bax l-monocytogenes listeria pathogen-detection | english | |
| Real-time Monitoring of Listeria Species and L. mono Using Non-invasive Bioluminescence Growth Media | Scientific Poster | InSite, L. monocytogenes, Listeria, Pathogen Detection | English | | | scientific-poster | insite l-monocytogenes listeria pathogen-detection | english | |
| Using BAX System Real-time PCR Assay to Quantify Salmonella In Ground Turkey | Scientific Poster | BAX, Pathogen Detection, Salmonella | English | | | scientific-poster | bax pathogen-detection salmonella | english | |
| BAX System SalQuant Compared to MPN in Whole Bird Rinsate | Scientific Poster | BAX, Pathogen Detection, Salmonella | English | | | scientific-poster | bax pathogen-detection salmonella | english | |
| Reduced 90 mL Enrichment to Detect Salmonella from Environmental Surfaces using the BAX System | Scientific Poster | BAX, Pathogen Detection, Salmonella | English | | | scientific-poster | bax pathogen-detection salmonella | english | |
| AOAC Certificate BAX System PCR L. monocytogenes | Certification | AOAC, BAX, L. monocytogenes, Pathogen Detection | English | | | certification | aoac bax l-monocytogenes pathogen-detection | english | |
| AOAC Certificate InSite L. mono Glo | Certification | AOAC, InSite, L. monocytogenes, Pathogen Detection | English | | | certification | aoac insite l-monocytogenes pathogen-detection | english | |
| AOAC Certificate BAX System Genus Listeria 24E | Certification | AOAC, BAX, Listeria, Pathogen Detection | English | | | certification | aoac bax listeria pathogen-detection | english | |
| AOAC Certificate BAX System Real-time PCR Vibrio | Certification | AOAC, BAX, Pathogen Detection, Vibrio | English | | | certification | aoac bax pathogen-detection vibrio | english | |
| AOAC Certificate BAX System PCR E. coli | Certification | AOAC, BAX, E. coli, Pathogen Detection | English | | | certification | aoac bax e-coli pathogen-detection | english | |
| AOAC Certificate BAX System PCR Assay L. monocytogenes 24E | Certification | AOAC, BAX, L. monocytogenes, Pathogen Detection | English | | | certification | aoac bax l-monocytogenes pathogen-detection | english | |
| AOAC Certificate InSite Listeria | Certification | AOAC, InSite, Listeria, Pathogen Detection | English | | | certification | aoac insite listeria pathogen-detection | english | |
| AOAC Certificate BAX System Real-time PCR L. monocytogenes | Certification | AOAC, BAX, L. monocytogenes, Pathogen Detection | English | | | certification | aoac bax l-monocytogenes pathogen-detection | english | |
| AOAC Certificate BAX System Real-time PCR Staphylococcus aureus | Certification | AOAC, BAX, Pathogen Detection, Staph | English | | | certification | aoac bax pathogen-detection staph | english | |
| AOAC Certificate BAX System Real-time PCR E. coli O157:H7 Exact | Certification | AOAC, BAX, E. coli, Pathogen Detection | English | | | certification | aoac bax e-coli pathogen-detection | english | |
| AOAC Certificate BAX System Real-time Assay Salmonella | Certification | AOAC, BAX, Pathogen Detection, Salmonella | English | | | certification | aoac bax pathogen-detection salmonella | english | |
| AOAC Certificate BAX System PCR Assay Yeast and Mold | Certification | AOAC, BAX, Pathogen Detection, Yeast and Mold | English | | | certification | aoac bax pathogen-detection yeast-and-mold | english | |
| AOAC Certificate BAX System PCR Assay Genus Listeria | Certification | AOAC, BAX, Listeria, Pathogen Detection | English | | | certification | aoac bax listeria pathogen-detection | english | |
| AOAC Certificate BAX System Real-time PCR Assay E. coli O157:H7 | Certification | AOAC, BAX, E. coli O157:H7, Pathogen Detection | English | | | certification | aoac bax e-coli-o157h7 pathogen-detection | english | |
| AOAC Certificate BAX System Real-time PCR Assay Campylobacter | Certification | AOAC, BAX, Campylobacter, Pathogen Detection | English | | | certification | aoac bax campylobacter pathogen-detection | english | |
| Bigard Trusts BAX System PCR | Case Study | BAX, Pathogen Detection | English | | | case-study | bax pathogen-detection | english | |
| Hygiena BAX Q7 PCR Opens Export Door for Wagyu Beef | Case Study | BAX, Pathogen Detection | English | | | case-study | bax pathogen-detection | english | |
| Antarctic Antibiotic-resistant Bacteria | Case Study | Pathogen Detection, RiboPrinter | English | | | case-study | pathogen-detection riboprinter | english | |
| BAX X5 Salmonella Product Sheet | Product Sheet | BAX, Pathogen Detection, Salmonella | English | | | product-sheet | bax pathogen-detection salmonella | english | |
| BAX Q7 Workstation Product Sheet | Product Sheet | BAX, Pathogen Detection, Yeast and Mold | English | | | product-sheet | bax pathogen-detection yeast-and-mold | english | |
| BAX X5 L. mono Product Sheet | Product Sheet | BAX, Listeria, Pathogen Detection | English | | | product-sheet | bax listeria pathogen-detection | english | |
| BAX X5 E. coli O157:H7 Product Sheet | Product Sheet | BAX, E. coli, Pathogen Detection | English | | | product-sheet | bax e-coli pathogen-detection | english | |
| BAX Q7 Yeast and Mold Product Sheet | Product Sheet | BAX, Pathogen Detection, Yeast and Mold | English | | | product-sheet | bax pathogen-detection yeast-and-mold | english | |
| BAX X5 Listeria Genus Product Sheet | Product Sheet | BAX, Listeria, Pathogen Detection | English | | | product-sheet | bax listeria pathogen-detection | english | |
| BAX Q7 L. mono Product Sheet | Product Sheet | BAX, Listeria, Pathogen Detection | English | | | product-sheet | bax listeria pathogen-detection | english | |
| BAX Q7 L. mono Real-time Product Sheet | Product Sheet | BAX, Listeria, Pathogen Detection | English | | | product-sheet | bax listeria pathogen-detection | english | |
| BAX Q7 L. mono 24E Product Sheet | Product Sheet | BAX, Listeria, Pathogen Detection | English | | | product-sheet | bax listeria pathogen-detection | english | |
| BAX Q7 E. coli O157:H7 Real-time Product Sheet | Product Sheet | BAX, E. coli, Pathogen Detection | English | | | product-sheet | bax e-coli pathogen-detection | english | |
| BAX Q7 E. coli O157:H7 MP Product Sheet | Product Sheet | BAX, E. coli, Pathogen Detection | English | | | product-sheet | bax e-coli pathogen-detection | english | |
| BAX Q7 Cronobacter Product Sheet | Product Sheet | BAX, Cronobacter, Pathogen Detection | English | | | product-sheet | bax cronobacter pathogen-detection | english | |
| BAX Q7 Campylobacter Real-time Product Sheet | Product Sheet | BAX, Campylobacter, Pathogen Detection | English | | | product-sheet | bax campylobacter pathogen-detection | english | |
| BAX Q7 Listeria Genus 24E Product Sheet | Product Sheet | BAX, Listeria, Pathogen Detection | English | | | product-sheet | bax listeria pathogen-detection | english | |
| BAX Q7 Listeria Genus Real-time Product Sheet | Product Sheet | BAX, Listeria, Pathogen Detection | English | | | product-sheet | bax listeria pathogen-detection | english | |
| BAX Q7 Vibrio Real-time Product Sheet | Product Sheet | BAX, Pathogen Detection, Vibrio | English | | | product-sheet | bax pathogen-detection vibrio | english | |
| BAX Q7 STEC Real-time Product Sheet | Product Sheet | BAX, Pathogen Detection, STEC | English | | | product-sheet | bax pathogen-detection stec | english | |
| BAX Q7 Staphylococcus aureus Product Sheet | Product Sheet | BAX, Pathogen Detection, Staphylococcus aureus | English | | | product-sheet | bax pathogen-detection staphylococcus-aureus | english | |
| BAX Q7 Shigella Real-time Product Sheet | Product Sheet | BAX, Pathogen Detection, Shigella | English | | | product-sheet | bax pathogen-detection shigella | english | |
| BAX Q7 Salmonella Real-time Product Sheet | Product Sheet | BAX, Pathogen Detection, Salmonella | English | | | product-sheet | bax pathogen-detection salmonella | english | |
| BAX Q7 Salmonella 1 and 2 Product Sheet | Product Sheet | BAX, Pathogen Detection, Salmonella | English | | | product-sheet | bax pathogen-detection salmonella | english | |
| BAX Q7 Listeria Genus Product Sheet | Product Sheet | BAX, Listeria, Pathogen Detection | English | | | product-sheet | bax listeria pathogen-detection | english | |
| BAX Digital Dry Block Incubator Product Sheet | Product Sheet | Pathogen Detection | English | | | product-sheet | pathogen-detection | english | |
| RiboPrinter Brochure | Brochure | Pathogen Detection, RiboPrinter | English | | | brochure | pathogen-detection riboprinter | english | |
| CNIEL Study Summary | Product Sheet | BAX, Pathogen Detection | English | | | product-sheet | bax pathogen-detection | english | |
| BAX SalQuant for the Poultry Industry | Product Sheet | BAX, Pathogen Detection | English | | | product-sheet | bax pathogen-detection | english | |
| BAX System Q7 Brochure | Brochure | BAX, Pathogen Detection | English | | | brochure | bax pathogen-detection | english | |
| BAX System X5 Brochure | Brochure | BAX, Pathogen Detection | English | | | brochure | bax pathogen-detection | english | |
| BAX Prep Xpress Brochure | Brochure | BAX, Pathogen Detection | English | | | brochure | bax pathogen-detection | english | |
| | | | |
| --- | --- | --- | --- |
| Catalog No. | Description | Quantity | Contact Sales |
| KIT2006 | BAX® System Real-Time Salmonella Assay | 96 tests per kit | Learn More |
| MED2003 | BAX® System MP Media | 2.5 kg | Learn More |
96-well format for maximum sample throughput
Robust validations including AOAC and AFNOR
Clear and reproducible results, independent of operator technique
Internal positive control with every assay to validate negative results
Continuous detection during PCR cycling collects data in "real-time" reducing time to result
Automated cycling, detection and analysis without the need for expert skill
Multi-wavelength real-time detection to identify multiple targets in a single sample
LIMS compatible system allows for easy storage, retrieval and printing