InSite Listeria

Environmental Listeria species Test
Hygiena™ InSite™ Listeria is an easy-to-use, self-contained, environmental Listeria species test. Each device contains a chromogenic liquid media formulated with antibiotics, growth enhancers, and color-changing compounds specific to Listeria species. Plus, all InSite™ test devices contain neutralizers in the wetting solution to help combat potential sanitizer side effects and improve sample collection. Simply swab the test area and wait. A change in color after 24-48 hours of incubation is considered a presumptive positive. No expensive lab equipment is required and no additional sample handling of the sample is necessary.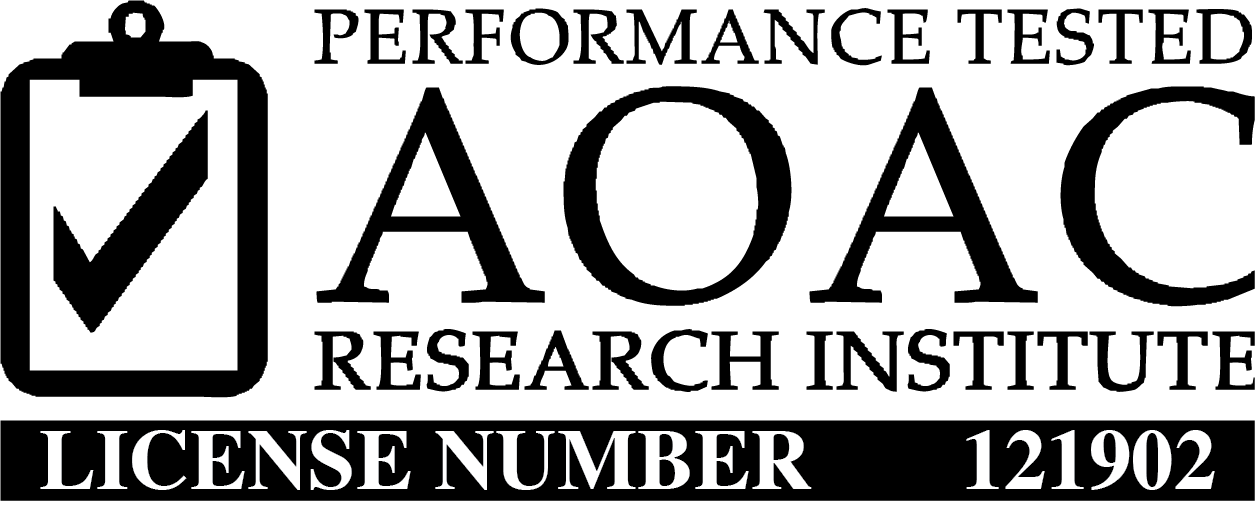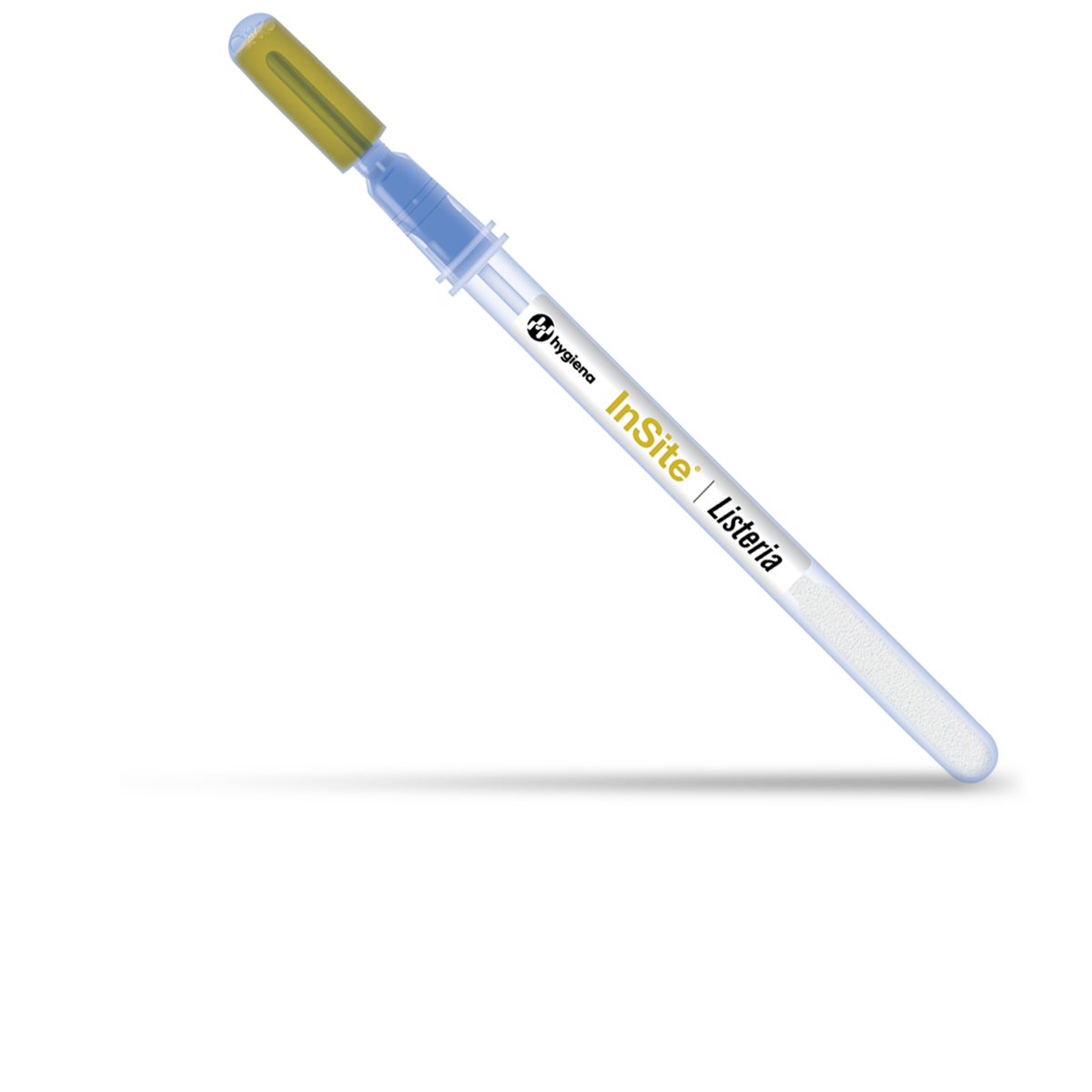 Easy to Interpret
Color Change
Patented Snap-Valve Technology
Contact Sales
Have a specific question or need information on pricing? Send us a message and a sales representative will contact you.
Easy to Interpret Color Results
It doesn't take a microbiologist to understand these results. When Listeria species is present in a sample, the liquid media changes color from amber to black.
| Title | Categories | Tags | Language | SDS Region | Link | doc_categories_hfilter | doc_tags_hfilter | dlp-language_hfilter | sds-region_hfilter |
| --- | --- | --- | --- | --- | --- | --- | --- | --- | --- |
| SDS-MicroSnap-Total-Enrichment-Device-MS1-TOTAL | SDS | Food Safety, Indicator Organism, Indicator Organisms, MicroSnap, Microsnap Total | English | United States | | sds | food-safety indicator-organism indicator-organisms microsnap microsnap-total | english | united-states |
| InSite Salmonella Product Sheet | Product Sheet | Food Safety, Indicator Organism, Indicator Organisms, InSite, Insite Salmonella | Portuguese | | | product-sheet | food-safety indicator-organism indicator-organisms insite insite-salmonella | portuguese | |
| InSite Listeria | Product Sheet | Food Safety, Indicator Organism, Indicator Organisms, InSite, Insite Listeria, Listeria | Portuguese | | | product-sheet | food-safety indicator-organism indicator-organisms insite insite-listeria listeria | portuguese | |
| InSite L. mono Glo Product Sheet | Product Sheet | Indicator Organism, Indicator Organisms, InSite, Insite L. mono Glow, Listeria | Portuguese | | | product-sheet | indicator-organism indicator-organisms insite insite-l-mono-glow listeria | portuguese | |
| MicroSnap Total Use in Low pH Tea Beverages | Technical Bulletin | Food Safety, Indicator Organism, Indicator Organism Products, Indicator Organisms, MicroSnap, Microsnap Total, Total Viable Count | English | | | technical-bulletin | food-safety indicator-organism indicator-organism-products indicator-organisms microsnap microsnap-total total-viable-count | english | |
| Tillamook Dairy Relies on Hygiena MicroSnap to Meet Quality Standards | Case Study | Indicator Organisms, MicroSnap, Pathogen Detection | English | | | case-study | indicator-organisms microsnap pathogen-detection | english | |
| SDS – MicroSnap Coliform Detection Device MS2-COLIFORM (RU-ru) | SDS | Coliform, Indicator Organisms, Microsnap Coliform | Russian | Russia | | sds | coliform indicator-organisms microsnap-coliform | russian | russia |
| SDS – MicroSnap Coliform Detection Device MS2-COLIFORM (PT-pt) | SDS | Coliform, Indicator Organisms, Microsnap Coliform | Portuguese | Portugal | | sds | coliform indicator-organisms microsnap-coliform | portuguese | portugal |
| SDS – MicroSnap Coliform Detection Device MS2-COLIFORM (MX-es) | SDS | Coliform, Indicator Organisms, Microsnap Coliform | Spanish | Mexico | | sds | coliform indicator-organisms microsnap-coliform | spanish | mexico |
| SDS – MicroSnap Coliform Detection Device MS2-COLIFORM (KR-ko) | SDS | Coliform, Indicator Organisms, Microsnap Coliform | Korean | South Korean | | sds | coliform indicator-organisms microsnap-coliform | korean | south-korean |
| SDS – MicroSnap Coliform Detection Device MS2-COLIFORM (JP-ja) | SDS | Coliform, Indicator Organisms, Microsnap Coliform | Japanese | Japan | | sds | coliform indicator-organisms microsnap-coliform | japanese | japan |
| SDS – MicroSnap Coliform Detection Device MS2-COLIFORM (IT-it) | SDS | Coliform, Indicator Organisms, Microsnap Coliform | Italian | Italy | | sds | coliform indicator-organisms microsnap-coliform | italian | italy |
| SDS – MicroSnap Coliform Detection Device MS2-COLIFORM (GB-en) | SDS | Coliform, Indicator Organisms, Microsnap Coliform | English | United Kingdom | | sds | coliform indicator-organisms microsnap-coliform | english | united-kingdom |
| SDS – MicroSnap Coliform Detection Device MS2-COLIFORM (FR-fr) | SDS | Coliform, Indicator Organisms, Microsnap Coliform | French | France | | sds | coliform indicator-organisms microsnap-coliform | french | france |
| SDS – MicroSnap Coliform Detection Device MS2-COLIFORM (ES-es) | SDS | Coliform, Indicator Organisms, Microsnap Coliform | Spanish | Spain | | sds | coliform indicator-organisms microsnap-coliform | spanish | spain |
| SDS – MicroSnap Coliform Detection Device MS2-COLIFORM (DE-de) | SDS | Coliform, Indicator Organisms, Microsnap Coliform | German | Germany | | sds | coliform indicator-organisms microsnap-coliform | german | germany |
| SDS – MicroSnap Coliform Detection Device MS2-COLIFORM (CN-zh) | SDS | Coliform, Indicator Organisms, Microsnap Coliform | Simplified Chinese | China | | sds | coliform indicator-organisms microsnap-coliform | simplified-chinese | china |
| SDS – MicroSnap Coliform Detection Device MS2-COLIFORM (CA-fr) | SDS | Coliform, Indicator Organisms, Microsnap Coliform | French | Canada | | sds | coliform indicator-organisms microsnap-coliform | french | canada |
| SDS – MicroSnap Coliform Detection Device MS2-COLIFORM (CA-en) | SDS | Coliform, Indicator Organisms, Microsnap Coliform | English | Canada | | sds | coliform indicator-organisms microsnap-coliform | english | canada |
| SDS – MicroSnap Coliform Detection Device MS2-COLIFORM (BR-pt) | SDS | Coliform, Indicator Organisms, Microsnap Coliform | Portuguese | Brazil | | sds | coliform indicator-organisms microsnap-coliform | portuguese | brazil |
| SDS – MicroSnap Coliform Detection Device MS2-COLIFORM (US-en) | SDS | Coliform, Indicator Organisms, Microsnap Coliform | English | United States | | sds | coliform indicator-organisms microsnap-coliform | english | united-states |
| SDS – MicroSnap E. coli Detection Device MS2-ECOLI (RU-ru) | SDS | E. coli, Indicator Organisms, MicroSnap e. Coli | Russian | Russia | | sds | e-coli indicator-organisms microsnap-e-coli | russian | russia |
| SDS – MicroSnap E. coli Detection Device MS2-ECOLI (PT-pt) | SDS | E. coli, Indicator Organisms, MicroSnap e. Coli | Portuguese | Portugal | | sds | e-coli indicator-organisms microsnap-e-coli | portuguese | portugal |
| SDS – MicroSnap E. coli Detection Device MS2-ECOLI (MX-es) | SDS | E. coli, Indicator Organisms, MicroSnap e. Coli | Spanish | Mexico | | sds | e-coli indicator-organisms microsnap-e-coli | spanish | mexico |
| SDS – MicroSnap E. coli Detection Device MS2-ECOLI (KR-ko) | SDS | E. coli, Indicator Organisms, MicroSnap e. Coli | Korean | South Korean | | sds | e-coli indicator-organisms microsnap-e-coli | korean | south-korean |
| SDS – MicroSnap E. coli Detection Device MS2-ECOLI (JP-ja) | SDS | E. coli, Indicator Organisms, MicroSnap e. Coli | Japanese | Japan | | sds | e-coli indicator-organisms microsnap-e-coli | japanese | japan |
| SDS – MicroSnap E. coli Detection Device MS2-ECOLI (IT-it) | SDS | E. coli, Indicator Organisms, MicroSnap e. Coli | Italian | Italy | | sds | e-coli indicator-organisms microsnap-e-coli | italian | italy |
| SDS – MicroSnap E. coli Detection Device MS2-ECOLI (GB-en) | SDS | E. coli, Indicator Organisms, MicroSnap e. Coli | English | United Kingdom | | sds | e-coli indicator-organisms microsnap-e-coli | english | united-kingdom |
| SDS – MicroSnap E. coli Detection Device MS2-ECOLI (FR-fr) | SDS | E. coli, Indicator Organisms, MicroSnap e. Coli | French | France | | sds | e-coli indicator-organisms microsnap-e-coli | french | france |
| SDS – MicroSnap E. coli Detection Device MS2-ECOLI (ES-es) | SDS | E. coli, Indicator Organisms, MicroSnap e. Coli | Spanish | Spain | | sds | e-coli indicator-organisms microsnap-e-coli | spanish | spain |
| SDS – MicroSnap E. coli Detection Device MS2-ECOLI (DE-de) | SDS | E. coli, Indicator Organisms, MicroSnap e. Coli | German | Germany | | sds | e-coli indicator-organisms microsnap-e-coli | german | germany |
| SDS – MicroSnap E. coli Detection Device MS2-ECOLI (CN-zh) | SDS | E. coli, Indicator Organisms, MicroSnap e. Coli | Simplified Chinese | China | | sds | e-coli indicator-organisms microsnap-e-coli | simplified-chinese | china |
| SDS – MicroSnap E. coli Detection Device MS2-ECOLI (CA-fr) | SDS | E. coli, Indicator Organisms, MicroSnap e. Coli | French | Canada | | sds | e-coli indicator-organisms microsnap-e-coli | french | canada |
| SDS – MicroSnap E. coli Detection Device MS2-ECOLI (CA-en) | SDS | E. coli, Indicator Organisms, MicroSnap e. Coli | English | Canada | | sds | e-coli indicator-organisms microsnap-e-coli | english | canada |
| SDS – MicroSnap E. coli Detection Device MS2-ECOLI (BR-pt) | SDS | E. coli, Indicator Organisms, MicroSnap e. Coli | Portuguese | Brazil | | sds | e-coli indicator-organisms microsnap-e-coli | portuguese | brazil |
| SDS – MicroSnap E. coli Detection Device MS2-ECOLI (US-en) | SDS | E. coli, Indicator Organisms, MicroSnap e. Coli | English | United States | | sds | e-coli indicator-organisms microsnap-e-coli | english | united-states |
| InSite L. mono Glo – 2022 AOAC Certification | Certification | Environmental Monitoring, Indicator Organisms, Insite L. mono Glow, Pathogen Detection | | | | certification | environmental-monitoring indicator-organisms insite-l-mono-glow pathogen-detection | | |
| InSite Listeria – AOAC Certification | Certification | Environmental Monitoring, Indicator Organisms, Insite Listeria, Pathogen Detection | English | | | certification | environmental-monitoring indicator-organisms insite-listeria pathogen-detection | english | |
| SDS – MicroSnap Total Detection Device MS2-TOTAL (RU) | SDS | Indicator Organisms, Microsnap Total | Russian | Russia | | sds | indicator-organisms microsnap-total | russian | russia |
| SDS MicroSnap Total Detection Device MS2-TOTAL (PT) | SDS | Indicator Organisms, Microsnap Total | Portuguese | Portugal | | sds | indicator-organisms microsnap-total | portuguese | portugal |
| SDS – MicroSnap Total Detection Device MS2-TOTAL (KR) | SDS | Indicator Organisms, Microsnap Total | Spanish | Mexico | | sds | indicator-organisms microsnap-total | spanish | mexico |
| SDS – MicroSnap Total Detection Device MS2-TOTAL (KR) | SDS | Indicator Organisms, Microsnap Total | Korean | South Korean | | sds | indicator-organisms microsnap-total | korean | south-korean |
| SDS – MicroSnap Total Detection Device MS2 TOTAL (JP) | SDS | Indicator Organisms, Microsnap Total | Japanese | Japan | | sds | indicator-organisms microsnap-total | japanese | japan |
| SDS – MicroSnap Total Detection Device MS2-TOTAL (IT) | SDS | Indicator Organisms, Microsnap Total | Italian | Italy | | sds | indicator-organisms microsnap-total | italian | italy |
| SDS – MicroSnap Total Detection Device MS2-TOTAL (GB) | SDS | Indicator Organisms, Microsnap Total | English | United Kingdom | | sds | indicator-organisms microsnap-total | english | united-kingdom |
| SDS – MicroSnap Total Detection Device MS2-TOTAL (FR) | SDS | Indicator Organisms, Microsnap Total | French | France | | sds | indicator-organisms microsnap-total | french | france |
| SDS – MicroSnap Total Detection Device MS2-TOTAL (es) | SDS | Indicator Organisms, Microsnap Total | Spanish | Spain | | sds | indicator-organisms microsnap-total | spanish | spain |
| SDS – MicroSnap Total Detection Device MS2-TOTAL (DE) | SDS | Indicator Organisms, Microsnap Total | German | Germany | | sds | indicator-organisms microsnap-total | german | germany |
| SDS – MicroSnap Total Detection Device MS2 TOTAL (CN-zh) | SDS | Indicator Organisms, Microsnap Total | Simplified Chinese | China | | sds | indicator-organisms microsnap-total | simplified-chinese | china |
| SDS – MicroSnap Total Detection Device MS2-TOTAL (CA-fr) | SDS | Indicator Organisms, Microsnap Total | French | Canada | | sds | indicator-organisms microsnap-total | french | canada |
| SDS MicroSnap Total Detection Device MS2-TOTAL (CA-en) | SDS | Indicator Organisms, Microsnap Total | English | Canada | | sds | indicator-organisms microsnap-total | english | canada |
| SDS – MicroSnap Total Detection Device MS2-TOTAL (BR-pt) | SDS | Indicator Organisms, Microsnap Total | Portuguese | Brazil | | sds | indicator-organisms microsnap-total | portuguese | brazil |
| SDS – MicroSnap Total Detection Device MS2-TOTAL (US) | SDS | Indicator Organisms, Microsnap Total | English | United States | | sds | indicator-organisms microsnap-total | english | united-states |
| SDS BAX System Media Listeria MED2002 (RU) | SDS | BAX, Indicator Organisms, Listeria, Pathogen Detection | Russian | Russia | | sds | bax indicator-organisms listeria pathogen-detection | russian | russia |
| SDS BAX System Media Listeria MED2002 (PT) | SDS | BAX, Indicator Organisms, Listeria, Pathogen Detection | Portuguese | Portugal | | sds | bax indicator-organisms listeria pathogen-detection | portuguese | portugal |
| SDS BAX System Media Listeria MED2002 (MX) | SDS | BAX, Indicator Organisms, Listeria, Pathogen Detection | Spanish | Mexico | | sds | bax indicator-organisms listeria pathogen-detection | spanish | mexico |
| SDS BAX System Media Listeria MED2002 (KR) | SDS | BAX, Indicator Organisms, Listeria, Pathogen Detection | Korean | South Korean | | sds | bax indicator-organisms listeria pathogen-detection | korean | south-korean |
| SDS BAX System Media Listeria MED2002 (JP) | SDS | BAX, Indicator Organisms, Listeria, Pathogen Detection | Japanese | Japan | | sds | bax indicator-organisms listeria pathogen-detection | japanese | japan |
| SDS BAX System Media Listeria MED2002 (IT) | SDS | BAX, Indicator Organisms, Listeria, Pathogen Detection | Italian | Italy | | sds | bax indicator-organisms listeria pathogen-detection | italian | italy |
| SDS BAX System Media Listeria MED2002 (GB) | SDS | BAX, Indicator Organisms, Listeria, Pathogen Detection | English | United Kingdom | | sds | bax indicator-organisms listeria pathogen-detection | english | united-kingdom |
| SDS BAX System Media Listeria MED2002 (FR) | SDS | BAX, Indicator Organisms, Listeria, Pathogen Detection | French | France | | sds | bax indicator-organisms listeria pathogen-detection | french | france |
| SDS BAX System Media Listeria MED2002 (ES) | SDS | BAX, Indicator Organisms, Listeria, Pathogen Detection | Spanish | Spain | | sds | bax indicator-organisms listeria pathogen-detection | spanish | spain |
| SDS BAX System Media Listeria-MED2002 (DE) | SDS | BAX, Indicator Organisms, Listeria, Pathogen Detection | German | Germany | | sds | bax indicator-organisms listeria pathogen-detection | german | germany |
| SDS BAX System Media Listeria MED2002 (CN-zh) | SDS | BAX, Indicator Organisms, Listeria, Pathogen Detection | Simplified Chinese | China | | sds | bax indicator-organisms listeria pathogen-detection | simplified-chinese | china |
| SDS BAX System Media Listeria MED2002 (CA-fr) | SDS | BAX, Indicator Organisms, Listeria, Pathogen Detection | French | Canada | | sds | bax indicator-organisms listeria pathogen-detection | french | canada |
| SDS BAX System Media Listeria MED2002 (CA-en) | SDS | BAX, Indicator Organisms, Listeria, Pathogen Detection | English | Canada | | sds | bax indicator-organisms listeria pathogen-detection | english | canada |
| SDS BAX System Media Listeria MED2002 (BR-pt) | SDS | BAX, Indicator Organisms, Listeria, Pathogen Detection | Portuguese | Brazil | | sds | bax indicator-organisms listeria pathogen-detection | portuguese | brazil |
| SDS BAX System Media Listeria MED2002 (US) | SDS | BAX, Indicator Organisms, Listeria, Pathogen Detection | English | United States | | sds | bax indicator-organisms listeria pathogen-detection | english | united-states |
| MicroSnap Equivalence Testing vs Traditional | Technical Bulletin | Indicator Organisms, MicroSnap | English | | | technical-bulletin | indicator-organisms microsnap | english | |
| MicroSnap vs Petrifilm vs bioMerieux TEMPO correlation | Technical Bulletin | Indicator Organisms, MicroSnap | English | | | technical-bulletin | indicator-organisms microsnap | english | |
| InSite Salmonella Product Sheet | Product Sheet | Indicator Organisms, Insite Salmonella, Pathogen Detection | English | | | product-sheet | indicator-organisms insite-salmonella pathogen-detection | english | |
| MicroSnap Coliform Method Validation Dairy | Technical Bulletin, Validations | Indicator Organisms, MicroSnap, Microsnap Coliform, Pathogen Detection | English | | | technical-bulletin validations | indicator-organisms microsnap microsnap-coliform pathogen-detection | english | |
| MicroSnap vs Plating Bespoke Standard Curve | Technical Bulletin | Indicator Organisms, MicroSnap | English | | | technical-bulletin | indicator-organisms microsnap | english | |
| SDS MicroSnap Enhanced Nutrient Broth 9ml (RU) | SDS | Indicator Organisms, MicroSnap | Russian | Russia | | sds | indicator-organisms microsnap | russian | russia |
| SDS MicroSnap Enhanced Nutrient Broth 9ml (PT) | SDS | Indicator Organisms, MicroSnap | Portuguese | Portugal | | sds | indicator-organisms microsnap | portuguese | portugal |
| SDS MicroSnap Enhanced Nutrient Broth 9ml (JP-ja) | SDS | Indicator Organisms, MicroSnap | Japanese | Japan | | sds | indicator-organisms microsnap | japanese | japan |
| SDS MicroSnap Enhanced Nutrient Broth 9ml (IT) | SDS | Indicator Organisms, MicroSnap | Italian | Italy | | sds | indicator-organisms microsnap | italian | italy |
| SDS MicroSnap Enhanced Nutrient Broth 9ml (GB) | SDS | Indicator Organisms, MicroSnap | English | United Kingdom | | sds | indicator-organisms microsnap | english | united-kingdom |
| SDS MicroSnap Enhanced Nutrient Broth 9ml (FR) | SDS | Indicator Organisms, MicroSnap | French | France | | sds | indicator-organisms microsnap | french | france |
| SDS MicroSnap Enhanced Nutrient Broth 9ml (ES) | SDS | Indicator Organisms, MicroSnap | Spanish | Spain | | sds | indicator-organisms microsnap | spanish | spain |
| SDS MicroSnap Enhanced Nutrient Broth 9ml (DE) | SDS | Indicator Organisms, MicroSnap | German | Germany | | sds | indicator-organisms microsnap | german | germany |
| SDS MicroSnap Enhanced Nutrient Broth 9ml (CN-zh) | SDS | Indicator Organisms, MicroSnap | Simplified Chinese | China | | sds | indicator-organisms microsnap | simplified-chinese | china |
| SDS MicroSnap Enhanced Nutrient Broth 9ml (CA-fr) | SDS | Indicator Organisms, MicroSnap | French | Canada | | sds | indicator-organisms microsnap | french | canada |
| SDS MicroSnap Enhanced Nutrient Broth 9ml (CA-en) | SDS | Indicator Organisms, MicroSnap | English | Canada | | sds | indicator-organisms microsnap | english | canada |
| SDS MicroSnap Enhanced Nutrient Broth 9ml (BR-pt) | SDS | Indicator Organisms, MicroSnap | Portuguese | Brazil | | sds | indicator-organisms microsnap | portuguese | brazil |
| SDS MicroSnap Enhanced Nutrient Broth 9ml (US) | SDS | Indicator Organisms, MicroSnap | English | United States | | sds | indicator-organisms microsnap | english | united-states |
| SDS MicroSnap Enhanced EB Broth 9ml (RU) | SDS | Indicator Organisms, MicroSnap | Russian | Russia | | sds | indicator-organisms microsnap | russian | russia |
| SDS MicroSnap Enhanced EB Broth 9ml (PT) | SDS | Indicator Organisms, MicroSnap | Portuguese | Portugal | | sds | indicator-organisms microsnap | portuguese | portugal |
| SDS MicroSnap Enhanced EB Broth 9ml (KR-ko) | SDS | Indicator Organisms, MicroSnap | Korean | South Korean | | sds | indicator-organisms microsnap | korean | south-korean |
| SDS MicroSnap Enhanced EB Broth 9ml (JP-ja) | SDS | Indicator Organisms, MicroSnap | Japanese | Japan | | sds | indicator-organisms microsnap | japanese | japan |
| SDS MicroSnap Enhanced EB Broth 9ml (IT) | SDS | Indicator Organisms, MicroSnap | Italian | Italian | | sds | indicator-organisms microsnap | italian | italian |
| SDS MicroSnap Enhanced EB Broth 9ml (GB) | SDS | Indicator Organisms, MicroSnap | English | United Kingdom | | sds | indicator-organisms microsnap | english | united-kingdom |
| SDS MicroSnap Enhanced EB Broth 9ml (FR) | SDS | Indicator Organisms, MicroSnap | French | France | | sds | indicator-organisms microsnap | french | france |
| SDS MicroSnap Enhanced EB Broth 9ml (ES) | SDS | Indicator Organisms, Microsnap Coliform | Spanish | Spain | | sds | indicator-organisms microsnap-coliform | spanish | spain |
| SDS MicroSnap Enhanced EB Broth 9ml (DE) | SDS | Indicator Organisms, MicroSnap | German | Germany | | sds | indicator-organisms microsnap | german | germany |
| SDS MicroSnap Enhanced EB Broth 9ml (CN-zh) | SDS | Indicator Organisms, MicroSnap | Simplified Chinese | China | | sds | indicator-organisms microsnap | simplified-chinese | china |
| SDS MicroSnap Enhanced EB Broth 9ml (CA-fr) | SDS | Indicator Organisms, MicroSnap | French | Canada | | sds | indicator-organisms microsnap | french | canada |
| SDS MicroSnap Enhanced EB Broth 9ml (CA-en) | SDS | Indicator Organisms, MicroSnap | English | Canada | | sds | indicator-organisms microsnap | english | canada |
| SDS MicroSnap Enhanced EB Broth 9ml (BR-pt) | SDS | Indicator Organisms, MicroSnap | Portuguese | Brazil | | sds | indicator-organisms microsnap | portuguese | brazil |
| SDS MicroSnap Enhanced EB Broth 9ml (US) | SDS | Indicator Organisms, MicroSnap | English | United States | | sds | indicator-organisms microsnap | english | united-states |
| SDS MicroSnap EB Broth ms1-eb-broth-9ml (US) | SDS | Indicator Organisms, MicroSnap, MicroSnap EB Broth | English | United States | | sds | indicator-organisms microsnap microsnap-eb-broth | english | united-states |
| SDS MicroSnap MS1-TOTAL and MS2-TOTAL (US) | SDS | Indicator Organisms, MicroSnap, Microsnap Total | English | United States | | sds | indicator-organisms microsnap microsnap-total | english | united-states |
| SDS MicroSnap MS1-EB and MS2-EB Enterobacteriaceae (US) | SDS | Indicator Organisms, MicroSnap, Microsnap Enterobacteriaceae | English | United States | | sds | indicator-organisms microsnap microsnap-enterobacteriaceae | english | united-states |
| SDS MicroSnap Coliform Ecoli Enrichment Swab MS1-CEC (US) | SDS | Indicator Organisms, MicroSnap, Microsnap Coliform E. coli | English | United States | | sds | indicator-organisms microsnap microsnap-coliform-e-coli | english | united-states |
| InSite Listeria (Product Sheet) | Product Sheet | Indicator Organisms, Insite Listeria, Pathogen Detection | English | | | product-sheet | indicator-organisms insite-listeria pathogen-detection | english | |
| InSite L. mono Glo Product Sheet | Brochure, Product Sheet | Indicator Organisms, Insite L. mono Glow, Pathogen Detection | English | | | brochure product-sheet | indicator-organisms insite-l-mono-glow pathogen-detection | english | |
| Trident Seafoods Relies on InSite™ Listeria for Environmental Testing | Case Study | Indicator Organisms, Insite Listeria, Pathogen Detection | English | | | case-study | indicator-organisms insite-listeria pathogen-detection | english | |
| InSite Listeria Instructions | Instructions | Indicator Organisms, InSite, Insite Listeria, Pathogen Detection | English | | | instructions | indicator-organisms insite insite-listeria pathogen-detection | english | |
| Presumptive Positives – From InSite™ to BAX | Editorial | BAX, Indicator Organism, Indicator Organisms, InSite, Insite Listeria, Pathogen Detection | English | | | editorial | bax indicator-organism indicator-organisms insite insite-listeria pathogen-detection | english | |
| MicroSnap Coliform & E. coli Enrichment & Detection Device | Instructions | Coliform, E. coli, Indicator Organisms, MicroSnap, Microsnap Coliform E. coli | English | | | instructions | coliform e-coli indicator-organisms microsnap microsnap-coliform-e-coli | english | |
| MicroSnap EB Enrichment & Detection Device | Instructions | EB, Indicator Organisms, MicroSnap, Microsnap EB, Microsnap Enterobacteriaceae | English | | | instructions | eb indicator-organisms microsnap microsnap-eb microsnap-enterobacteriaceae | english | |
| MicroSnap Total Enrichment & Detection Device | Instructions | Indicator Organisms, MicroSnap, Microsnap Total | English | | | instructions | indicator-organisms microsnap microsnap-total | english | |
| InSite L. mono Glow Instructions | Instructions | Indicator Organisms, InSite, Insite L. mono Glow, L. mono, Pathogen, Pathogen Detection | English | | | instructions | indicator-organisms insite insite-l-mono-glow l-mono pathogen pathogen-detection | english | |
| InSite Listeria Instructions | Instructions | Indicator Organisms, InSite, Insite Listeria, Listeria, Pathogen, Pathogen Detection | English | | | instructions | indicator-organisms insite insite-listeria listeria pathogen pathogen-detection | english | |
| InSite Salmonella Instructions | Instructions | Indicator Organisms, InSite, Insite Salmonella, Pathogen Detection, Salmonella | English | | | instructions | indicator-organisms insite insite-salmonella pathogen-detection salmonella | english | |
| Establishing Environmental Monitoring in Facility | White Paper | Allergen Testing, ATP Monitoring, Indicator Organisms | English | | | white-paper | allergen-testing atp-monitoring indicator-organisms | english | |
| MicroSnap Determines Bacterial Risk | White Paper | Indicator Organisms, MicroSnap | English | | | white-paper | indicator-organisms microsnap | english | |
| Improve Lab Efficiency with Rapid Methods | White Paper | ATP Monitoring, Indicator Organisms | English | | | white-paper | atp-monitoring indicator-organisms | english | |
| GFSI Drives Environmental Monitoring Standards | White Paper | Allergen Testing, ATP Monitoring, Indicator Organisms | English | | | white-paper | allergen-testing atp-monitoring indicator-organisms | english | |
| Comparison of Environmental Sampling Method Efficacy for Detection of Listeria on Food Contact Surfaces | Scientific Poster | Indicator Organisms, MicroSnap | English | | | scientific-poster | indicator-organisms microsnap | english | |
| Real-time Monitoring of TVC Using Non-invasive Bioluminescence Growth Media | Scientific Poster | Indicator Organisms, MicroSnap, Total Viable Count | English | | | scientific-poster | indicator-organisms microsnap total-viable-count | english | |
| Rapid Bioluminescence Detection of Bacteria in Cannabis-infused Foods | Scientific Poster | Indicator Organisms, MicroSnap | English | | | scientific-poster | indicator-organisms microsnap | english | |
| AOAC Certificate 071302 MicroSnap Coliform and E. coli | Certification | AOAC, Coliform, E. coli, Indicator Organisms, MicroSnap | English | | | certification | aoac coliform e-coli indicator-organisms microsnap | english | |
| AOAC Certificate MicroSnap Total (TVC) | Certification | AOAC, Indicator Organisms, MicroSnap, Total, TVC | English | | | certification | aoac indicator-organisms microsnap total tvc | english | |
| MicroSnap EB Product Sheet | Product Sheet | Indicator Organisms, MicroSnap | English | | | product-sheet | indicator-organisms microsnap | english | |
| MicroSnap Enrichment Broth 2mL Product Sheet | Product Sheet | Indicator Organisms, MicroSnap | English | | | product-sheet | indicator-organisms microsnap | english | |
| MicroSnap Brochure | Brochure | Indicator Organisms, MicroSnap | English | | | brochure | indicator-organisms microsnap | english | |
| | | | |
| --- | --- | --- | --- |
| Catalog No. | Description | Quantity | Contact Sales |
| ILC50 | InSite™ Listeria Test (box of 50) | 50 Tests | Learn More |
| ILC100 | InSite™ Listeria Test (box of 100) | 100 Tests | Learn More |
Snap-Valve technology – simply snap & squeeze
Large 2.5 inch foam swab for the maximum sample pickup
Write-on swab label for easy sample identification
Presumptive positive results are available for the most common Listeria spp in as little as 30 hours at levels as low as 1-10 CFU/mL
Presumptive positive samples should be confirmed by streaking samples onto commonly used selective Listeria agar plates such as Modified Oxford agar, Palcam agar, or any other recognized confirmatory procedure. Typical Listeria colonies on selective agar plates could then be further analyzed by more definitive tests such as microscopy, biochemical tests, etc.
Compared to UVM and BLEB, provides superior/equivalent recovery and faster detection of as low as 10-50 heat injured Listeria monocytogenes/mL within ~24-30 hours of incubation.
Provides a higher level of selectivity and sensitivity for heat injured L. monocytogenes under binary competition conditions compared to BLEB and UVM media