SureTrend Cloud – Health Care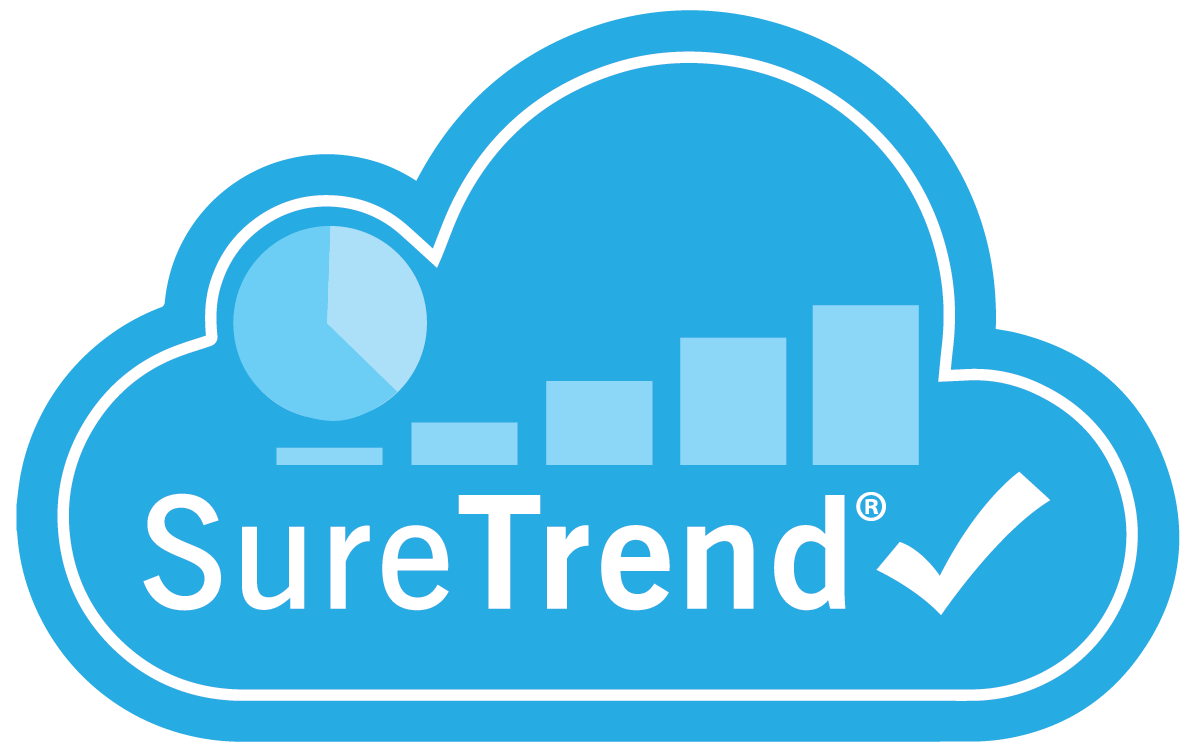 Innovation at your finger tips
View hygiene monitoring test results across multiple facilities. SureTrend™ Cloud is a free, easy-to-use data analysis software that unleashes the power of the EnSURE™ Touch luminometer. SureTrend Cloud wirelessly connects luminometers across multiple facilities to sync test results and empower you to centrally configure one or hundreds of EnSURE Touch luminometers. It gives you one universal view of your food safety program, helping you to see results sooner and make decisions quicker.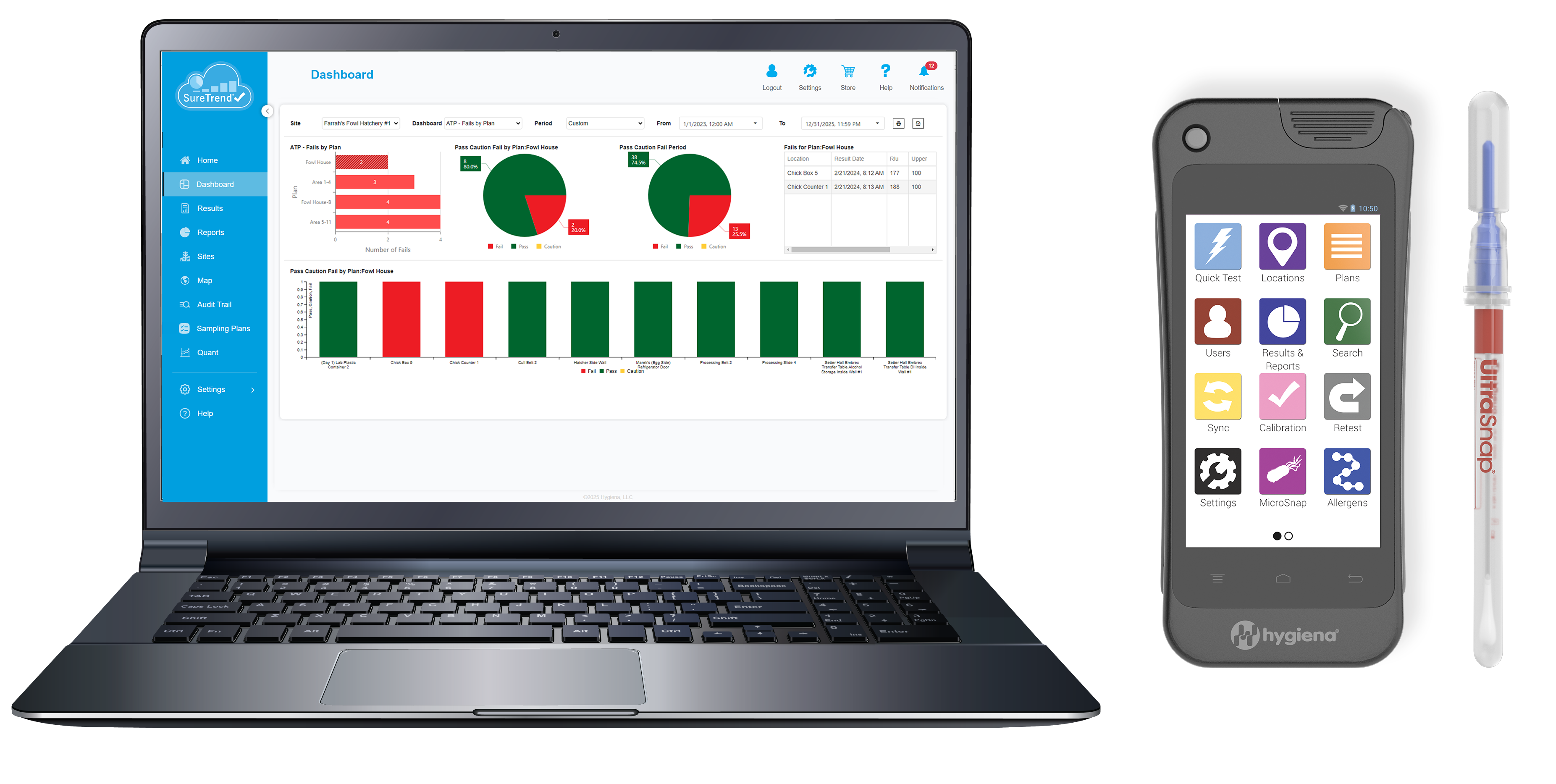 Monitor Multiple Facilities from Anywhere
Remotely Configure Multiple EnSURE Touch Luminometers
30+ Preprogrammed Reports
World-Class Data Security
Monitor Multiple Facilities from Anywhere
Track and trend cleaning efforts across multiple facilities. Quickly identify cleaning trends and problem areas to improve corrective actions and reduce HAIs. Develop individual performance goals and build teamwork between environmental services and infection prevention. Identify training opportunities around cleaning protocol. Measure and report improvements in cleaning outcomes and highlight your success.
Remotely Configure Multiple EnSURE™ Touch Luminometers
Configure one or hundreds of instruments from a single SureTrend™ Cloud account from anywhere. Manage and control user access to SureTrend™ Cloud independent of EnSURE™ Touch user access.  Monitor one or dozens of facilities from a signal SureTrend™ Cloud Dashboard.
30+ Preprogrammed Reports
SureTrend™ Cloud makes charting easy with over 30 pre-programmed reports. Choose any one of the template reports commonly used in the health care industry, and then you can customize and save reports to your favorites. Export PDFs for easy sharing or open data sets in Microsoft® Excel® for further data analysis.
World-Class Data Security
SureTrend™ Cloud uses Microsoft® Azure data storage, scaling, and security monitoring, so you can rest assured data is encrypted using state-of-the-art technology and security best practices. Assigned users within both EnSURE™ Touch and SureTrend™ Cloud can be granted either administrator rights or limited user rights. Plus, privileges can be controlled independently from facility to facility. Bottom line, EnSURE Touch and SureTrend Cloud put you in the driver seat to determine how best to control and allocate access credentials. Download the SureTrend Cloud data security white paper.
Free with EnSURE™ Touch
Best of all… SureTrend™ Cloud is included with the EnSURE™ Touch at no cost to you. Plus, with an aggressive new-feature roadmap, our software development team is constantly adding new features to make your job easier.
Let Us Randomize Your Plan
Let EnSURE™ Touch and SureTrend™ Cloud generate test plans by randomly selecting locations from a list and giving you statistical coverage over a given time period. Randomization is an ideal feature for facilities that cannot test every location every day but want to monitor 100% of locations.
Contact Sales
Have a specific question or need information on pricing? Send us a message and a sales representative will contact you.
| Title | Categories | Tags | Language | SDS Region | Link | doc_categories_hfilter | doc_tags_hfilter | dlp-language_hfilter | sds-region_hfilter |
| --- | --- | --- | --- | --- | --- | --- | --- | --- | --- |
| EnSURE Touch Instrument Safety Information | Instructions | ATP Monitoring, EnSURE Touch, Environmental Monitoring, Instructions, Luminometer | English | | | instructions | atp-monitoring ensure-touch environmental-monitoring instructions luminometer | english | |
| HACCP Cleaning and Sanitation Verification White Paper | White Paper | ATP Monitoring, EnSURE Touch, Environmental Monitoring, Health Care | English | | | white-paper | atp-monitoring ensure-touch environmental-monitoring health-care | english | |
| EnSURE Touch Specifications | Technical Bulletin | ATP Monitoring, EnSURE Touch | English | | | technical-bulletin | atp-monitoring ensure-touch | english | |
| Hygiena BioChek Product Overview | Brochure | BioCheck, Hygiena, One Health, Product Overview | English | | | brochure | biocheck hygiena one-health product-overview | english | |
| One Health Poultry Products Portfolio Flyer | Brochure | One Health, Poultry, Product Overview | English | | | brochure | one-health poultry product-overview | english | |
| SDS Q-Swab Letheen Broth (TR) | SDS | Letheen Broth, Q Swab, Sample Collection | Turkish | Turkey | | sds | letheen-broth q-swab sample-collection | turkish | turkey |
| SDS Q-Swab Letheen Broth (TH) | SDS | Letheen Broth, Q Swab, Sample Collection | Thai | Thailand | | sds | letheen-broth q-swab sample-collection | thai | thailand |
| SDS Q-Swab Letheen Broth (SK) | SDS | Letheen Broth, Q Swab, Sample Collection | Korean | South Korean | | sds | letheen-broth q-swab sample-collection | korean | south-korean |
| SDS Q-Swab Letheen Broth (SI) | SDS | Letheen Broth, Q Swab, Sample Collection | Slovene | Slovenia | | sds | letheen-broth q-swab sample-collection | slovene | slovenia |
| SDS Q-Swab Letheen Broth (SE) | SDS | Letheen Broth, Q Swab, Sample Collection | Swedish | Sweden | | sds | letheen-broth q-swab sample-collection | swedish | sweden |
| SDS Q-Swab Letheen Broth (RU) | SDS | Letheen Broth, Q Swab, Sample Collection | Russian | Russia | | sds | letheen-broth q-swab sample-collection | russian | russia |
| SDS Q-Swab Letheen Broth (RO) | SDS | Letheen Broth, Q Swab, Sample Collection | Romanian | Romania | | sds | letheen-broth q-swab sample-collection | romanian | romania |
| SDS Q-Swab Letheen Broth (PT) | SDS | Letheen Broth, Q Swab, Sample Collection | Portuguese | Portugal | | sds | letheen-broth q-swab sample-collection | portuguese | portugal |
| SDS Q-Swab Letheen Broth (PL) | SDS | Letheen Broth, Q Swab, Sample Collection | Polish | Poland | | sds | letheen-broth q-swab sample-collection | polish | poland |
| SDS Q-Swab Letheen Broth (NO) | SDS | Letheen Broth, Q Swab, Sample Collection | Norse | Norway | | sds | letheen-broth q-swab sample-collection | norse | norway |
| SDS Q-Swab Letheen Broth (NL) | SDS | Letheen Broth, Q Swab, Sample Collection | Dutch | Netherlands | | sds | letheen-broth q-swab sample-collection | dutch | netherlands |
| SDS Q-Swab Letheen Broth (MX) | SDS | Letheen Broth, Q Swab, Sample Collection | Spanish | Mexico | | sds | letheen-broth q-swab sample-collection | spanish | mexico |
| SDS Q-Swab Letheen Broth (MA-ar) | SDS | Letheen Broth, Q Swab, Sample Collection | Arabic | Morocco | | sds | letheen-broth q-swab sample-collection | arabic | morocco |
| SDS Q-Swab Letheen Broth (KR) | SDS | Letheen Broth, Q Swab, Sample Collection | Korean | South Korean | | sds | letheen-broth q-swab sample-collection | korean | south-korean |
| SDS Q-Swab Letheen Broth (JP) | SDS | Letheen Broth, Q Swab, Sample Collection | Japanese | Japan | | sds | letheen-broth q-swab sample-collection | japanese | japan |
| SDS Q-Swab Letheen Broth (IT) | SDS | Letheen Broth, Q Swab, Sample Collection | Italian | Italy | | sds | letheen-broth q-swab sample-collection | italian | italy |
| SDS Q-Swab Letheen Broth (IE) | SDS | Letheen Broth, Q Swab, Sample Collection | English | Ireland | | sds | letheen-broth q-swab sample-collection | english | ireland |
| SDS Q-Swab Letheen Broth (HU) | SDS | Letheen Broth, Q Swab, Sample Collection | Hungarian | Hungary | | sds | letheen-broth q-swab sample-collection | hungarian | hungary |
| SDS Q-Swab Letheen Broth (HR) | SDS | Letheen Broth, Q Swab, Sample Collection | Croatian | Croatia | | sds | letheen-broth q-swab sample-collection | croatian | croatia |
| SDS Q-Swab Letheen Broth (GR-el) | SDS | Letheen Broth, Q Swab, Sample Collection | Greek | Greek | | sds | letheen-broth q-swab sample-collection | greek | greek |
| SDS Q-Swab Letheen Broth (GB) | SDS | Letheen Broth, Q Swab, Sample Collection | English | United Kingdom | | sds | letheen-broth q-swab sample-collection | english | united-kingdom |
| SDS Q-Swab Letheen Broth (FR) | SDS | Letheen Broth, Q Swab, Sample Collection | French | France | | sds | letheen-broth q-swab sample-collection | french | france |
| SDS Q-Swab Letheen Broth (FI) | SDS | Letheen Broth, Q Swab, Sample Collection | Finnish | Finland | | sds | letheen-broth q-swab sample-collection | finnish | finland |
| SDS Q-Swab Letheen Broth (ES) | SDS | Letheen Broth, Q Swab, Sample Collection | Spanish | Spain | | sds | letheen-broth q-swab sample-collection | spanish | spain |
| SDS Q-Swab Letheen Broth (DK-da) | SDS | Letheen Broth, Q Swab, Sample Collection | Danish | Denmark | | sds | letheen-broth q-swab sample-collection | danish | denmark |
| SDS Q-Swab Letheen Broth (DE) | SDS | Letheen Broth, Q Swab, Sample Collection | German | Germany | | sds | letheen-broth q-swab sample-collection | german | germany |
| SDS Q-Swab Letheen-Broth (CZ-cs) | SDS | Letheen Broth, Q Swab, Sample Collection | Czech | Czech Republic | | sds | letheen-broth q-swab sample-collection | czech | czech-republic |
| SDS Q-Swab Letheen Broth (CN-zh) | SDS | Letheen Broth, Q Swab, Sample Collection | Simplified Chinese | China | | sds | letheen-broth q-swab sample-collection | simplified-chinese | china |
| SDS Q-Swab Letheen Broth (CA-fr) | SDS | Letheen Broth, Q Swab, Sample Collection | French | Canada | | sds | letheen-broth q-swab sample-collection | french | canada |
| SDS Q-Swab Letheen Broth (CA-en) | SDS | Letheen Broth, Q Swab, Sample Collection | English | Canada | | sds | letheen-broth q-swab sample-collection | english | canada |
| SDS Q-Swab Letheen Broth (BR-pt) | SDS | Letheen Broth, Q Swab, Sample Collection | Portuguese | Brazil | | sds | letheen-broth q-swab sample-collection | portuguese | brazil |
| SDS Q-Swab Letheen Broth (BG) | SDS | Letheen Broth, Q Swab, Sample Collection | Bulgarian | Bulgaria | | sds | letheen-broth q-swab sample-collection | bulgarian | bulgaria |
| SDS Q-Swab Letheen Broth (US) | SDS | Letheen Broth, Q Swab, Sample Collection | English | United States | | sds | letheen-broth q-swab sample-collection | english | united-states |
| SDS Q-Swab Buffered Peptone Water (TR) | SDS | Buffered Peptone Water, Q Swab, Sample Collection | Turkish | Turkey | | sds | buffered-peptone-water q-swab sample-collection | turkish | turkey |
| SDS Q-Swab Buffered Peptone Water (TH) | SDS | Buffered Peptone Water, Q Swab, Sample Collection | Thai | Thailand | | sds | buffered-peptone-water q-swab sample-collection | thai | thailand |
| SDS Q-Swab Buffered Peptone Water (SK) | SDS | Buffered Peptone Water, Q Swab, Sample Collection | Slovak | Slovakia | | sds | buffered-peptone-water q-swab sample-collection | slovak | slovakia |
| SDS Q-Swab Buffered Peptone Water (SI) | SDS | Buffered Peptone Water, Q Swab, Sample Collection | Slovene | Slovenia | | sds | buffered-peptone-water q-swab sample-collection | slovene | slovenia |
| SDS Q-Swab Buffered Peptone Water (SE-sv) | SDS | Buffered Peptone Water, Q Swab, Sample Collection | Swedish | Sweden | | sds | buffered-peptone-water q-swab sample-collection | swedish | sweden |
| SDS Q-Swab Buffered Peptone Water (RU) | SDS | Buffered Peptone Water, Q Swab, Sample Collection | Russian | Russia | | sds | buffered-peptone-water q-swab sample-collection | russian | russia |
| SDS Q-Swab Buffered Peptone Water (RO) | SDS | Buffered Peptone Water, Q Swab, Sample Collection | Romanian | Romania | | sds | buffered-peptone-water q-swab sample-collection | romanian | romania |
| SDS Q-Swab Buffered Peptone Water (PT) | SDS | Buffered Peptone Water, Q Swab, Sample Collection | Portuguese | Portugal | | sds | buffered-peptone-water q-swab sample-collection | portuguese | portugal |
| SDS Q-Swab Buffered Peptone Water (PL) | SDS | Buffered Peptone Water, Q Swab, Sample Collection | Polish | Poland | | sds | buffered-peptone-water q-swab sample-collection | polish | poland |
| SDS Q-Swab Buffered Peptone Water (NO) | SDS | Buffered Peptone Water, Q Swab, Sample Collection | Norse | Norway | | sds | buffered-peptone-water q-swab sample-collection | norse | norway |
| SDS Q-Swab Buffered Peptone Water (NL) | SDS | Buffered Peptone Water, Q Swab, Sample Collection | Dutch | Netherlands | | sds | buffered-peptone-water q-swab sample-collection | dutch | netherlands |
| SDS Q-Swab Buffered Peptone Water (MX-es) | SDS | Buffered Peptone Water, Q Swab, Sample Collection | Spanish | Mexico | | sds | buffered-peptone-water q-swab sample-collection | spanish | mexico |
| SDS Q-Swab Buffered Peptone Water (MA-ar) | SDS | Buffered Peptone Water, Q Swab, Sample Collection | Arabic | Morocco | | sds | buffered-peptone-water q-swab sample-collection | arabic | morocco |
| SDS Q-Swab Buffered Peptone Water (KR) | SDS | Buffered Peptone Water, Q Swab, Sample Collection | Korean | South Korean | | sds | buffered-peptone-water q-swab sample-collection | korean | south-korean |
| SDS Q-Swab Buffered Peptone Water (JP) | SDS | Buffered Peptone Water, Q Swab, Sample Collection | Japanese | Japan | | sds | buffered-peptone-water q-swab sample-collection | japanese | japan |
| SDS Q-Swab Buffered Peptone Water (IT) | SDS | Buffered Peptone Water, Q Swab, Sample Collection | Italian | Italy | | sds | buffered-peptone-water q-swab sample-collection | italian | italy |
| SDS Q-Swab Buffered Peptone Water (IE-en) | SDS | Buffered Peptone Water, Q Swab, Sample Collection | English | Ireland | | sds | buffered-peptone-water q-swab sample-collection | english | ireland |
| SDS Q-Swab Buffered Peptone Water (HU) | SDS | Buffered Peptone Water, Q Swab, Sample Collection | Hungarian | Hungary | | sds | buffered-peptone-water q-swab sample-collection | hungarian | hungary |
| SDS Q-Swab Buffered Peptone Water (HR) | SDS | Buffered Peptone Water, Q Swab, Sample Collection | Croatian | Croatia | | sds | buffered-peptone-water q-swab sample-collection | croatian | croatia |
| SDS Q-Swab Buffered Peptone Water (GR-el) | SDS | Buffered Peptone Water, Q Swab, Sample Collection | Greek | Greek | | sds | buffered-peptone-water q-swab sample-collection | greek | greek |
| SDS Q-Swab Buffered Peptone Water (GB) | SDS | Buffered Peptone Water, Q Swab, Sample Collection | English | United Kingdom | | sds | buffered-peptone-water q-swab sample-collection | english | united-kingdom |
| SDS Q-Swab Buffered Peptone Water (FR) | SDS | Buffered Peptone Water, Q Swab, Sample Collection | French | France | | sds | buffered-peptone-water q-swab sample-collection | french | france |
| SDS Q-Swab Buffered Peptone Water (FI) | SDS | Buffered Peptone Water, Q Swab, Sample Collection | Finnish | Finland | | sds | buffered-peptone-water q-swab sample-collection | finnish | finland |
| SDS Q-Swab Buffered Peptone Water (ES) | SDS | Buffered Peptone Water, Q Swab, Sample Collection | Spanish | Spain | | sds | buffered-peptone-water q-swab sample-collection | spanish | spain |
| SDS Q-Swab Buffered Peptone Water (DK) | SDS | Buffered Peptone Water, Q Swab, Sample Collection | Danish | Denmark | | sds | buffered-peptone-water q-swab sample-collection | danish | denmark |
| SDS Q-Swab Buffered Peptone Water (DE) | SDS | Buffered Peptone Water, Q Swab, Sample Collection | German | Germany | | sds | buffered-peptone-water q-swab sample-collection | german | germany |
| SDS Q-Swab Buffered Peptone Water (CZ) | SDS | Buffered Peptone Water, Q Swab, Sample Collection | Czech | Czech Republic | | sds | buffered-peptone-water q-swab sample-collection | czech | czech-republic |
| SDS Q-Swab Buffered Peptone Water (CN-zh) | SDS | Buffered Peptone Water, Q Swab, Sample Collection | Simplified Chinese | China | | sds | buffered-peptone-water q-swab sample-collection | simplified-chinese | china |
| SDS Q-Swab Buffered Peptone Water (CA-fr) | SDS | Buffered Peptone Water, Q Swab, Sample Collection | French | Canada | | sds | buffered-peptone-water q-swab sample-collection | french | canada |
| SDS Q-Swab Buffered Peptone Water (CA-en) | SDS | Buffered Peptone Water, Q Swab, Sample Collection | English | Canada | | sds | buffered-peptone-water q-swab sample-collection | english | canada |
| SDS Q-Swab Buffered Peptone Water (BR) | SDS | Buffered Peptone Water, Q Swab, Sample Collection | Portuguese | Brazil | | sds | buffered-peptone-water q-swab sample-collection | portuguese | brazil |
| SDS Q-Swab Buffered Peptone Water (BG) | SDS | Buffered Peptone Water, Q Swab, Sample Collection | Bulgarian | Bulgaria | | sds | buffered-peptone-water q-swab sample-collection | bulgarian | bulgaria |
| SDS Q-Swab Buffered Peptone Water (US) | SDS | Buffered Peptone Water, Q Swab, Sample Collection | English | United States | | sds | buffered-peptone-water q-swab sample-collection | english | united-states |
| ATP What Does Clean Mean? | Technical Bulletin | ATP Monitoring, EnSURE Touch | English | | | technical-bulletin | atp-monitoring ensure-touch | english | |
| Innovation to Hygiene Monitoring Guide | Brochure | ATP Cleaning Verification, ATP Monitoring, EnSURE Touch | English | | | brochure | atp-cleaning-verification atp-monitoring ensure-touch | english | |
| SureTrend 4 Software (Win) | Software | ATP Cleaning Verification, ATP Monitoring, Software, Suretrend, Suretrend 4 | English | | | software | atp-cleaning-verification atp-monitoring software suretrend suretrend-4 | english | |
| Q Swab Instructions (Es) | Instructions | Q Swab, Sample Collection | Spanish | | | instructions | q-swab sample-collection | spanish | |
| Q Swab Instructions | Instructions | Q Swab, Sample Collection | English | | | instructions | q-swab sample-collection | english | |
| QD Loop Instructions | Instructions | QD Loop, Sample Collection | English | | | instructions | qd-loop sample-collection | english | |
| Transport Swab Instructions | Instructions | Sample Collection, Transport Swab | English | | | instructions | sample-collection transport-swab | english | |
| MediCheck Instructions | Instructions | MediCheck, Protein Residue | English | | | instructions | medicheck protein-residue | english | |
| Positive Control Kit Instructions | Instructions | ATP Cleaning Verification, ATP Monitoring, Positive Control Kit | English | | | instructions | atp-cleaning-verification atp-monitoring positive-control-kit | english | |
| AquaSnap Free and Total Instructions | Instructions | AquaSnap Free, Aquasnap Total, ATP Cleaning Verification, ATP Monitoring | English | | | instructions | aquasnap-free aquasnap-total atp-cleaning-verification atp-monitoring | english | |
| SuperSnap Instructions | Instructions | ATP Cleaning Verification, ATP Monitoring, SuperSnap | English | | | instructions | atp-cleaning-verification atp-monitoring supersnap | english | |
| UltraSnap Instructions | Instructions | ATP Cleaning Verification, ATP Monitoring, Health Care, Ultrasnap | English | | | instructions | atp-cleaning-verification atp-monitoring health-care ultrasnap | english | |
| ATP RLU Limits Worksheet | Worksheet | ATP Monitoring | English | | | worksheet | atp-monitoring | english | |
| EnSURE Monitoring System IQOQ | Form | ATP Monitoring | English | | | form | atp-monitoring | english | |
| Polyurethane vs Cellulose Sponge Report | Technical Bulletin | Pathogen Detection, Sample Collection | English | | | technical-bulletin | pathogen-detection sample-collection | english | |
| EnSURE Touch Simulates Charm novaLUM RLU Scale | Technical Bulletin | ATP Monitoring, EnSURE Touch, Ultrasnap | English | | | technical-bulletin | atp-monitoring ensure-touch ultrasnap | english | |
| EnSURE Touch ATP Monitoring Performance | Technical Bulletin | ATP Monitoring, EnSURE Touch | English | | | technical-bulletin | atp-monitoring ensure-touch | english | |
| EnSURE Touch vs Kikkoman Technical Bulletin | Technical Bulletin | ATP Monitoring, EnSURE Touch | English | | | technical-bulletin | atp-monitoring ensure-touch | english | |
| Three Components of ATP Testing | Technical Bulletin | ATP Monitoring | English | | | technical-bulletin | atp-monitoring | english | |
| Sensitivity Comparison Three Luminometers Spanish | Technical Bulletin | ATP Monitoring | Spanish | | | technical-bulletin | atp-monitoring | spanish | |
| Sensitivity Comparison Three Luminometers | Technical Bulletin | ATP Monitoring | English | | | technical-bulletin | atp-monitoring | english | |
| Sanitizer Effects on ATP Surface Testing | Technical Bulletin | ATP Monitoring | English | | | technical-bulletin | atp-monitoring | english | |
| Sample Stability and Delayed Luminometer Testing | Technical Bulletin | ATP Monitoring | English | | | technical-bulletin | atp-monitoring | english | |
| Hygiena vs Charm Technology and Sensitivity | Technical Bulletin | ATP Monitoring | English | | | technical-bulletin | atp-monitoring | english | |
| Hygiena ATP Device Stability Test Results | Technical Bulletin | ATP Monitoring | English | | | technical-bulletin | atp-monitoring | english | |
| ATP Testing Procedure Quick Start | Ready Reference Guides | ATP Monitoring, EnSURE, SystemSURE Plus | English | | | ready-reference-guides | atp-monitoring ensure systemsure-plus | english | |
| EnSURE Touch Manual | Instructions | ATP Cleaning Verification, ATP Monitoring, EnSURE Touch | English | | | instructions | atp-cleaning-verification atp-monitoring ensure-touch | english | |
| CalCheck Instructions | Instructions | ATP Monitoring, Calcheck, Medical, Sample Collection, SpotCheck Plus | English | | | instructions | atp-monitoring calcheck medical sample-collection spotcheck-plus | english | |
| EndoSwab Instructions | Instructions | ATP Cleaning Verification, ATP Monitoring, EndoSwab, Health Care, Medical, Sample Collection | English | | | instructions | atp-cleaning-verification atp-monitoring endoswab health-care medical sample-collection | english | |
| Optimizing Hygiena in Ambulances | White Paper | ATP Monitoring | English | | | white-paper | atp-monitoring | english | |
| SureTrend Cloud Ensures Data Security | White Paper | ATP Monitoring, EnSURE Touch, SureTrend Cloud | English | | | white-paper | atp-monitoring ensure-touch suretrend-cloud | english | |
| Using UV Sanitation in Health Care Facilities | White Paper | ATP Monitoring, Indicator Organisms | English | | | white-paper | atp-monitoring indicator-organisms | english | |
| Exercise Monitors and Hospital Infection | White Paper | ATP Monitoring | English | | | white-paper | atp-monitoring | english | |
| ISSA Value of Clean | White Paper | ATP Monitoring | English | | | white-paper | atp-monitoring | english | |
| ISSA Clean Standards | White Paper | ATP Monitoring | English | | | white-paper | atp-monitoring | english | |
| Antarctic Antibiotic-resistant Bacteria | Case Study | Pathogen Detection, RiboPrinter | English | | | case-study | pathogen-detection riboprinter | english | |
| Using ATP Monitoring on Ultrasound Equipment | Case Study | ATP Monitoring | English | | | case-study | atp-monitoring | english | |
| Cleaning Verification System Health Care Product Sheet | Product Sheet | ATP Monitoring | English | | | product-sheet | atp-monitoring | english | |
| EndoSwab Health Care Product Sheet | Product Sheet | ATP Monitoring, Health Care, Sample Collection | English | | | product-sheet | atp-monitoring health-care sample-collection | english | |
| MediCheck Product Sheet | Product Sheet | Surface Residue | English | | | product-sheet | surface-residue | english | |
| AquaSnap Total and Free Health Care Product Sheet | Product Sheet | ATP Monitoring | English | | | product-sheet | atp-monitoring | english | |
| SystemSURE Plus Brochure – Health Care | Brochure | ATP Monitoring, SystemSURE Plus | English | | | brochure | atp-monitoring systemsure-plus | english | |
| EnSURE Touch Brochure – Health Care | Brochure | ATP Monitoring, EnSURE Touch | English | | | brochure | atp-monitoring ensure-touch | english | |
Works on most internet browsers
Export data into Microsoft® Excel®
Customizable reports and charts wizard
Over 30 preset reports