SystemSure Plus – Health Care

Cleaning Verification System
Patient health depends on the effectiveness of your cleaning procedure. Visual clean or using fluorescent gels is no longer a sufficient method to verify clean… you need a quantitative and scientific method. The Hygiena™ SystemSURE Plus™ rapid ATP cleaning verification system quantifies your cleaning outcomes in 15 seconds and provides a measurable result that can help you take effective corrective action to improve cleaning outcomes, reduce HAI and increase insurance reimbursement rates.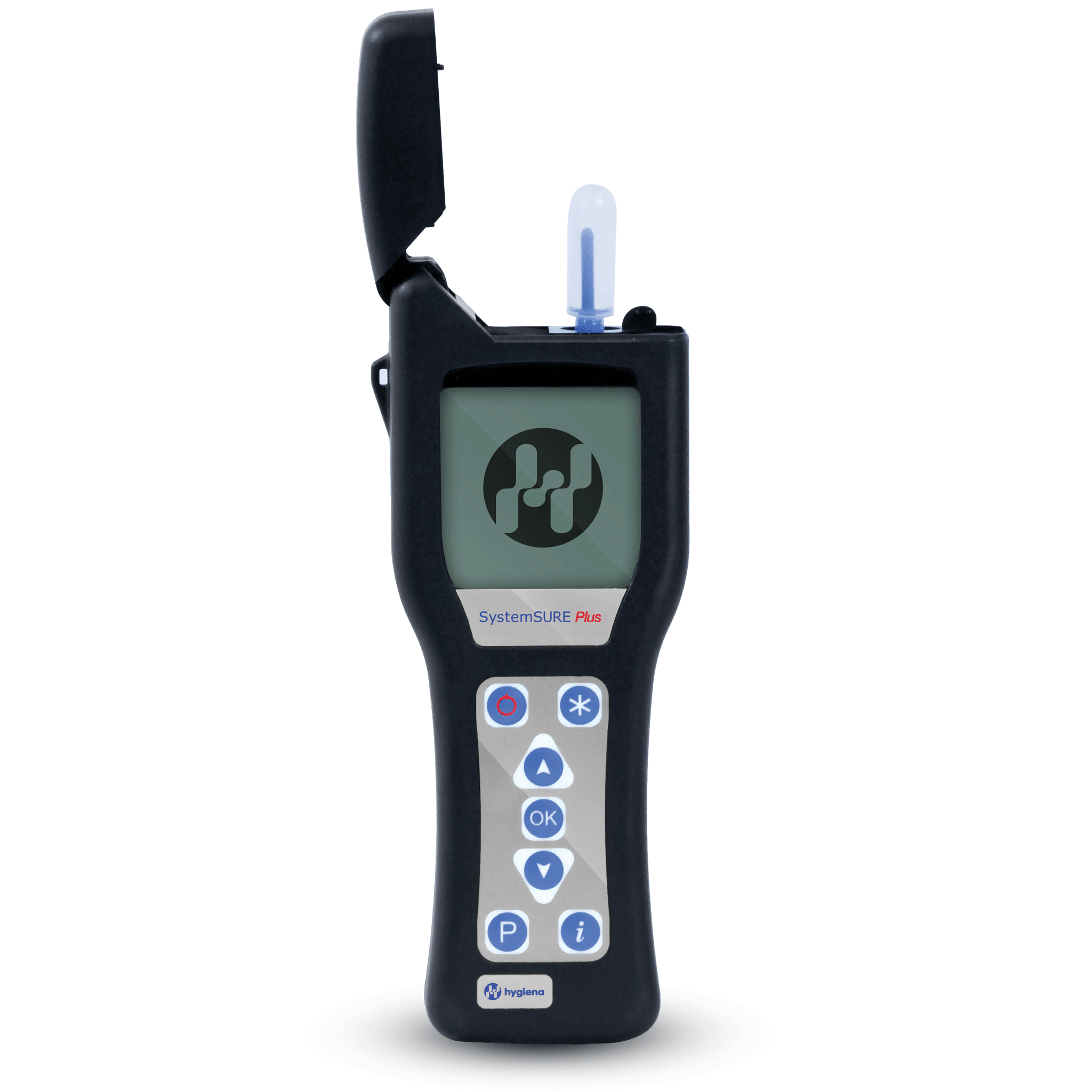 Complete Hygiene Monitoring Platform
Science-Based Cleaning Verification System
In today's age, visually clean is no longer good enough! Hospitals need a scientific way to quantify cleaning. Hygiena™ ATP cleaning verification quantifies your cleaning outcomes to help you reduce HAI and keep your staff and patients safe.
Align with CDC Recommendations
The Centers for Disease Control and Prevention (CDC) recommends that hospitals use an objective monitoring system to ensure health care facilities' cleaning standards are met. Check out our summary of the CDC recommendations for meeting cleaning verification standards.
Improve Cleaning Compliance
Implementing a monitoring system to validate cleanliness has been shown to increase compliance to cleaning procedures from 40% to 82%. Since approximately 90% of your cleaning budget is spent on labor, it's important for the job to be done right the first time.
Everything You Need to Quantify Clean
The EnSure™ cleaning verification solution consists of a luminometer, ATP test devices and the SureTrend™ dashboard. These three parts work together to help you track and measure your cleaning program across multiple locations. Learn more about each test below.
Surface ATP Test
Using UltraSnap™ surface ATP tests couldn't be easier. The three-step process for collecting a sample, activating the device, and mixing the sample is so easy, anyone can do it.
Water ATP Test
Some difficult-to-clean channels of endoscopes, such as elevator channels, can only be tested for cleanliness by flushing sterile water through them and then testing that water sample for residual contamination. AquaSnap™ is an easy-to-use water test that detects organic contamination in water samples in just 10 seconds.
High-sensitivity Surface ATP Test
SuperSnap™ is the most sensitive ATP surface test in Hygiena's portfolio of all-in-one devices. Designed to work with all Hygiena™ instruments, it detects extremely low levels of ATP so it can be used when dealing with harsh samples.
Superior Performance
The data speaks for itself. The most comprehensive evaluation of ATP hygiene monitoring systems has been completed by one of the world's premier food and beverage reference laboratories. They evaluated these four key areas of performance.
Linearity
The linearity graph shows a direct, proportional, straight-line relationship between RLU and ATP for the Hygiena® system. The closer to linear a system can get, the more precise and reliable the results will be. Systems that deviate from linear offer less reliable results and less sensitivity. The data in the graphic demonstrates the Hygiena system is among the most linear on the market.
Repeatability
Repeatability is described by Coefficient of Variation (CV). The higher the CV, the greater the variability between each result with the same sample. More variability means the results are more inconsistent and unreliable. The graph shows that Hygiena systems consistently deliver dependable results with the lowest CV.
Sensitivity
Sensitivity is defined as the Limit of Detection (LoD). It is the smallest amount of ATP detectable above the background noise of the system. Background noise is the RLU detected by the system in the absence of ATP. Background noise may come from both the instrument (as electrical interference), and the reagent swab device (as chemical interference). Hygiena systems detect the lowest levels of ATP.
Accuracy
To test accuracy, 100 fmoles of ATP was added to each test device and measurements were taken (using 10 replicates) to determine how much of the available sample was actually detected. Results less than 100% indicate that only part of the sample was detected due to some interference within the system. Results over 100% indicate extra signal coming from the test device. Hygiena's system is the closest to 100%, thus the least variable.
Better Design
Every feature of the SystemSURE Plus™ monitoring system was built with you, the customer in mind and to meet the demands of your facility.
Better Technology in a Smaller Box
The SystemSURE Plus uses state-of-the-art Photodiode (PD) sensor technology that provides superior sensitivity and stability over fragile and bulky photomultiplier tube (PMT) sensors. The small, thin and sleek design of the photodiode has several advantages over PMT. They're more durable and more energy-efficient.
Battery Power for Months
The SystemSURE Plus™ runs on two AA batteries providing long battery life so you don't have to worry about charging the unit every day. You can expect up to 8-12 months of uninterrupted use before needing to change the batteries. Replacement batteries are very affordable, while other systems use batteries that are expensive to replace and only last 6-8 hours with a minimum charge time of 2 hours.
Removable Read Chamber
Unique to the SystemSURE Plus™ is the removable read chamber, which makes cleaning easy. The demands of some facilities can commonly lead to contaminated read chambers. Other manufacturers require you to ship your system back if the read chamber becomes contaminated, resulting in costly repairs and delays. Hygiena's system is designed so you can quickly clean the read chamber, reducing downtime and saving money.
Maximum Durability
The SystemSURE Plus™ has a durable outer shell and keypad are meant to last. The splash-proof keypad won't let moisture in and the robust outer shell is sturdy to withstand the shock of minor drops and years of use.
Design For One Hand Use
Even when you already have your hands full, the sleek design of SystemSURE Plus™ makes scrolling and selecting test locations a breeze. It is completely operable with one hand, making your life that much easier. Dimension are 3″ x 7″ x 1″ (7.6cm x 17.8cm x 3cm).
Work Hands-free Wherever You Go
Each SystemSURE Plus™ comes with a complimentary protective carrying case and shoulder strap so you can work hands-free wherever you go. The carrying case and shoulder strap minimize potential drops to keep your device safe while on the go.
Contact Sales
Have a specific question or need information on pricing? Send us a message and a sales representative will contact you.
Title
Categories
Tags
Language
SDS Region
Link
doc_categories_hfilter
doc_tags_hfilter
dlp-language_hfilter
sds-region_hfilter
EnSURE Touch Instrument Safety Information
Instructions
ATP Monitoring, EnSURE Touch, Environmental Monitoring, Instructions, Luminometer
English
instructions
atp-monitoring ensure-touch environmental-monitoring instructions luminometer
english
HACCP Cleaning and Sanitation Verification White Paper
White Paper
ATP Monitoring, EnSURE Touch, Environmental Monitoring, Health Care
English
white-paper
atp-monitoring ensure-touch environmental-monitoring health-care
english
EnSURE Touch Specifications
Technical Bulletin
ATP Monitoring, EnSURE Touch
English
technical-bulletin
atp-monitoring ensure-touch
english
Hygiena BioChek Product Overview
Brochure
BioCheck, Hygiena, One Health, Product Overview
English
brochure
biocheck hygiena one-health product-overview
english
One Health Poultry Products Portfolio Flyer
Brochure
One Health, Poultry, Product Overview
English
brochure
one-health poultry product-overview
english
SDS Q-Swab Letheen Broth (TR)
SDS
Letheen Broth, Q Swab, Sample Collection
Turkish
Turkey
sds
letheen-broth q-swab sample-collection
turkish
turkey
SDS Q-Swab Letheen Broth (TH)
SDS
Letheen Broth, Q Swab, Sample Collection
Thai
Thailand
sds
letheen-broth q-swab sample-collection
thai
thailand
SDS Q-Swab Letheen Broth (SK)
SDS
Letheen Broth, Q Swab, Sample Collection
Korean
South Korean
sds
letheen-broth q-swab sample-collection
korean
south-korean
SDS Q-Swab Letheen Broth (SI)
SDS
Letheen Broth, Q Swab, Sample Collection
Slovene
Slovenia
sds
letheen-broth q-swab sample-collection
slovene
slovenia
SDS Q-Swab Letheen Broth (SE)
SDS
Letheen Broth, Q Swab, Sample Collection
Swedish
Sweden
sds
letheen-broth q-swab sample-collection
swedish
sweden
SDS Q-Swab Letheen Broth (RU)
SDS
Letheen Broth, Q Swab, Sample Collection
Russian
Russia
sds
letheen-broth q-swab sample-collection
russian
russia
SDS Q-Swab Letheen Broth (RO)
SDS
Letheen Broth, Q Swab, Sample Collection
Romanian
Romania
sds
letheen-broth q-swab sample-collection
romanian
romania
SDS Q-Swab Letheen Broth (PT)
SDS
Letheen Broth, Q Swab, Sample Collection
Portuguese
Portugal
sds
letheen-broth q-swab sample-collection
portuguese
portugal
SDS Q-Swab Letheen Broth (PL)
SDS
Letheen Broth, Q Swab, Sample Collection
Polish
Poland
sds
letheen-broth q-swab sample-collection
polish
poland
SDS Q-Swab Letheen Broth (NO)
SDS
Letheen Broth, Q Swab, Sample Collection
Norse
Norway
sds
letheen-broth q-swab sample-collection
norse
norway
SDS Q-Swab Letheen Broth (NL)
SDS
Letheen Broth, Q Swab, Sample Collection
Dutch
Netherlands
sds
letheen-broth q-swab sample-collection
dutch
netherlands
SDS Q-Swab Letheen Broth (MX)
SDS
Letheen Broth, Q Swab, Sample Collection
Spanish
Mexico
sds
letheen-broth q-swab sample-collection
spanish
mexico
SDS Q-Swab Letheen Broth (MA-ar)
SDS
Letheen Broth, Q Swab, Sample Collection
Arabic
Morocco
sds
letheen-broth q-swab sample-collection
arabic
morocco
SDS Q-Swab Letheen Broth (KR)
SDS
Letheen Broth, Q Swab, Sample Collection
Korean
South Korean
sds
letheen-broth q-swab sample-collection
korean
south-korean
SDS Q-Swab Letheen Broth (JP)
SDS
Letheen Broth, Q Swab, Sample Collection
Japanese
Japan
sds
letheen-broth q-swab sample-collection
japanese
japan
SDS Q-Swab Letheen Broth (IT)
SDS
Letheen Broth, Q Swab, Sample Collection
Italian
Italy
sds
letheen-broth q-swab sample-collection
italian
italy
SDS Q-Swab Letheen Broth (IE)
SDS
Letheen Broth, Q Swab, Sample Collection
English
Ireland
sds
letheen-broth q-swab sample-collection
english
ireland
SDS Q-Swab Letheen Broth (HU)
SDS
Letheen Broth, Q Swab, Sample Collection
Hungarian
Hungary
sds
letheen-broth q-swab sample-collection
hungarian
hungary
SDS Q-Swab Letheen Broth (HR)
SDS
Letheen Broth, Q Swab, Sample Collection
Croatian
Croatia
sds
letheen-broth q-swab sample-collection
croatian
croatia
SDS Q-Swab Letheen Broth (GR-el)
SDS
Letheen Broth, Q Swab, Sample Collection
Greek
Greek
sds
letheen-broth q-swab sample-collection
greek
greek
SDS Q-Swab Letheen Broth (GB)
SDS
Letheen Broth, Q Swab, Sample Collection
English
United Kingdom
sds
letheen-broth q-swab sample-collection
english
united-kingdom
SDS Q-Swab Letheen Broth (FR)
SDS
Letheen Broth, Q Swab, Sample Collection
French
France
sds
letheen-broth q-swab sample-collection
french
france
SDS Q-Swab Letheen Broth (FI)
SDS
Letheen Broth, Q Swab, Sample Collection
Finnish
Finland
sds
letheen-broth q-swab sample-collection
finnish
finland
SDS Q-Swab Letheen Broth (ES)
SDS
Letheen Broth, Q Swab, Sample Collection
Spanish
Spain
sds
letheen-broth q-swab sample-collection
spanish
spain
SDS Q-Swab Letheen Broth (DK-da)
SDS
Letheen Broth, Q Swab, Sample Collection
Danish
Denmark
sds
letheen-broth q-swab sample-collection
danish
denmark
SDS Q-Swab Letheen Broth (DE)
SDS
Letheen Broth, Q Swab, Sample Collection
German
Germany
sds
letheen-broth q-swab sample-collection
german
germany
SDS Q-Swab Letheen-Broth (CZ-cs)
SDS
Letheen Broth, Q Swab, Sample Collection
Czech
Czech Republic
sds
letheen-broth q-swab sample-collection
czech
czech-republic
SDS Q-Swab Letheen Broth (CN-zh)
SDS
Letheen Broth, Q Swab, Sample Collection
Simplified Chinese
China
sds
letheen-broth q-swab sample-collection
simplified-chinese
china
SDS Q-Swab Letheen Broth (CA-fr)
SDS
Letheen Broth, Q Swab, Sample Collection
French
Canada
sds
letheen-broth q-swab sample-collection
french
canada
SDS Q-Swab Letheen Broth (CA-en)
SDS
Letheen Broth, Q Swab, Sample Collection
English
Canada
sds
letheen-broth q-swab sample-collection
english
canada
SDS Q-Swab Letheen Broth (BR-pt)
SDS
Letheen Broth, Q Swab, Sample Collection
Portuguese
Brazil
sds
letheen-broth q-swab sample-collection
portuguese
brazil
SDS Q-Swab Letheen Broth (BG)
SDS
Letheen Broth, Q Swab, Sample Collection
Bulgarian
Bulgaria
sds
letheen-broth q-swab sample-collection
bulgarian
bulgaria
SDS Q-Swab Letheen Broth (US)
SDS
Letheen Broth, Q Swab, Sample Collection
English
United States
sds
letheen-broth q-swab sample-collection
english
united-states
SDS Q-Swab Buffered Peptone Water (TR)
SDS
Buffered Peptone Water, Q Swab, Sample Collection
Turkish
Turkey
sds
buffered-peptone-water q-swab sample-collection
turkish
turkey
SDS Q-Swab Buffered Peptone Water (TH)
SDS
Buffered Peptone Water, Q Swab, Sample Collection
Thai
Thailand
sds
buffered-peptone-water q-swab sample-collection
thai
thailand
SDS Q-Swab Buffered Peptone Water (SK)
SDS
Buffered Peptone Water, Q Swab, Sample Collection
Slovak
Slovakia
sds
buffered-peptone-water q-swab sample-collection
slovak
slovakia
SDS Q-Swab Buffered Peptone Water (SI)
SDS
Buffered Peptone Water, Q Swab, Sample Collection
Slovene
Slovenia
sds
buffered-peptone-water q-swab sample-collection
slovene
slovenia
SDS Q-Swab Buffered Peptone Water (SE-sv)
SDS
Buffered Peptone Water, Q Swab, Sample Collection
Swedish
Sweden
sds
buffered-peptone-water q-swab sample-collection
swedish
sweden
SDS Q-Swab Buffered Peptone Water (RU)
SDS
Buffered Peptone Water, Q Swab, Sample Collection
Russian
Russia
sds
buffered-peptone-water q-swab sample-collection
russian
russia
SDS Q-Swab Buffered Peptone Water (RO)
SDS
Buffered Peptone Water, Q Swab, Sample Collection
Romanian
Romania
sds
buffered-peptone-water q-swab sample-collection
romanian
romania
SDS Q-Swab Buffered Peptone Water (PT)
SDS
Buffered Peptone Water, Q Swab, Sample Collection
Portuguese
Portugal
sds
buffered-peptone-water q-swab sample-collection
portuguese
portugal
SDS Q-Swab Buffered Peptone Water (PL)
SDS
Buffered Peptone Water, Q Swab, Sample Collection
Polish
Poland
sds
buffered-peptone-water q-swab sample-collection
polish
poland
SDS Q-Swab Buffered Peptone Water (NO)
SDS
Buffered Peptone Water, Q Swab, Sample Collection
Norse
Norway
sds
buffered-peptone-water q-swab sample-collection
norse
norway
SDS Q-Swab Buffered Peptone Water (NL)
SDS
Buffered Peptone Water, Q Swab, Sample Collection
Dutch
Netherlands
sds
buffered-peptone-water q-swab sample-collection
dutch
netherlands
SDS Q-Swab Buffered Peptone Water (MX-es)
SDS
Buffered Peptone Water, Q Swab, Sample Collection
Spanish
Mexico
sds
buffered-peptone-water q-swab sample-collection
spanish
mexico
SDS Q-Swab Buffered Peptone Water (MA-ar)
SDS
Buffered Peptone Water, Q Swab, Sample Collection
Arabic
Morocco
sds
buffered-peptone-water q-swab sample-collection
arabic
morocco
SDS Q-Swab Buffered Peptone Water (KR)
SDS
Buffered Peptone Water, Q Swab, Sample Collection
Korean
South Korean
sds
buffered-peptone-water q-swab sample-collection
korean
south-korean
SDS Q-Swab Buffered Peptone Water (JP)
SDS
Buffered Peptone Water, Q Swab, Sample Collection
Japanese
Japan
sds
buffered-peptone-water q-swab sample-collection
japanese
japan
SDS Q-Swab Buffered Peptone Water (IT)
SDS
Buffered Peptone Water, Q Swab, Sample Collection
Italian
Italy
sds
buffered-peptone-water q-swab sample-collection
italian
italy
SDS Q-Swab Buffered Peptone Water (IE-en)
SDS
Buffered Peptone Water, Q Swab, Sample Collection
English
Ireland
sds
buffered-peptone-water q-swab sample-collection
english
ireland
SDS Q-Swab Buffered Peptone Water (HU)
SDS
Buffered Peptone Water, Q Swab, Sample Collection
Hungarian
Hungary
sds
buffered-peptone-water q-swab sample-collection
hungarian
hungary
SDS Q-Swab Buffered Peptone Water (HR)
SDS
Buffered Peptone Water, Q Swab, Sample Collection
Croatian
Croatia
sds
buffered-peptone-water q-swab sample-collection
croatian
croatia
SDS Q-Swab Buffered Peptone Water (GR-el)
SDS
Buffered Peptone Water, Q Swab, Sample Collection
Greek
Greek
sds
buffered-peptone-water q-swab sample-collection
greek
greek
SDS Q-Swab Buffered Peptone Water (GB)
SDS
Buffered Peptone Water, Q Swab, Sample Collection
English
United Kingdom
sds
buffered-peptone-water q-swab sample-collection
english
united-kingdom
SDS Q-Swab Buffered Peptone Water (FR)
SDS
Buffered Peptone Water, Q Swab, Sample Collection
French
France
sds
buffered-peptone-water q-swab sample-collection
french
france
SDS Q-Swab Buffered Peptone Water (FI)
SDS
Buffered Peptone Water, Q Swab, Sample Collection
Finnish
Finland
sds
buffered-peptone-water q-swab sample-collection
finnish
finland
SDS Q-Swab Buffered Peptone Water (ES)
SDS
Buffered Peptone Water, Q Swab, Sample Collection
Spanish
Spain
sds
buffered-peptone-water q-swab sample-collection
spanish
spain
SDS Q-Swab Buffered Peptone Water (DK)
SDS
Buffered Peptone Water, Q Swab, Sample Collection
Danish
Denmark
sds
buffered-peptone-water q-swab sample-collection
danish
denmark
SDS Q-Swab Buffered Peptone Water (DE)
SDS
Buffered Peptone Water, Q Swab, Sample Collection
German
Germany
sds
buffered-peptone-water q-swab sample-collection
german
germany
SDS Q-Swab Buffered Peptone Water (CZ)
SDS
Buffered Peptone Water, Q Swab, Sample Collection
Czech
Czech Republic
sds
buffered-peptone-water q-swab sample-collection
czech
czech-republic
SDS Q-Swab Buffered Peptone Water (CN-zh)
SDS
Buffered Peptone Water, Q Swab, Sample Collection
Simplified Chinese
China
sds
buffered-peptone-water q-swab sample-collection
simplified-chinese
china
SDS Q-Swab Buffered Peptone Water (CA-fr)
SDS
Buffered Peptone Water, Q Swab, Sample Collection
French
Canada
sds
buffered-peptone-water q-swab sample-collection
french
canada
SDS Q-Swab Buffered Peptone Water (CA-en)
SDS
Buffered Peptone Water, Q Swab, Sample Collection
English
Canada
sds
buffered-peptone-water q-swab sample-collection
english
canada
SDS Q-Swab Buffered Peptone Water (BR)
SDS
Buffered Peptone Water, Q Swab, Sample Collection
Portuguese
Brazil
sds
buffered-peptone-water q-swab sample-collection
portuguese
brazil
SDS Q-Swab Buffered Peptone Water (BG)
SDS
Buffered Peptone Water, Q Swab, Sample Collection
Bulg