SureTrend® Software

Data Analysis Software
Hygiena® SureTrend Data Analysis Software is compatible with EnSURE® and SystemSURE™ Plus. The following page hosts support material for customers currently using SureTrend® version 4.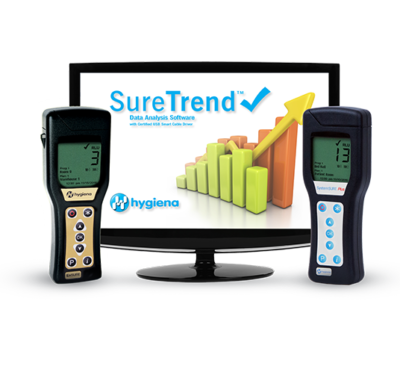 Upgrade to SureTrend® Cloud & EnSURE® Touch
EnSURE® Touch and SureTrend® Cloud combine to offer the industry's more accurate and advanced cleaning verification platform. EnSURE® Touch brings smartphone design to an ATP luminometer making it extremely intuitive yet amazingly powerful. SureTrend® Cloud is a cloud-based analytics solution with 30+ preprogrammed reports to get you up and running quickly.
Contact Sales
Have a specific question or need information on pricing? Send us a message and a sales representative will contact you.
| Title | Categories | Tags | Language | SDS Region | Link | doc_categories_hfilter | doc_tags_hfilter | dlp-language_hfilter | sds-region_hfilter |
| --- | --- | --- | --- | --- | --- | --- | --- | --- | --- |
| EnSURE Touch Instrument Safety Information | Instructions | ATP Monitoring, EnSURE Touch, Environmental Monitoring, Instructions, Luminometer | English | | | instructions | atp-monitoring ensure-touch environmental-monitoring instructions luminometer | english | |
| HACCP Cleaning and Sanitation Verification White Paper | White Paper | ATP Monitoring, EnSURE Touch, Environmental Monitoring, Health Care | English | | | white-paper | atp-monitoring ensure-touch environmental-monitoring health-care | english | |
| EnSURE Touch Specifications | Technical Bulletin | ATP Monitoring, EnSURE Touch | English | | | technical-bulletin | atp-monitoring ensure-touch | english | |
| Hygiena BioChek Product Overview | Brochure | BioCheck, Hygiena, One Health, Product Overview | English | | | brochure | biocheck hygiena one-health product-overview | english | |
| One Health Poultry Products Portfolio Flyer | Brochure | One Health, Poultry, Product Overview | English | | | brochure | one-health poultry product-overview | english | |
| SDS Q-Swab Letheen Broth (TR) | SDS | Letheen Broth, Q Swab, Sample Collection | Turkish | Turkey | | sds | letheen-broth q-swab sample-collection | turkish | turkey |
| SDS Q-Swab Letheen Broth (TH) | SDS | Letheen Broth, Q Swab, Sample Collection | Thai | Thailand | | sds | letheen-broth q-swab sample-collection | thai | thailand |
| SDS Q-Swab Letheen Broth (SK) | SDS | Letheen Broth, Q Swab, Sample Collection | Korean | South Korean | | sds | letheen-broth q-swab sample-collection | korean | south-korean |
| SDS Q-Swab Letheen Broth (SI) | SDS | Letheen Broth, Q Swab, Sample Collection | Slovene | Slovenia | | sds | letheen-broth q-swab sample-collection | slovene | slovenia |
| SDS Q-Swab Letheen Broth (SE) | SDS | Letheen Broth, Q Swab, Sample Collection | Swedish | Sweden | | sds | letheen-broth q-swab sample-collection | swedish | sweden |
| SDS Q-Swab Letheen Broth (RU) | SDS | Letheen Broth, Q Swab, Sample Collection | Russian | Russia | | sds | letheen-broth q-swab sample-collection | russian | russia |
| SDS Q-Swab Letheen Broth (RO) | SDS | Letheen Broth, Q Swab, Sample Collection | Romanian | Romania | | sds | letheen-broth q-swab sample-collection | romanian | romania |
| SDS Q-Swab Letheen Broth (PT) | SDS | Letheen Broth, Q Swab, Sample Collection | Portuguese | Portugal | | sds | letheen-broth q-swab sample-collection | portuguese | portugal |
| SDS Q-Swab Letheen Broth (PL) | SDS | Letheen Broth, Q Swab, Sample Collection | Polish | Poland | | sds | letheen-broth q-swab sample-collection | polish | poland |
| SDS Q-Swab Letheen Broth (NO) | SDS | Letheen Broth, Q Swab, Sample Collection | Norse | Norway | | sds | letheen-broth q-swab sample-collection | norse | norway |
| SDS Q-Swab Letheen Broth (NL) | SDS | Letheen Broth, Q Swab, Sample Collection | Dutch | Netherlands | | sds | letheen-broth q-swab sample-collection | dutch | netherlands |
| SDS Q-Swab Letheen Broth (MX) | SDS | Letheen Broth, Q Swab, Sample Collection | Spanish | Mexico | | sds | letheen-broth q-swab sample-collection | spanish | mexico |
| SDS Q-Swab Letheen Broth (MA-ar) | SDS | Letheen Broth, Q Swab, Sample Collection | Arabic | Morocco | | sds | letheen-broth q-swab sample-collection | arabic | morocco |
| SDS Q-Swab Letheen Broth (KR) | SDS | Letheen Broth, Q Swab, Sample Collection | Korean | South Korean | | sds | letheen-broth q-swab sample-collection | korean | south-korean |
| SDS Q-Swab Letheen Broth (JP) | SDS | Letheen Broth, Q Swab, Sample Collection | Japanese | Japan | | sds | letheen-broth q-swab sample-collection | japanese | japan |
| SDS Q-Swab Letheen Broth (IT) | SDS | Letheen Broth, Q Swab, Sample Collection | Italian | Italy | | sds | letheen-broth q-swab sample-collection | italian | italy |
| SDS Q-Swab Letheen Broth (IE) | SDS | Letheen Broth, Q Swab, Sample Collection | English | Ireland | | sds | letheen-broth q-swab sample-collection | english | ireland |
| SDS Q-Swab Letheen Broth (HU) | SDS | Letheen Broth, Q Swab, Sample Collection | Hungarian | Hungary | | sds | letheen-broth q-swab sample-collection | hungarian | hungary |
| SDS Q-Swab Letheen Broth (HR) | SDS | Letheen Broth, Q Swab, Sample Collection | Croatian | Croatia | | sds | letheen-broth q-swab sample-collection | croatian | croatia |
| SDS Q-Swab Letheen Broth (GR-el) | SDS | Letheen Broth, Q Swab, Sample Collection | Greek | Greek | | sds | letheen-broth q-swab sample-collection | greek | greek |
| SDS Q-Swab Letheen Broth (GB) | SDS | Letheen Broth, Q Swab, Sample Collection | English | United Kingdom | | sds | letheen-broth q-swab sample-collection | english | united-kingdom |
| SDS Q-Swab Letheen Broth (FR) | SDS | Letheen Broth, Q Swab, Sample Collection | French | France | | sds | letheen-broth q-swab sample-collection | french | france |
| SDS Q-Swab Letheen Broth (FI) | SDS | Letheen Broth, Q Swab, Sample Collection | Finnish | Finland | | sds | letheen-broth q-swab sample-collection | finnish | finland |
| SDS Q-Swab Letheen Broth (ES) | SDS | Letheen Broth, Q Swab, Sample Collection | Spanish | Spain | | sds | letheen-broth q-swab sample-collection | spanish | spain |
| SDS Q-Swab Letheen Broth (DK-da) | SDS | Letheen Broth, Q Swab, Sample Collection | Danish | Denmark | | sds | letheen-broth q-swab sample-collection | danish | denmark |
| SDS Q-Swab Letheen Broth (DE) | SDS | Letheen Broth, Q Swab, Sample Collection | German | Germany | | sds | letheen-broth q-swab sample-collection | german | germany |
| SDS Q-Swab Letheen-Broth (CZ-cs) | SDS | Letheen Broth, Q Swab, Sample Collection | Czech | Czech Republic | | sds | letheen-broth q-swab sample-collection | czech | czech-republic |
| SDS Q-Swab Letheen Broth (CN-zh) | SDS | Letheen Broth, Q Swab, Sample Collection | Simplified Chinese | China | | sds | letheen-broth q-swab sample-collection | simplified-chinese | china |
| SDS Q-Swab Letheen Broth (CA-fr) | SDS | Letheen Broth, Q Swab, Sample Collection | French | Canada | | sds | letheen-broth q-swab sample-collection | french | canada |
| SDS Q-Swab Letheen Broth (CA-en) | SDS | Letheen Broth, Q Swab, Sample Collection | English | Canada | | sds | letheen-broth q-swab sample-collection | english | canada |
| SDS Q-Swab Letheen Broth (BR-pt) | SDS | Letheen Broth, Q Swab, Sample Collection | Portuguese | Brazil | | sds | letheen-broth q-swab sample-collection | portuguese | brazil |
| SDS Q-Swab Letheen Broth (BG) | SDS | Letheen Broth, Q Swab, Sample Collection | Bulgarian | Bulgaria | | sds | letheen-broth q-swab sample-collection | bulgarian | bulgaria |
| SDS Q-Swab Letheen Broth (US) | SDS | Letheen Broth, Q Swab, Sample Collection | English | United States | | sds | letheen-broth q-swab sample-collection | english | united-states |
| SDS Q-Swab Buffered Peptone Water (TR) | SDS | Buffered Peptone Water, Q Swab, Sample Collection | Turkish | Turkey | | sds | buffered-peptone-water q-swab sample-collection | turkish | turkey |
| SDS Q-Swab Buffered Peptone Water (TH) | SDS | Buffered Peptone Water, Q Swab, Sample Collection | Thai | Thailand | | sds | buffered-peptone-water q-swab sample-collection | thai | thailand |
| SDS Q-Swab Buffered Peptone Water (SK) | SDS | Buffered Peptone Water, Q Swab, Sample Collection | Slovak | Slovakia | | sds | buffered-peptone-water q-swab sample-collection | slovak | slovakia |
| SDS Q-Swab Buffered Peptone Water (SI) | SDS | Buffered Peptone Water, Q Swab, Sample Collection | Slovene | Slovenia | | sds | buffered-peptone-water q-swab sample-collection | slovene | slovenia |
| SDS Q-Swab Buffered Peptone Water (SE-sv) | SDS | Buffered Peptone Water, Q Swab, Sample Collection | Swedish | Sweden | | sds | buffered-peptone-water q-swab sample-collection | swedish | sweden |
| SDS Q-Swab Buffered Peptone Water (RU) | SDS | Buffered Peptone Water, Q Swab, Sample Collection | Russian | Russia | | sds | buffered-peptone-water q-swab sample-collection | russian | russia |
| SDS Q-Swab Buffered Peptone Water (RO) | SDS | Buffered Peptone Water, Q Swab, Sample Collection | Romanian | Romania | | sds | buffered-peptone-water q-swab sample-collection | romanian | romania |
| SDS Q-Swab Buffered Peptone Water (PT) | SDS | Buffered Peptone Water, Q Swab, Sample Collection | Portuguese | Portugal | | sds | buffered-peptone-water q-swab sample-collection | portuguese | portugal |
| SDS Q-Swab Buffered Peptone Water (PL) | SDS | Buffered Peptone Water, Q Swab, Sample Collection | Polish | Poland | | sds | buffered-peptone-water q-swab sample-collection | polish | poland |
| SDS Q-Swab Buffered Peptone Water (NO) | SDS | Buffered Peptone Water, Q Swab, Sample Collection | Norse | Norway | | sds | buffered-peptone-water q-swab sample-collection | norse | norway |
| SDS Q-Swab Buffered Peptone Water (NL) | SDS | Buffered Peptone Water, Q Swab, Sample Collection | Dutch | Netherlands | | sds | buffered-peptone-water q-swab sample-collection | dutch | netherlands |
| SDS Q-Swab Buffered Peptone Water (MX-es) | SDS | Buffered Peptone Water, Q Swab, Sample Collection | Spanish | Mexico | | sds | buffered-peptone-water q-swab sample-collection | spanish | mexico |
| SDS Q-Swab Buffered Peptone Water (MA-ar) | SDS | Buffered Peptone Water, Q Swab, Sample Collection | Arabic | Morocco | | sds | buffered-peptone-water q-swab sample-collection | arabic | morocco |
| SDS Q-Swab Buffered Peptone Water (KR) | SDS | Buffered Peptone Water, Q Swab, Sample Collection | Korean | South Korean | | sds | buffered-peptone-water q-swab sample-collection | korean | south-korean |
| SDS Q-Swab Buffered Peptone Water (JP) | SDS | Buffered Peptone Water, Q Swab, Sample Collection | Japanese | Japan | | sds | buffered-peptone-water q-swab sample-collection | japanese | japan |
| SDS Q-Swab Buffered Peptone Water (IT) | SDS | Buffered Peptone Water, Q Swab, Sample Collection | Italian | Italy | | sds | buffered-peptone-water q-swab sample-collection | italian | italy |
| SDS Q-Swab Buffered Peptone Water (IE-en) | SDS | Buffered Peptone Water, Q Swab, Sample Collection | English | Ireland | | sds | buffered-peptone-water q-swab sample-collection | english | ireland |
| SDS Q-Swab Buffered Peptone Water (HU) | SDS | Buffered Peptone Water, Q Swab, Sample Collection | Hungarian | Hungary | | sds | buffered-peptone-water q-swab sample-collection | hungarian | hungary |
| SDS Q-Swab Buffered Peptone Water (HR) | SDS | Buffered Peptone Water, Q Swab, Sample Collection | Croatian | Croatia | | sds | buffered-peptone-water q-swab sample-collection | croatian | croatia |
| SDS Q-Swab Buffered Peptone Water (GR-el) | SDS | Buffered Peptone Water, Q Swab, Sample Collection | Greek | Greek | | sds | buffered-peptone-water q-swab sample-collection | greek | greek |
| SDS Q-Swab Buffered Peptone Water (GB) | SDS | Buffered Peptone Water, Q Swab, Sample Collection | English | United Kingdom | | sds | buffered-peptone-water q-swab sample-collection | english | united-kingdom |
| SDS Q-Swab Buffered Peptone Water (FR) | SDS | Buffered Peptone Water, Q Swab, Sample Collection | French | France | | sds | buffered-peptone-water q-swab sample-collection | french | france |
| SDS Q-Swab Buffered Peptone Water (FI) | SDS | Buffered Peptone Water, Q Swab, Sample Collection | Finnish | Finland | | sds | buffered-peptone-water q-swab sample-collection | finnish | finland |
| SDS Q-Swab Buffered Peptone Water (ES) | SDS | Buffered Peptone Water, Q Swab, Sample Collection | Spanish | Spain | | sds | buffered-peptone-water q-swab sample-collection | spanish | spain |
| SDS Q-Swab Buffered Peptone Water (DK) | SDS | Buffered Peptone Water, Q Swab, Sample Collection | Danish | Denmark | | sds | buffered-peptone-water q-swab sample-collection | danish | denmark |
| SDS Q-Swab Buffered Peptone Water (DE) | SDS | Buffered Peptone Water, Q Swab, Sample Collection | German | Germany | | sds | buffered-peptone-water q-swab sample-collection | german | germany |
| SDS Q-Swab Buffered Peptone Water (CZ) | SDS | Buffered Peptone Water, Q Swab, Sample Collection | Czech | Czech Republic | | sds | buffered-peptone-water q-swab sample-collection | czech | czech-republic |
| SDS Q-Swab Buffered Peptone Water (CN-zh) | SDS | Buffered Peptone Water, Q Swab, Sample Collection | Simplified Chinese | China | | sds | buffered-peptone-water q-swab sample-collection | simplified-chinese | china |
| SDS Q-Swab Buffered Peptone Water (CA-fr) | SDS | Buffered Peptone Water, Q Swab, Sample Collection | French | Canada | | sds | buffered-peptone-water q-swab sample-collection | french | canada |
| SDS Q-Swab Buffered Peptone Water (CA-en) | SDS | Buffered Peptone Water, Q Swab, Sample Collection | English | Canada | | sds | buffered-peptone-water q-swab sample-collection | english | canada |
| SDS Q-Swab Buffered Peptone Water (BR) | SDS | Buffered Peptone Water, Q Swab, Sample Collection | Portuguese | Brazil | | sds | buffered-peptone-water q-swab sample-collection | portuguese | brazil |
| SDS Q-Swab Buffered Peptone Water (BG) | SDS | Buffered Peptone Water, Q Swab, Sample Collection | Bulgarian | Bulgaria | | sds | buffered-peptone-water q-swab sample-collection | bulgarian | bulgaria |
| SDS Q-Swab Buffered Peptone Water (US) | SDS | Buffered Peptone Water, Q Swab, Sample Collection | English | United States | | sds | buffered-peptone-water q-swab sample-collection | english | united-states |
| ATP What Does Clean Mean? | Technical Bulletin | ATP Monitoring, EnSURE Touch | English | | | technical-bulletin | atp-monitoring ensure-touch | english | |
| Innovation to Hygiene Monitoring Guide | Brochure | ATP Cleaning Verification, ATP Monitoring, EnSURE Touch | English | | | brochure | atp-cleaning-verification atp-monitoring ensure-touch | english | |
| SureTrend 4 Software (Win) | Software | ATP Cleaning Verification, ATP Monitoring, Software, Suretrend, Suretrend 4 | English | | | software | atp-cleaning-verification atp-monitoring software suretrend suretrend-4 | english | |
| Q Swab Instructions (Es) | Instructions | Q Swab, Sample Collection | Spanish | | | instructions | q-swab sample-collection | spanish | |
| Q Swab Instructions | Instructions | Q Swab, Sample Collection | English | | | instructions | q-swab sample-collection | english | |
| QD Loop Instructions | Instructions | QD Loop, Sample Collection | English | | | instructions | qd-loop sample-collection | english | |
| Transport Swab Instructions | Instructions | Sample Collection, Transport Swab | English | | | instructions | sample-collection transport-swab | english | |
| MediCheck Instructions | Instructions | MediCheck, Protein Residue | English | | | instructions | medicheck protein-residue | english | |
| Positive Control Kit Instructions | Instructions | ATP Cleaning Verification, ATP Monitoring, Positive Control Kit | English | | | instructions | atp-cleaning-verification atp-monitoring positive-control-kit | english | |
| AquaSnap Free and Total Instructions | Instructions | AquaSnap Free, Aquasnap Total, ATP Cleaning Verification, ATP Monitoring | English | | | instructions | aquasnap-free aquasnap-total atp-cleaning-verification atp-monitoring | english | |
| SuperSnap Instructions | Instructions | ATP Cleaning Verification, ATP Monitoring, SuperSnap | English | | | instructions | atp-cleaning-verification atp-monitoring supersnap | english | |
| UltraSnap Instructions | Instructions | ATP Cleaning Verification, ATP Monitoring, Health Care, Ultrasnap | English | | | instructions | atp-cleaning-verification atp-monitoring health-care ultrasnap | english | |
| ATP RLU Limits Worksheet | Worksheet | ATP Monitoring | English | | | worksheet | atp-monitoring | english | |
| EnSURE Monitoring System IQOQ | Form | ATP Monitoring | English | | | form | atp-monitoring | english | |
| Polyurethane vs Cellulose Sponge Report | Technical Bulletin | Pathogen Detection, Sample Collection | English | | | technical-bulletin | pathogen-detection sample-collection | english | |
| EnSURE Touch Simulates Charm novaLUM RLU Scale | Technical Bulletin | ATP Monitoring, EnSURE Touch, Ultrasnap | English | | | technical-bulletin | atp-monitoring ensure-touch ultrasnap | english | |
| EnSURE Touch ATP Monitoring Performance | Technical Bulletin | ATP Monitoring, EnSURE Touch | English | | | technical-bulletin | atp-monitoring ensure-touch | english | |
| EnSURE Touch vs Kikkoman Technical Bulletin | Technical Bulletin | ATP Monitoring, EnSURE Touch | English | | | technical-bulletin | atp-monitoring ensure-touch | english | |
| Three Components of ATP Testing | Technical Bulletin | ATP Monitoring | English | | | technical-bulletin | atp-monitoring | english | |
| Sensitivity Comparison Three Luminometers Spanish | Technical Bulletin | ATP Monitoring | Spanish | | | technical-bulletin | atp-monitoring | spanish | |
| Sensitivity Comparison Three Luminometers | Technical Bulletin | ATP Monitoring | English | | | technical-bulletin | atp-monitoring | english | |
| Sanitizer Effects on ATP Surface Testing | Technical Bulletin | ATP Monitoring | English | | | technical-bulletin | atp-monitoring | english | |
| Sample Stability and Delayed Luminometer Testing | Technical Bulletin | ATP Monitoring | English | | | technical-bulletin | atp-monitoring | english | |
| Hygiena vs Charm Technology and Sensitivity | Technical Bulletin | ATP Monitoring | English | | | technical-bulletin | atp-monitoring | english | |
| Hygiena ATP Device Stability Test Results | Technical Bulletin | ATP Monitoring | English | | | technical-bulletin | atp-monitoring | english | |
| ATP Testing Procedure Quick Start | Ready Reference Guides | ATP Monitoring, EnSURE, SystemSURE Plus | English | | | ready-reference-guides | atp-monitoring ensure systemsure-plus | english | |
| EnSURE Touch Manual | Instructions | ATP Cleaning Verification, ATP Monitoring, EnSURE Touch | English | | | instructions | atp-cleaning-verification atp-monitoring ensure-touch | english | |
| CalCheck Instructions | Instructions | ATP Monitoring, Calcheck, Medical, Sample Collection, SpotCheck Plus | English | | | instructions | atp-monitoring calcheck medical sample-collection spotcheck-plus | english | |
| EndoSwab Instructions | Instructions | ATP Cleaning Verification, ATP Monitoring, EndoSwab, Health Care, Medical, Sample Collection | English | | | instructions | atp-cleaning-verification atp-monitoring endoswab health-care medical sample-collection | english | |
| Optimizing Hygiena in Ambulances | White Paper | ATP Monitoring | English | | | white-paper | atp-monitoring | english | |
| SureTrend Cloud Ensures Data Security | White Paper | ATP Monitoring, EnSURE Touch, SureTrend Cloud | English | | | white-paper | atp-monitoring ensure-touch suretrend-cloud | english | |
| Using UV Sanitation in Health Care Facilities | White Paper | ATP Monitoring, Indicator Organisms | English | | | white-paper | atp-monitoring indicator-organisms | english | |
| Exercise Monitors and Hospital Infection | White Paper | ATP Monitoring | English | | | white-paper | atp-monitoring | english | |
| ISSA Value of Clean | White Paper | ATP Monitoring | English | | | white-paper | atp-monitoring | english | |
| ISSA Clean Standards | White Paper | ATP Monitoring | English | | | white-paper | atp-monitoring | english | |
| Antarctic Antibiotic-resistant Bacteria | Case Study | Pathogen Detection, RiboPrinter | English | | | case-study | pathogen-detection riboprinter | english | |
| Using ATP Monitoring on Ultrasound Equipment | Case Study | ATP Monitoring | English | | | case-study | atp-monitoring | english | |
| Cleaning Verification System Health Care Product Sheet | Product Sheet | ATP Monitoring | English | | | product-sheet | atp-monitoring | english | |
| EndoSwab Health Care Product Sheet | Product Sheet | ATP Monitoring, Health Care, Sample Collection | English | | | product-sheet | atp-monitoring health-care sample-collection | english | |
| MediCheck Product Sheet | Product Sheet | Surface Residue | English | | | product-sheet | surface-residue | english | |
| AquaSnap Total and Free Health Care Product Sheet | Product Sheet | ATP Monitoring | English | | | product-sheet | atp-monitoring | english | |
| SystemSURE Plus Brochure – Health Care | Brochure | ATP Monitoring, SystemSURE Plus | English | | | brochure | atp-monitoring systemsure-plus | english | |
| EnSURE Touch Brochure – Health Care | Brochure | ATP Monitoring, EnSURE Touch | English | | | brochure | atp-monitoring ensure-touch | english | |
New in SureTrend v4.0:
Dashboard of critical metrics
Global location directory
Improved report designer
Simple networking configuration
SureTrend™ 4.0
| | |
| --- | --- |
| Process | Intel dual-core process or better (or Atom processor) |
| Memory | 4 GB or more recommended |
| Hard Disk | 2 GB free space |
| Operating System | Microsoft Windows®10, 8.1, 8, 7, Vista, or XP (client-only, no server installation), or Windows Server 2008 R2 Note: SureTrend 4.0 is not compatible with Windows RT. Mac OS 10.6.8 or later can only utilize SureTrend with additional PC virtualization software such as Parallels Desktop for Mac, VMWare Virtual Desktop, etc. The virtual machine must offer USB support. |
| Communication | USB or Serial RS232 port |
Server Installation
| | |
| --- | --- |
| Database | SQL Compact 3.5 installed by default, SQL Express 2008/SQL Server 2008 or higher (must be manually installed) |
| .NET Framework | Version 4.0 or higher |
| IIS 7.0 | Installed automatically when multi-user is selected on install |
| Operating System | Microsoft Windows® 10, 8.1, 8, 7 or Windows Server 2008 R2 |
| Caution | Power save mode can lose connections to server. For assistance installing SureTrend™ in unique server configurations, please contact Hgyiena technical support for best practice recommendations. |